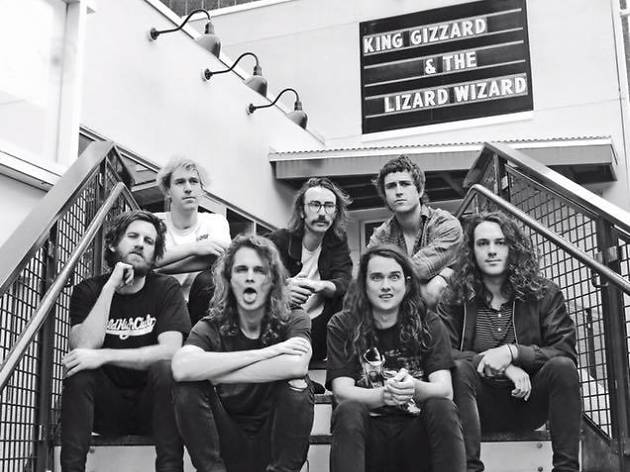 King Gizzard and the Lizard Wizard are making killer rock and hanging with ex-presidents, of course
The life of a rock'n'roller isn't all it's cracked up to be – sometimes you end up stuck in a giant bird
One minute King Gizzard and the Lizard Wizard are trampling the landscape in a papier mâché vulture in the film clip for 'People Vultures' off their latest album Nonagon Infinity, and the next minute they're being snapped with Bill Clinton in California while he's on the campaign trail for Hillary. Of course, it's all suitably surreal for the Melbourne-based psychedelic, surf, garage rock septet renowned for wild live shows and clever concept albums.
As Stu Mackenzie, King Gizzard's frontman tells it, the Clinton incident was anti-climactic. "We'd just played a show in California and somebody yelled out, 'oh my god, Bill Clinton's out the front' – so we all ran out," he says. "That was it, pretty much." Being strapped into a giant vulture for a film clip inspired by Japanese monster TV shows from the '60s and '70s and Spanish filmmaker Alejandro Jodorowsky's WTF-is-going-on movies made a much greater impression. "It was funny, but it wasn't fun," Mackenzie says. "Everyone in the vulture was crying out in pain, like 'this thing weighs a ton', 'my back hurts', 'I slipped a disk in my back'. Although the vulture was ingeniously made – I wouldn't want to say it was shoddy – it was dangerous. We were pushing it along rocky ground in the You Yangs [near Geelong] and I was up on a platform two storeys up holding this 200-kilogram vulture head in my backpack, strapped into a piece of plywood. It was pretty dodgy, but it was fun to work with a bunch of people and be crazed in a way that's not musical".
Given that the band formed in 2010, they've recorded at breakneck speed – Nonagon Infinity is their 8th album. Mackenzie describes Nonagon as a difficult baby, possibly because they tried some mad experiments designed to wig out their diehard fans. For instance, the album is a sonic infinite loop – the closing notes of the album lead perfectly into the opening ones.
"It was the most gruelling and frustrating and annoying record that we've made," says Mackenzie. At various points I was really fed up with the songs and the concept, and trying to conceptualise the whole thing. It was a brain buster. Sometimes I felt like I was intellectualising something that shouldn't be smart or clever. Maybe rock'n'roll should just be loud and dumb and fun, but I guess you gotta kind of like experiment and see what works and challenge yourself."
Catch the 'Gizz at Croxton Bandroom Sun Jul 10.