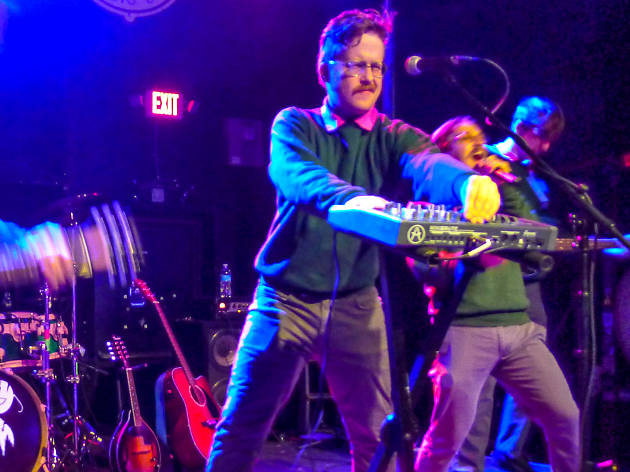 Time Out says
Thrash your head-diddly-darn-ead with the world's only Ned Flanders-inspired metal band
Get ready to rock-iddly-ock Melbourne. The most famous (read: to our knowledge, only) Ned Flanders-inspired heavy metal band is coming to town. Put simply, Okilly Dokilly is five men dressed up as The Simpsons' character Ned Flanders playing "nedal" (Ned metal) music.
Their dedication to their craft goes beyond just wearing pink collared shirts and green pullovers too. Each band member has a Ned name (Head Ned, Bed Ned, Dread Ned, Shred Ned and Zed Ned) and the lyrics in their songs are largely made up of Ned Flanders quotes. Take their single 'White Wine Spritzer' for example, which literally just features pounding riffs and the lyrics 'ah hell, give me a white wine spritzer' (a quote from season ten episode 'Viva Ned Flanders).
Debbie downers stay at home. If, perish the thought, Okilly Dokilly started as a joke then it's certainly escalated beyond that. The band now have two Flan-tastic albums under their belt (Howdilly Doodilly and Howdilly Twodilly), have toured internationally and have appeared on the BBC, Time, Esquire and even had the film clip for 'White Wine Spritzer' featured on the The Simpsons itself.
If you want to hear Okilly Dokilly live Melbourinos, head along to the Corner Hotel on Saturday, February 15. Tickets are on sale now.
Details