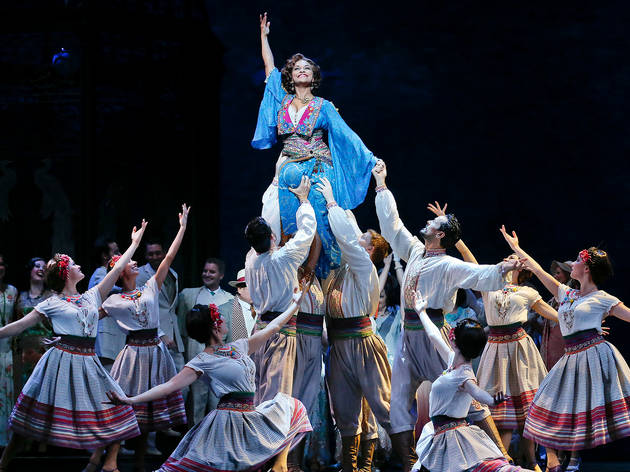 1/7
Photograph: Jeff Busby
2/7
Photograph: Jeff Busby
3/7
Photograph: Jeff Busby
4/7
Photograph: Jeff Busby
5/7
Photograph: Jeff Busby
6/7
Photograph: Jeff Busby
7/7
Photograph: Jeff Busby
Opera Australia takes on Lehár's enduring operetta in an extravagant, near-impossibly lavish production
Melbourne-born soprano Danielle de Niese has built her reputation on a series of firsts: she was the youngest ever winner of Young Talent Time; she made her Los Angeles Opera debut at the age of 15; she made her Metropolitan Opera debut in the late '90s at the age of 19. Her first professional appearance in Australia is in the title role of Franz Lehár's 1905 operetta The Merry Widow, which at first glance seems an odd choice. Surely this frothy, intrinsically lightweight confection is no vehicle for a serious soprano returning triumphant to her home town.

About 20 minutes into the production, the penny drops and we realise that the role of Hanna Glawari is the perfect trojan horse for this singer's considerable talents; what on the surface looks like an exercise in pure frivolity actually requires cut-glass vocal precision, killer dance moves and buckets of charm. She delivers in spades, and yet retains enough of a sense of mystery about her that a major – read "serious" – role is sure to follow. You can almost see Opera Australia priming her for greater things.

Not that The Merry Widow is an entirely gossamer entertainment. Lehár wrote the piece in the twilight years of the Austro-Hungarian empire, and there is an unmistakeable, if latent, sense of doom in the air. The wealthy widow Hanna – a citizen of the fictional Balkan state of Pontevedro and currently being wooed by the Parisian elite – is encouraged by her countrymen to remarry, as long as it isn't to the French. They want her wealth to remain Pontevedrian, and are far less concerned about her virtue and her desires.

Her desires are pretty clear: she loves her former flame, Danilo (Alexander Lewis), current secretary of the embassy. He is clearly desperately in love with her too, but takes a principled stance on the prospect of marriage: he won't marry her while she's rich. She is the most sought after woman in Paris, except by the only man she wants. There's another pair of lovers, a cuckolded husband, and lots of highjinks in the gardens late at night, but this central love thwarted by pride and stubbornness lies at the heart of the piece.

If de Niese is a delight then Lewis is a revelation; possessing a honeyed tenor that soars over his solo numbers and enlivens his duets, he makes the debauched and morally compromised Danilo something of a hero of the age. There's a deeply-felt cynicism to him, a sense that the corrupted, fading world of empire has wearied his soul as much as his body. His obsession with Maxim's nightclub – with its down-to-earth chorus girls and transactional approach to the question of love – may be tinged with misogyny, but Lewis manages to suggest something noble and redemptive about it. He also creates a sexual tension with de Niese that electrifies every scene they share.

Graeme Murphy's direction tilts towards the broad and brassy – this has its payoffs, like the opening of Act III that channels Sally Bowles – but it also means the hints of tragedy, the allegorical aspects of the work, are so subsumed they virtually fail to register. Lehár's work is either staged to make a point about the nature of fin de siècle societies, or to revel in the very concept of excess, and it is pretty obvious that Murphy is on the side of the latter.

Not that this approach isn't valid, or entertaining. In fact, for pure entertainment kicks, this production is hard to fault. The sets by Michael Scott-Mitchell are simply gorgeous; Act I is all Viennese Deco fabulousness, and Act II manages to hint at Hungarian folk while gorging on Monet. Act III is set in Maxim's, which is clearly a variation on Salis's Le Chat Noir, although Scott-Mitchell has leaned more on Ayn Rand than Toulouse-Lautrec. It's all pretty glorious. Jennifer Irwin's costumes are sumptuous and evocative and Damien Cooper's lighting is lavish and spirited.

The Merry Widow is a bit of a no-brainer, by which I mean it's a perfect way to spend an evening. It's easy on the eye and on the ear; nothing is too challenging, but it also feels like a solid and substantial piece of operetta. It's precisely the kind of thing you'd take an opera novice to. Given that it contains two lead performances that promise true greatness to follow, it's also probably worth catching for the serious opera goer. It's the kind of frivolity that tends to echo down the ages.