World Tour Bushfire Relief Concert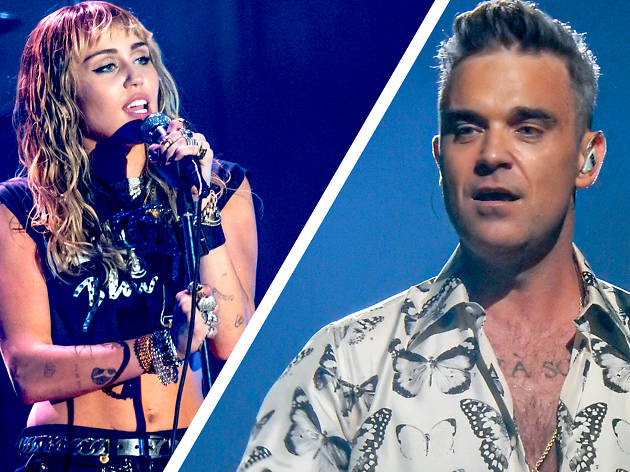 Time Out says
Miley Cyrus and Robbie Williams will tag-team headlining this massive concert
UPDATE 13/03/2020: Miley Cyrus has cancelled her Australian tour because of coronavirus. Those with tickets to her show will receive full refunds. At the time of writing, Robbie Williams' show is still going ahead.
Here are two names we never expected to see side by side: Miley Cyrus and Robbie Williams are both coming to Melbourne to headline the World Tour, a new global concert series for bushfire relief that will travel the world over after its Aussie debut.
Cyrus and Williams will perform at separate gigs on Friday, March 13, and Saturday, March 14, respectively at Lakeside Stadium, Albert Park (part of the Melbourne Sports and Aquatic Centre) as part of the Australian Grand Prix.
Cyrus will be joined by 'Old Town Road' singer Lil Nas X; deadset Brisbane pop legends the Veronicas; and UK house DJ Seb Fontaine. The unashamedly wild and wonderful pop-country star, of course, shot to fame playing a double life in Disney Channel show Hannah Montana before striking big as a solo artist with hits like 'Party in the USA' and 'The Climb' and then terrifying and delighting onlookers with her alternative makeover and tongue-wagging ways coinciding with hits like 'We Can't Stop' and 'Wrecking Ball'.
Meanwhile, Robbie Williams is probably your big sister's problematic crush. He'll be supported by the nicest guy in Aussie music Pete Murray and DJ Seb Fontaine. Williams' solo career took off in the late '90s after establishing himself with a boy band career in the early '90s with Take That. He'll no doubt be igniting long dormant crushes with hits like 'Angels' and 'Feel'.
We're a little disappointed that we won't be seeing the chaotic energies of Cyrus and Williams smashing together on the one night, we wouldn't be opposed to seeing Miles join old mate for a take on 'Let Me Entertain You'.
To help with bushfire relief efforts, all proceeds from ticket sales for Miley's show will go towards "charities working to restore forests, wildlife and communities affected by the devastating bushfires".

Tickets for the World Tour Bushfire Relief Concert are now on sale. Visit the website to find out more and book your tickets for Miley night here (from $116) and Robbie night here (from $99).
Details