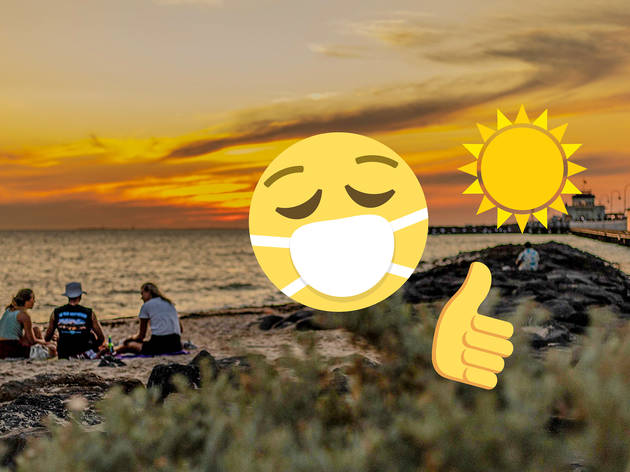 15 things you might not know about Victoria's 'stay at home' restrictions
Are gyms open? Can I visit my family? We've answered some questions
Posted: Tuesday May 12 2020, 3:31pm
NOTE: This feature is no longer up to date – please check this feature for what you can and can't do in Victoria right now.
Victoria is still currently in stage three of its pandemic response, which maintains further limits on public gatherings and introducing fines to those who don't comply. However, as of May 13, premier Daniel Andrews announced some gradual easing of restrictions.
Currently, there are only five reasons to leave your house: to seek medical help, to go to work, to get your daily exercise, to go and buy grocery necessities, or to visit someone socially. The premier has also urged all Victorians to "use common sense and common decency" right now.
As we're getting dribs and drabs of information communicated to us at odd and infrequent times, it's OK to feel a little confused right now. We've combed through public information and recent press conferences in order to explain some of the most pertinent information you should know.
RECOMMENDED: More questions answered about the 'stay at home' restrictions in Victoria.
1. What is the current rule about public gatherings?
There has been some easing of restrictions on a number of social events and activities. As of May 13, these include:
Public gatherings are now to be capped at ten people.

Outdoor gyms, playgrounds and skate parks are still closed, but groups of up to ten can enjoy picnics, non-contact sports and relaxation in parks and on beaches.

Public swimming pools, outdoor pools and ocean baths are still closed.

Group boot camps and personal training sessions can continue if they are outdoor with a maximum of ten people plus a trainer.
The restrictions will be in place until at least May 31.
2. Does that ten-person rule include indoor gatherings?
No. You can only allow five other people into your house, on top of however many people have been living in your house for the duration of the lockdown. To allow someone to come into your home it can only be for the purpose of socialising. Read more here.
3. Can I go out alone and meet another solo friend?
If it's an essential trip (say, getting your daily exercise or going for a hike) then yes. If you want to go and walk your dogs together or go for a run, you can do so, but stay 1.5 metres apart.
4. Can I visit my family that doesn't live with me?
As of May 13, you are allowed to welcome five people into your home. So yes, you can now visit your family that doesn't live with you. It's recommended you maintain physical distancing when doing so to keep everyone safe.
5. If I'm over 70, what are my options?
All these rules still apply to you, but it has been strongly encouraged that you limit time spent outdoors and in contact with others. However, you should still go outside for some fresh air and exercise. If you are over 60 with a chronic illness or an Indigenous person over 50, the recommendation is the same.
6. How is the government enforcing the 'stay at home' order?
Victorian police are still working on curbing oversized gatherings. Police can issue on-the-spot fines of more than $1,600 for those breaking these social gathering rules. If you do not pay, you will have to go to court and fines could reach upwards of $20,000.
7. Can I take the train? Can I catch an Uber?
Public transport and rideshare services are continuing to operate, but they should only be used for essential travel. It's likely these services will still run because many people rely on public transportation to get them to and from their jobs. If you're able to walk or drive yourself somewhere that's preferable.
8. Why are some retail shops still open?
This is probably the most confusing part of the whole shutdown. Morrison has said it's important for some shops to remain open for now so that people can gather essential items.
You may have noticed some retail stores are beginning to open up again. According to the DHHS, you should only be visiting these shopping centres "for the purpose of shopping for necessary goods and services at supermarkets, pharmacies and other service providers". It is also recommended that you spend as little time there as possible.
9. Can I go to Bunnings?
Be smart here, people. If you do not need to go to Bunnings for an essential item, do not go. The stores are currently open to help aid trade customers who still use Bunnings products and services daily. If you do decide to go, get your items and get out of there. Don't idly walk past the indoor plants and pick up every single fiddle leaf fig tree to find the best looking one. This is not essential and it can wait – and hey, did you know Bunnings delivers?
10. What about personal care services?
Hairdressers and barbers are still open and they will be required to take your name and contact details for the purpose of contact tracing. As for beauty therapy, waxing, nail salons, spray tanning, tattoo and piercing services, spa and massage services and sex work services, these are all still prohibited.
11. Are beaches open?
As of May 13, you are allowed to relax at the beach, have a picnic there or play non-contact sports. Don't gather in groups of more than ten and keep at least 1.5 metres distance between yourself and others. Check with your local council for more info on your local beach.
12. Can I go for an outdoor hike or a long drive to the country?
As of May 13, Victorians can go hiking – just as long as you can go out and come back within one day. Overnight hikes and camping are still not allowed.
13. Are all parks open? What about national parks?
Victorian parks are open but some national parks are still closed – check with Parks Victoria for more information.
14. Are gyms open?
No. Indoor gyms and physical recreation facilities like yoga studios, wellness centres, barre and spin facilities and health studios are still closed.
15. What if I have more questions?
Read this page on Victoria's Department of Health and Human Services' website about the gradual easing of restrictions. It's here you will find some frequently asked questions about what you can do right now.
Share the story