Melbourne is usually the nation's rhythmic cultural heart, but our performing arts scene remains in an indefinite cardiac arrest, even as the rest of us start recovering. It's been a year of cancelled shows, productions on pause and hardly any work in sight. Three members of Melbourne's performing arts industry share how they're getting by.
For triple threat performer Carmelina Tammaro, the start of 2020 was buzzing. She was part of the T20 Women's Cricket entertainment, working at a dance studio and preparing for the audition season, which was just about to begin.
One day in late March, after spending all day at an audition, she received an email saying the production had to be shut down due to a close-contact with Covid. It was down-hill from there. "Life was hectic and exciting, I was working really hard, then with one email, it was all over," says Tammaro. "We were all sent home and had no work."
For Melanie Smith, executive director of performing arts at Arts Centre Melbourne, the pandemic hit just as suddenly. "It was a Friday night, I was in Castlemaine taking a weekend out of Melbourne," Smith says.
"I had to come back to Melbourne on the Saturday to start planning how we would shut down our venues safely and communicate with our staff. That Monday, March 16 2020, Arts Centre Melbourne shut down. I haven't been back since," she says.
"We cancelled 495 performances and refunded nearly 52,000 tickets."
For a while, the future of live arts didn't seem guaranteed and Smith feared the worst. "We weren't even mentioned in all those press conferences, they discussed every industry except the arts," Tammaro recalls. "There was the possibility that there was no arts industry anymore."
The loss of Victoria's arts industry would've had a resounding effect. In 2018 alone, live performances in Victoria had eight million attendees and made $698.9 million in revenue. "It's a big industry that makes a huge contribution to the economy, and people love it, but it doesn't always get the recognition it deserves," Smith says.
It's been a tough year for performing artists in the film sector too. Artist and producer Cecilia Low started her career as a dancer but these days focuses mainly on film acting and producing.
Before Covid hit, Low had almost finished shooting the pilot of SugarHope Records, an independent comedy series she's producing (the series is also written by and stars comedic musician Jude Perl with cinematography by Cameron Zayec, who co-directs with Low). The pilot episode of the series is currently in post-production.
Existing film productions could continue during lockdown, so Low also had some work in her role as officer Anna Deng in the hit TV series Wentworth.
"It was all very Covid-safe, but we were all very happy to be there," says Low.
Although she had SugarHope Records and Wentworth to fall back on, this year hasn't panned out how Low planned. "When the first lockdown hit, I had three big roles in Sydney, Adelaide and Cairns lined up," she says.
"I was recast because we couldn't travel and hotel quarantine was not within budget."
Low got herself and others through those tough times by teaching yoga online. She even offered a free community class every week during Melbourne's lengthy lockdowns. "Initially, it was just for those in the arts industry, as that was one of the hardest hit [industries], but it was open to all in the end," Low says. "I wanted to give something back and help people stay in their bodies to find some calm in all the uncertainty."
Tammaro had to rely on her self-discipline too. "As artists, we're used to doing things at home. I set myself a schedule as if it was a normal day when I wasn't performing," she says. "A lot of the major studios did online classes, so I could study with some of my teachers from New York, but in my home in Melbourne, which would never have happened before."
Arts Centre Melbourne has also found advantages to online delivery. The Together With You program offers free digital experiences including full-length performances, artist interviews, family activities, podcasts and curated playlists.
"Our Together With You program has reached 17 million people."
"One thing that COVID has done is seen the industry and institutions embrace digital platforms," says Smith. "We're seeing the possibilities for hybrid models." With no guarantee when bigger live audiences and unrestricted return to work will be allowed, Smith acknowledges there's more uncertainty to come. "It's quite difficult to plan when you don't know how many people you can have in your venues," she says.
To kick off 2021, Arts Centre Melbourne will shift the focus to its popular outdoor venue, the Sidney Myer Music Bowl, and its recently announced Live at the Bowl series. "We're hoping to have over 40 events, including comedy, music and family-friendly weekend activities," says Smith. The full Live at the Bowl program is expected to be announced in early December 2020.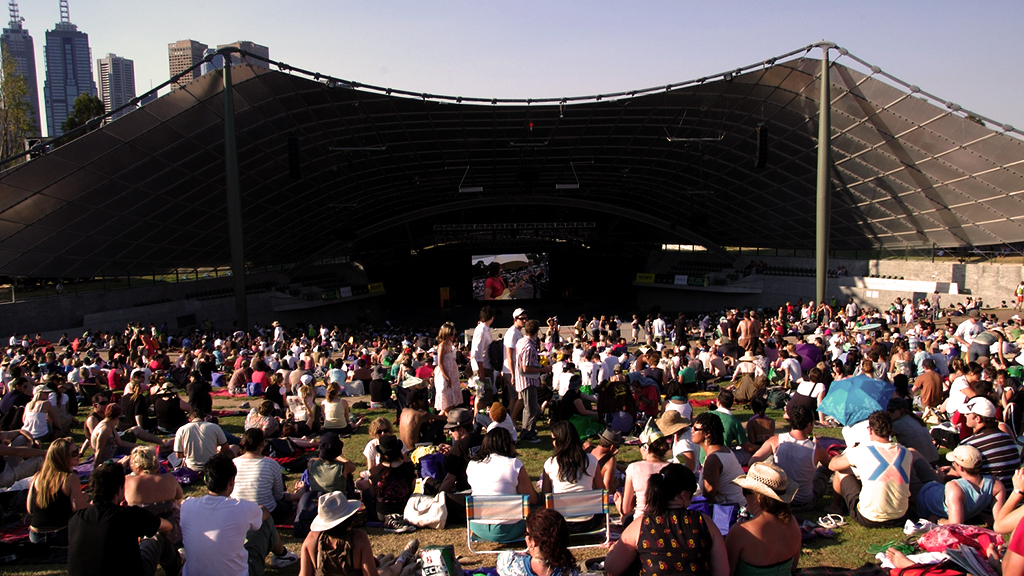 Even though she knows a career in performing arts will be tougher than ever after Covid, Tammaro's commitment and determination are unwavering. "The pool is bigger, more people in the arts are available, but there'll be fewer jobs," Tammaro says. "As a young performer, that's going to be the hardest thing going back."
As Smith points out, however, the silver lining is that there will be less competition from overseas. "With the border closed, a lot of the large international tours won't happen until mid-next year, so it might give local, young and emerging artists a chance to get out on our city's stages," she says.
Seeing performing arts start up again in other parts of Australia is exciting for artists like Tammaro, who says Melbourne is full of potential. While the Arts Centre is able to go big by going outside, smaller venues, like Theatre Works are innovating with TW Glasshouse – Covid-safe perspex booths for audiences (launching December 1).
"Melbourne has a lot of smaller theatres so we can follow capacity guidelines," says Tammaro. "The arts will come back stronger because, when this is all over, the people that are still in the industry will be here because they're truly passionate about it."
For Low, she hopes that in 2021 she'll be able to find a network for SugarHope Records and pick up where she left off with her acting. "My main goal with acting is to get back to where I was in March, getting some newer, interesting roles," she says.
At Arts Centre Melbourne, moving forward will mean collaboration is more important than ever. By mid to late 2021, Smith and her team at Arts Centre Melbourne are hoping to be in full swing once again. "We're working with our resident companies, partners and the people who hire our venues to get a good outcome for everyone," says Smith."We're also partnering with other venues and hospitality in our precinct to create a richer offering for people when they choose to come out and enjoy some entertainment in the city."
"We hope we can get people back into our venues having fun."