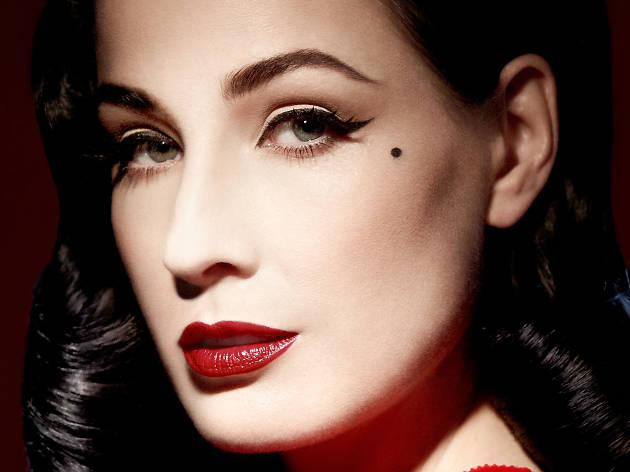 Dita Von Teese is doing it her own way
We take some inspiration and guidance from the reigning queen of burlesque ahead of her Strip, Strip Hooray tour
Dita Von Teese is instantly recognisable as one of the most glamorous women in the world. Her fame is such that it's not too hard to unearth some fascinating snippets from her past: that she was born Heather Renée Sweet, is really a blonde, was too short for ballet and became a stripper instead. She wouldn't be caught dead in jeans, almost singlehandedly revived burlesque, was married to schlock-horror glam-rocker Marilyn Manson, has two books until her belt (including last year's very practical beauty bible Your Beauty Mark: the Ultimate Guide to Eccentric Glamour) and a line of lingerie. But here's some info you may not know…
She was shy
You wouldn't think it of a woman who made her career by taking her kit off, but Von Teese used to be shy. "Becoming a femme fatale was really appealing to me, because I was this shy, blond girl from a farming town in Michigan and I loved this idea of creating this, dare I say, intimidating look, that'd make me feel a little more comfortable and powerful," she says. "When I walked into a room with my high heels, black '40s suits, dresses, veils, hats, gloves, red lips and my black hair it made me feel like I had this power that I didn't have before. Later in life I stopped feeling the need to be intimidating. I definitely still believe in that power, I just don't use it."
'I like to do my own hair with a box of hair dye … I'm more efficient doing it myself.'
She couldn't wait to grow up
Von Teese was one of those children who never really revelled in being a kid. "Ever since I was really little, I constantly fantasised about being a grown woman," she says. "I watched my mum put perfume on and I'd look through her lingerie draw and be like, 'I can't wait until I'm old enough to be a woman'. Any of my games involved me being grown up. I wanted to be the teacher, the mum, the showgirl or ballerina. I can't ever remember thinking that it was fun to be a kid."
She is DIY when it comes to beauty
Unless it's for a big magazine photo shoot, Von Teese doesn't engage what she calls a "glam squad". She even dyes her own hair jet black fortnightly. Um, why? "I like to do my own hair with a box of hair dye," she says. "The time it takes me to make an appointment, drive to the appointment, keep the appointment and drive home – well, I could have done all of it in a fraction of a time. I'm more efficient doing it myself."
She champions the left of centre
Von Teese revels in eccentricity and naysayers be damned. "Whatever you do in life, there's a pretty good chance at some point that you're going to get criticised, so you might as well stop thinking about other people's judgements," she says. "Whatever is universally accepted is probably existing in the mediocre. Being eccentric is not always the easy way to go, but it's more memorable. I love the word eccentric, I love people who are eccentric – really, they're the only people I remember."
Once upon a time, some dumb blokes suggested Von Teese tone it down
God knows why, but when she was younger Von Teese had a few boyfriends tell her to take her look down a few notches. Those days are, of course, long gone. "As anyone who's not 25 knows, you get to a point where you don't listen to stuff like that anymore," she says. "If someone is suggesting that you be anything other than the way you enjoy being – that person is not right for you. It takes a while to get to that point, although I like to think that younger girls are getting it earlier now and not letting boyfriends or other people tell them what they should and shouldn't wear."
Catch Von Teese in Strip, Strip, Hooray at her fourth and final Melbourne show at the Forum, Sun Jun 26.