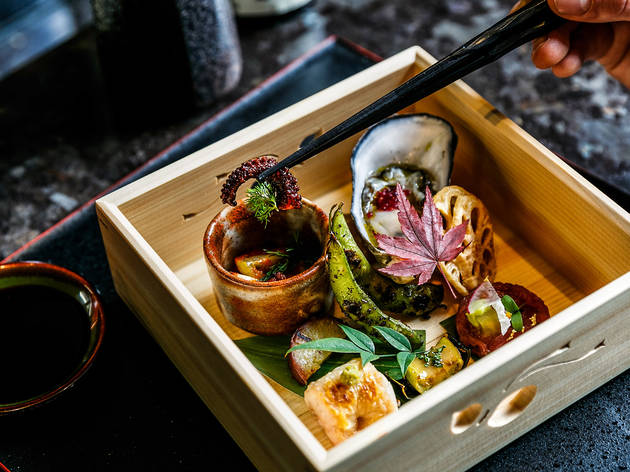 1/19
Photograph: Parker Blain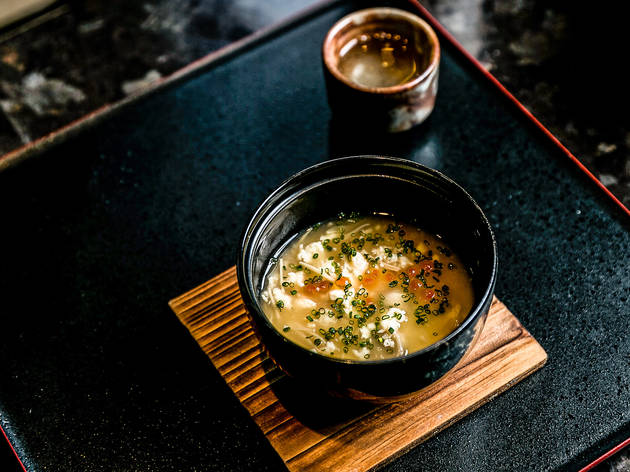 2/19
Photograph: Parker Blain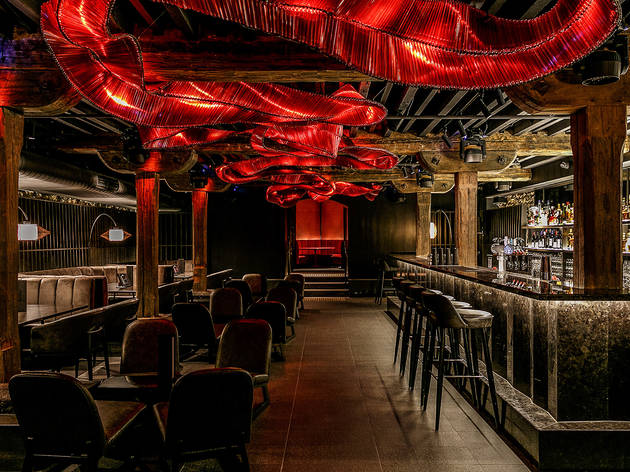 3/19
Photograph: Parker Blain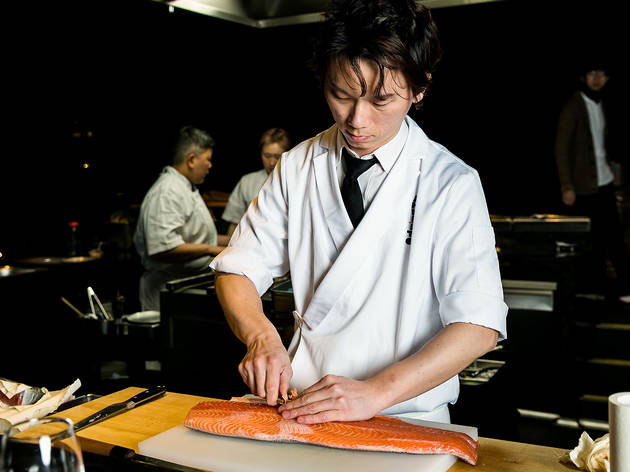 4/19
Photograph: Parker Blain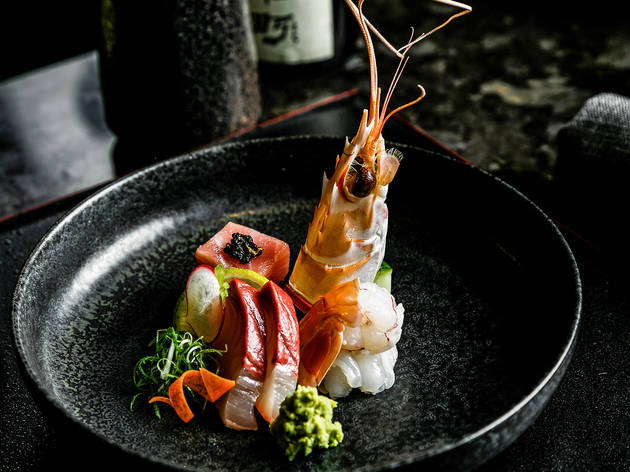 5/19
Photograph: Parker Blain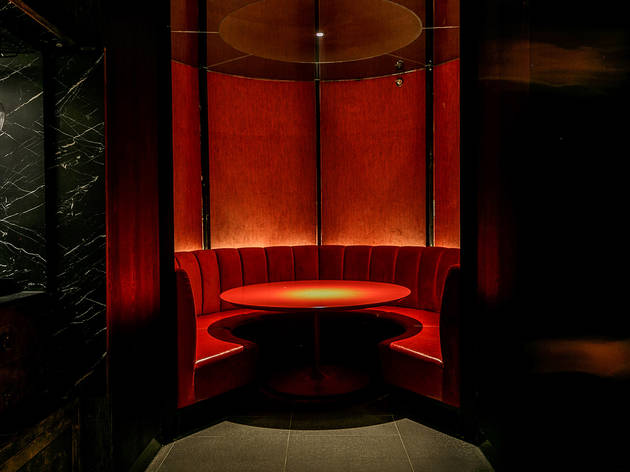 6/19
Photograph: Parker Blain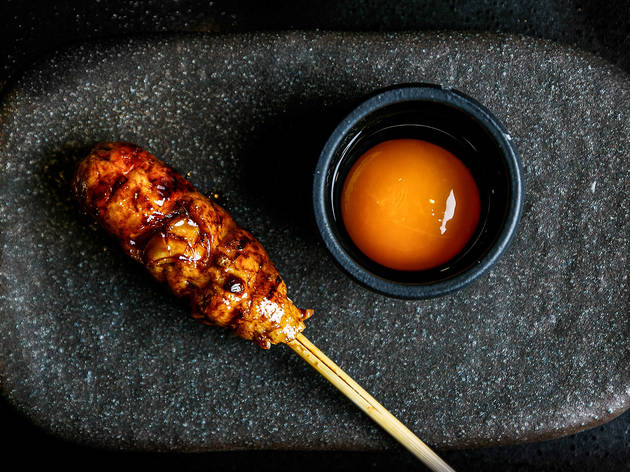 7/19
Photograph: Parker Blain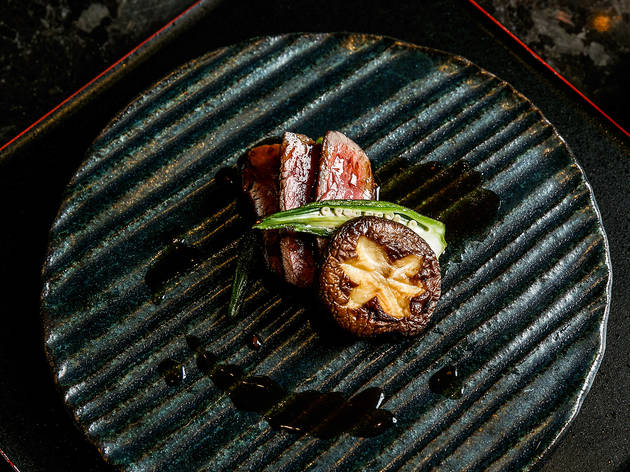 8/19
Photograph: Parker Blain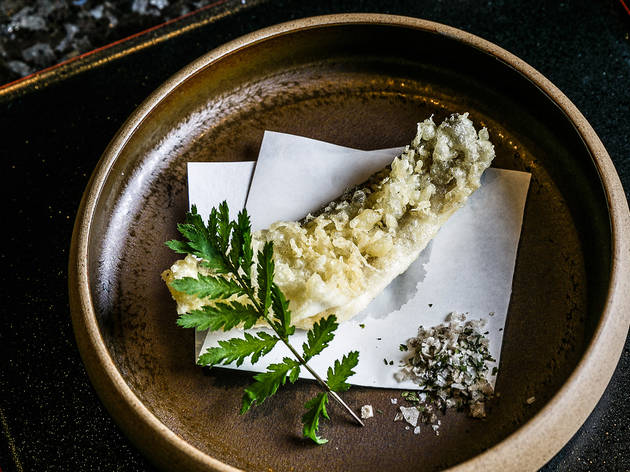 9/19
Photograph: Parker Blain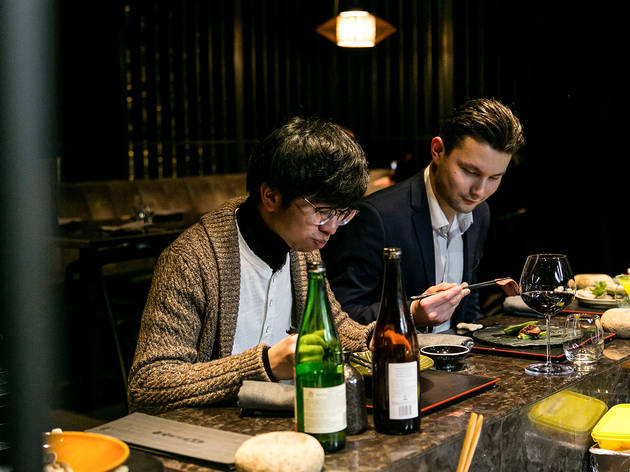 10/19
Photograph: Parker Blain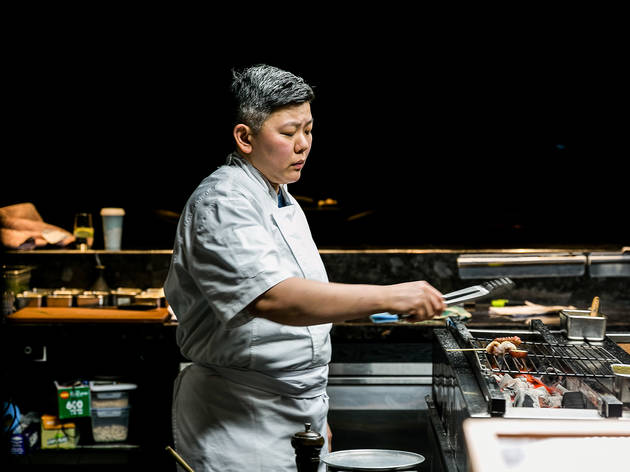 11/19
Photograph: Parker Blain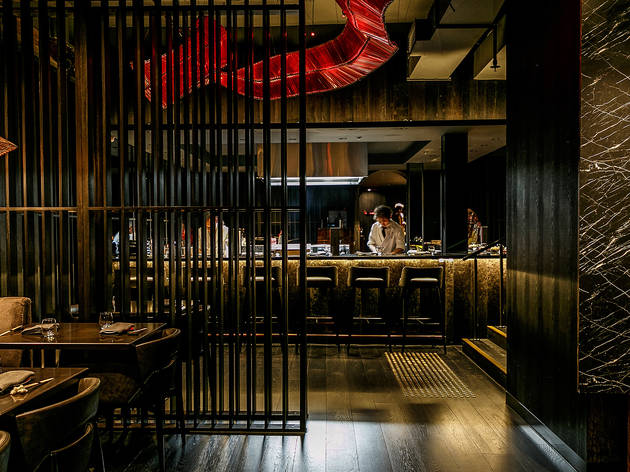 12/19
Photograph: Parker Blain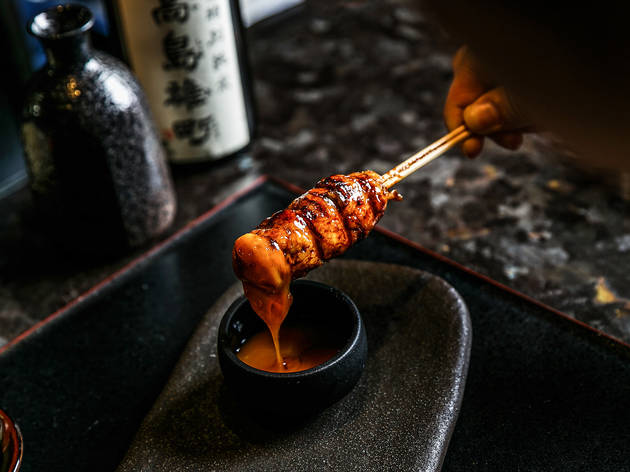 13/19
Photograph: Parker Blain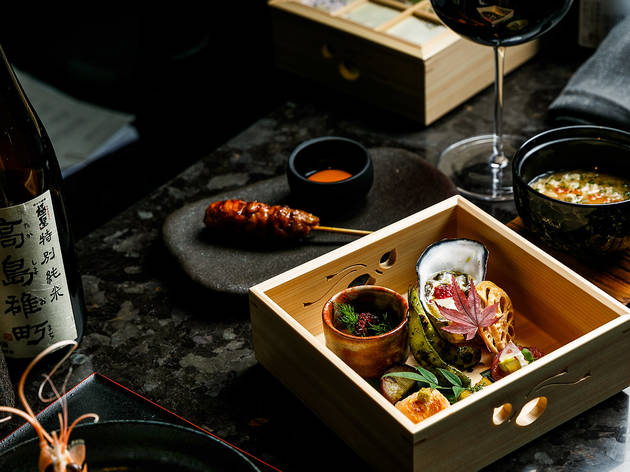 14/19
Photograph: Parker Blain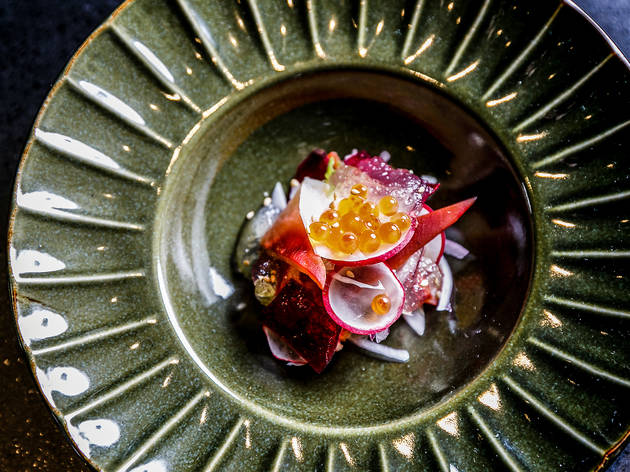 15/19
Photograph: Parker Blain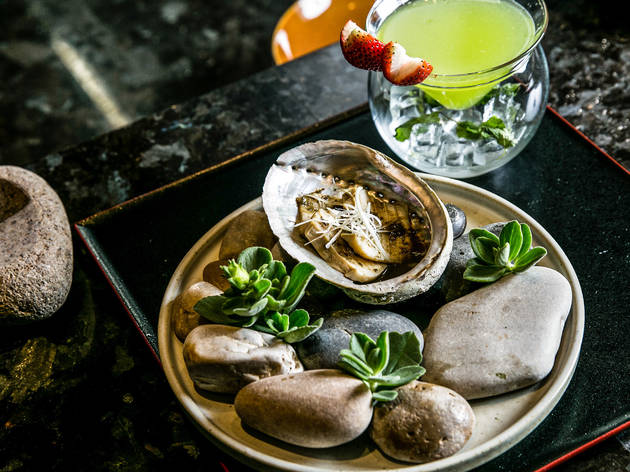 16/19
Photograph: Parker Blain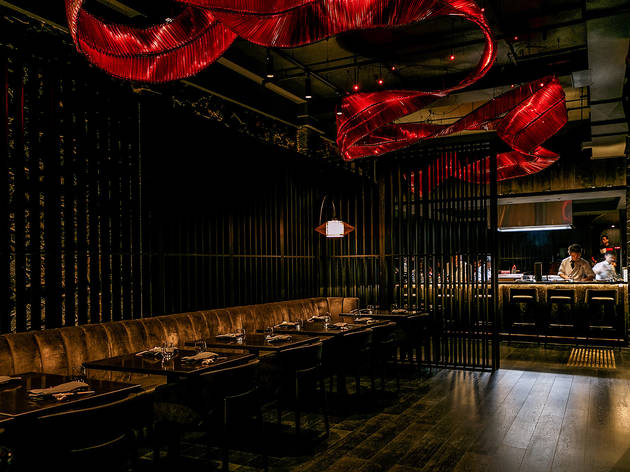 17/19
Photograph: Parker Blain
18/19
Photograph: Parker Blain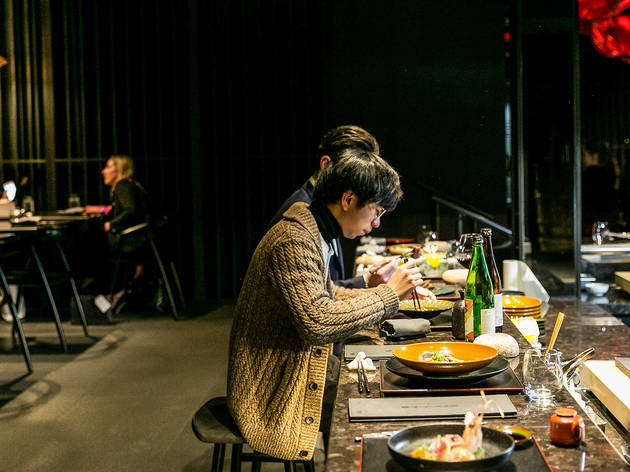 19/19
Photograph: Parker Blain
Time Out says
High-end Japanese kicks food goals while dropping the service ball
It's a funny old place, Akaiito. One minute you're sitting there getting a head of steam on about the drink that takes half an hour to materialise; the next all is forgiven thanks to a piece of tuna belly sushi with a dab of truffle that could make the angels weep.
Few restaurants in the greater Melbourne metropolitan area exhibit such a great disconnect between kitchen and floor as this Flinders Lane restaurant. There's a fair amount of ambition writ over this moody-hued multi-level place with a basement bar (closed on our visit), a la carte menu in the similarly moody dining room, and an omakase menu (chef's menu) served ringside around the open kitchen.
It's contentious whether the fit-out reaches the levels of glamour to which it aspires. The glossy red ribbon installation curling across the ceiling like an artery in search of a vascular surgeon is a case in point. But hey, everyone looks better in the dark, and you ought to consider the handful of seats around the precision slicing and cooking action the only proper answer to this koan in restaurant form.
The Zen Buddhist riddle it presents goes something like this: should you put up with substandard service and a fairly ordinary drinks list if some great, and often excellent, food is in the offering?
Our advice is, take the challenge. At $115 for around ten courses it represents what passes these days for decent value. Another bonus of the omakase menu is it is served directly by the chefs, bypassing the international brigade of backpackers stumbling about like bit players in a local amateur theatre production. And it means you get to enjoy the high production values of a seafood-centric menu, kicking off with a tasting plate that arrives murmuring "don't worry, everything's going to be all right" with its bijou party pack: a few spears of asparagus tempura; a charred cluster of edamame; flame-licked discs of octopus with cherry tomatoes and a lilting paprika hit; an oyster with tomato vinaigrette and the electrifying jolt of finger lime; and wagyu tartare going an all-out kawaii assault with its taco cuteness.
You know everything is going to be all right simply watching the perfectionist care of the sashimi being prepared half a metre away. Starring a New Zealand scampi tail of creamy perfection, firm-fleshed kingfish from SA and lightly cured King George whiting, the trio is accompanied by a light, sweet soy sauce (made by the chef) so good you might find yourself dunking the ceremonial radish in for good measure. There's more convincing sauce action – miso-based, thick, finger-licking, with a hint of mustard heat – with a nori-wrapped tempura scallop with smoked egg yolk.
The robata steps in eventually to seize the baton, with the grill chefs delivering a tight-fleshed curl of Alfonsino luxuriating under only a light sprinkle of yuzu powder and dried seaweed. There's a crisp-skinned notch of dry-aged duck breast with a chimichurri-centred puddle of corn puree, and a juicy tsukune (chicken meatball) with its simple virtues jazzed up via the velvety luxury of egg yolk dipping sauce.
Dessert quietly acknowledges all that has come before with a simple trio of melon balls in a sweet fruit soup that manages the rare feat of being restorative while adding to the contents of your belly.
It's something of a shock to turn from the ministrations of the tortured perfectionist chef back to the minor-key mayhem of the floor. But it also explains why, even though you might have to present yourself at the front counter to pay the bill after waiting for 10 minutes for it to arrive, and you might have to ask for your coat to be retrieved, your food memory muscle will probably play its override button. And that, as they say, will make all the difference.
Details
Address:
349-351 Flinders Lane
Melbourne
3000

Price:
$$$$
Contact:
Opening hours:
Mon-Fri 11.30am-3pm; Daily 5.30pm-late
Users say