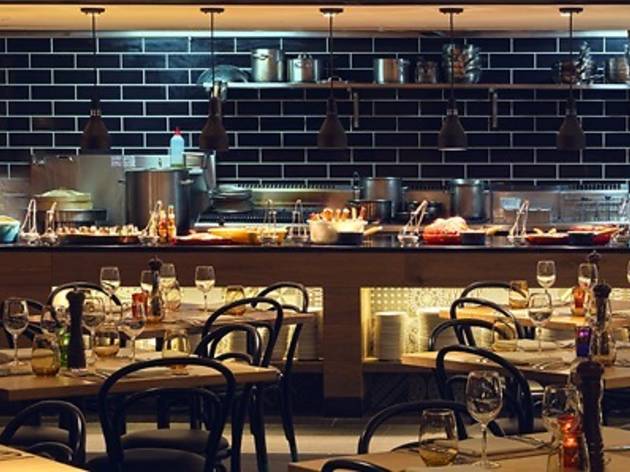 Bazaar is reinventing the buffet experience
It's an all-you-can-eat buffet that's nothing like you'd expect from that description. In place of limp salads cowering under sneeze guards, Bazaar lets you graze over chef-manned counters laden with everything from whole crabs and fresh prawns, to steamed pork buns and crock pots of slow braised Moroccan lamb shanks. They're calling it an interactive market experience. We call it a really upscale version of Sizzler (don't pretend that doesn't excite you).
Strategise before setting out. We say go hard on the salads and the likes of the slow roasted meats which cope a little better with being on display than pre-cooked scallops on the open shell. That salad might be a citrusy bowl of fresh peas and Persian feta, or farrow and lentils picked out with nuts and pomegranate jewels. Double back for duck fat potatoes, and crisp skinned hunks of pork belly.
At $70 a head, it's not the cheapest dinner you can get on the mount, and the dessert bar offering rocky road, individual custards and cupcakes is a bit of a letdown compared to the savoury section, but the wine list is solid, the service is sharp, and if you've got a few days, it's worth it for the sheer thrill of eating your bodyweight in crab.
Venue name:
Bazaar
Contact:
Address:
17 Bogong High Plains Rd
Falls Creek
Melbourne
3699

Opening hours:
Mon-Sun 7am-10.30am & 5.30pm-late