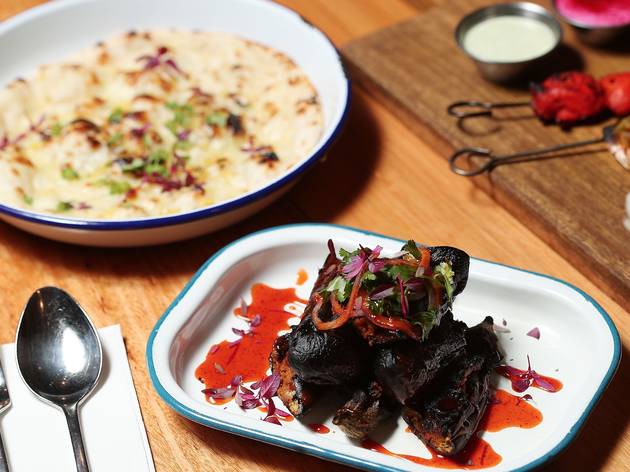 1/11
Photograph: Graham Denholm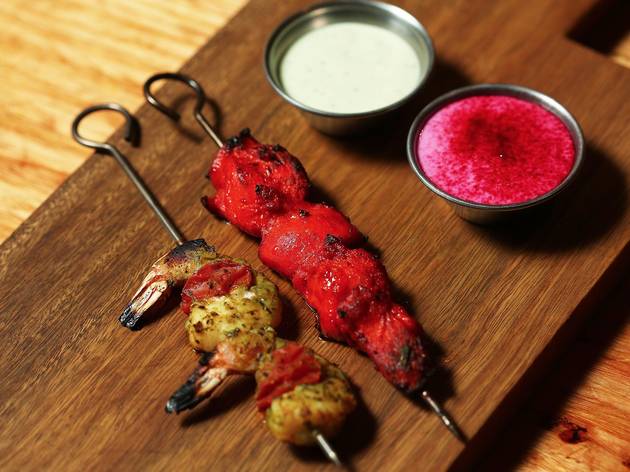 2/11
Photograph: Graham Denholm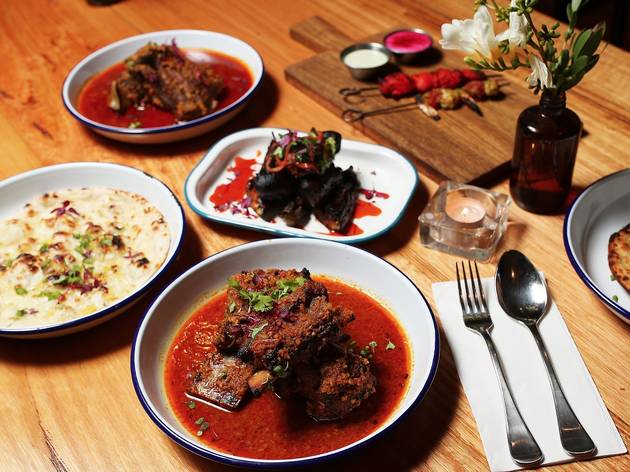 3/11
Photograph: Graham Denholm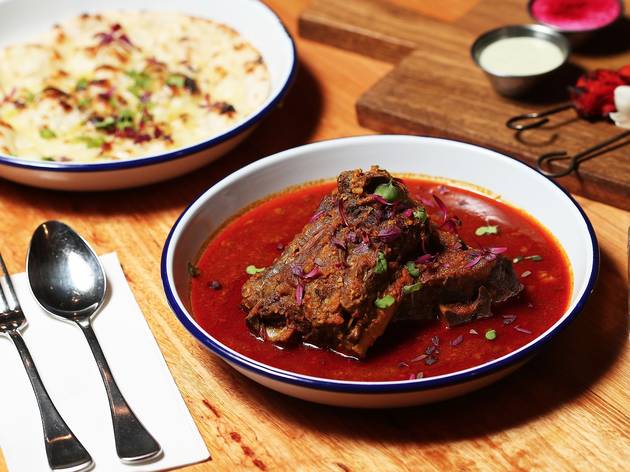 4/11
Photograph: Graham Denholm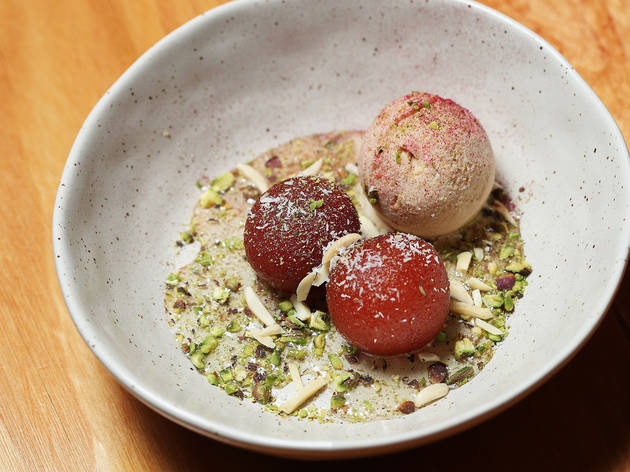 5/11
Photograph: Graham Denholm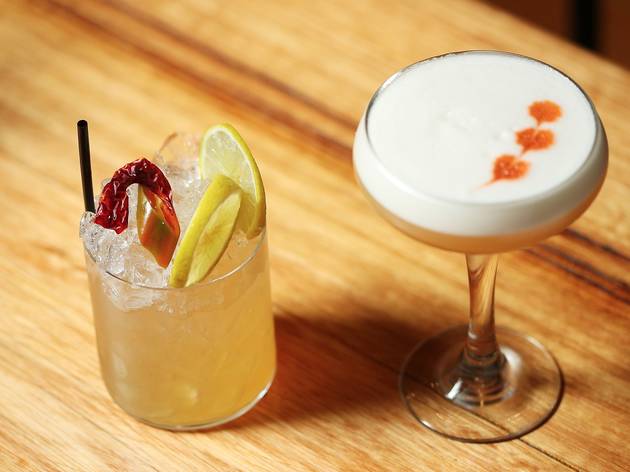 6/11
Photograph: Graham Denholm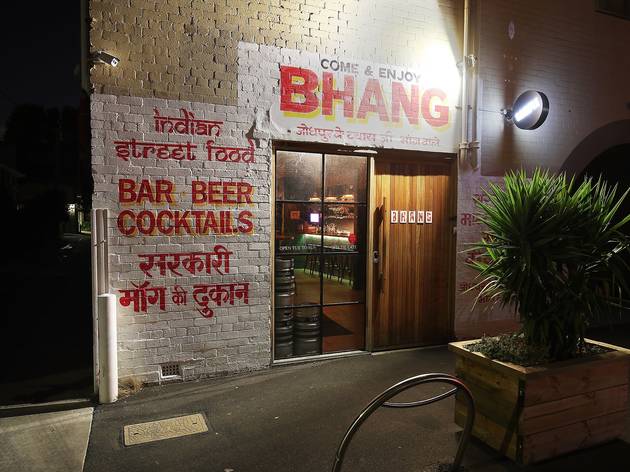 7/11
Photograph: Graham Denholm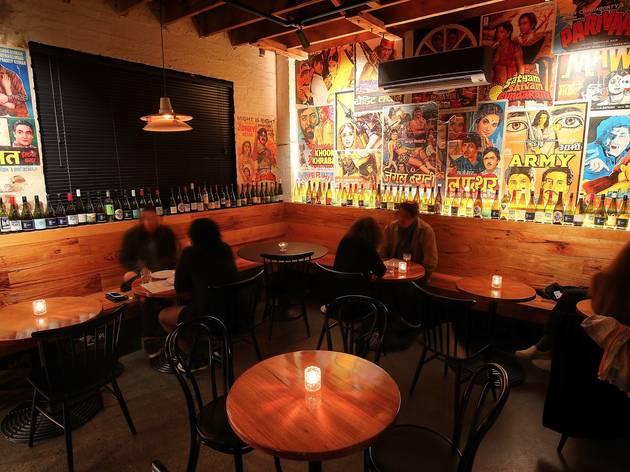 8/11
Photograph: Graham Denholm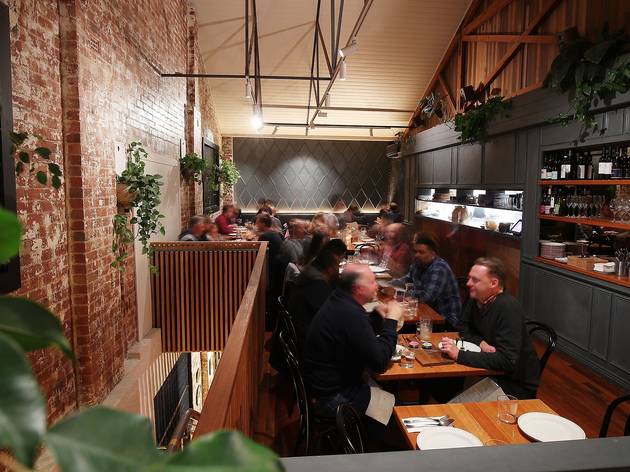 9/11
Photograph: Graham Denholm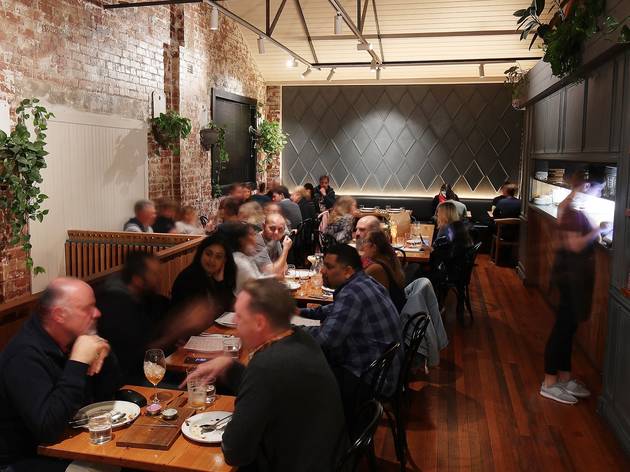 10/11
Photograph: Graham Denholm
11/11
Photograph: Graham Denholm
Time Out says
The crew behind Tom Phat bring regional Indian street food to the north – but does it go off with a bang?
Modelling your restaurant on a bhang shop ('bhang' is an edible cannabis drink) seems bold even for progressive Melbourne. But for Brunswick's Bhang, the risk paid off. Give a former warehouse a hell of a makeover – including emblazoning its front with bright red Hindi text – and you're sure to make a nondescript street off Sydney Road party central. (Disclaimer: there's no actual bhang on the menu.)
Inspired by travels across north and south India, Sway Quach and Dougal Colam, owners of nearby Tom Phat, opened Bhang in mid-2017. Their aim? To showcase the curries Colam grew up eating in the UK and to bring new Indian tastes to Melbourne. Indian flavours even permeate the cocktails – chilli vodka frolics with tea syrup in the Darjeeling Limited, while gin finds its perfect companions in cumin, cinnamon and chai in the Indian Lady.
Melbourne's Indian restaurants tend to fall into two camps: somewhat garish neighbourhood joints serving northern curries or uber-slick places turning traditional cuisine on its head. Bhang is the best of two worlds, championing regional street food in shmick surroundings. They cater for all dietary requirements too, with a menu that has plenty for vegetarians and vegans and is pretty much entirely gluten-free. Top marks go to the gluten-free naan, made with chickpea flour, which is as soft and fluffy and pleasantly chewy as any regular naan.
Other things done well include the heavenly kandahari tikka skewers, a Punjabi cuisine go-to: chicken marinated in yoghurt and spices like fenugreek and ginger is cooked over charcoal and basted with pomegranate molasses for a sweet and sour aftertaste. The jinga hariyali prawn skewers commonly eaten in the south, in an addictive green masala paste with coriander and mint, are smoky and earthy. In the aromatic bharwan vanghi, a favourite from Maharashtra – where they're big on adding nuts to their veggies – eggplant is filled with garlic, ginger, coconut jaggery and peanut paste, and spiced with turmeric, chilli and cumin. It's a rich and comforting dish, with the lightly pickled onion and cucumber accompaniment cutting through the nutty caramel flavour of the stuffed eggplant.
Some of the larger dishes, though, miss the mark. The Rajasthani-style Old Monk rum-soaked beef ribs came out swimming in an oily, oversalty sauce. The kolhapuri rassa curry, also from Maharashtra, with fall-off-the-bone lamb neck and hints of clove and cardamom, built to a nice heat but there was an overall sense that the flavours hadn't quite fused. The textbook gulab jamun for dessert – rosewater syrup-soaked milk balls with a crunchy pistachio garnish and cardamom ice-cream – proved a necessary palette refresher.
Looks-wise, the interior is as arresting as the exterior, with a handsome bar and a wall of Indian film posters downstairs and an industrially chic dining room upstairs. Bonus points go to the warm and attentive service. We had high hopes, but unfortunately not all elements of our meal went off with a bang. A massive order of those moreish skewers and some cocktails was perhaps all we needed to let the good times roll.
Details
Users say