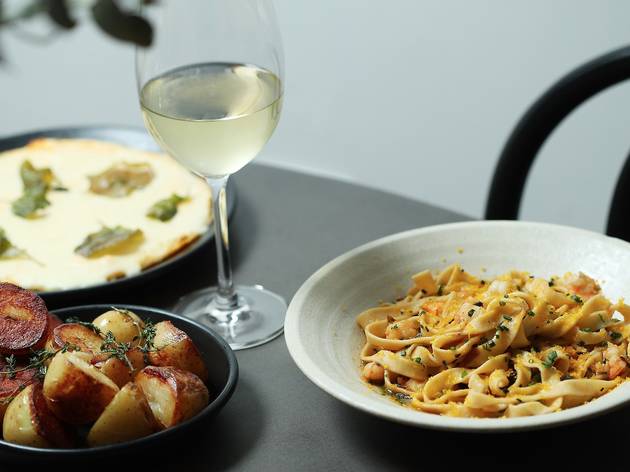 1/9
Photograph: Graham Denholm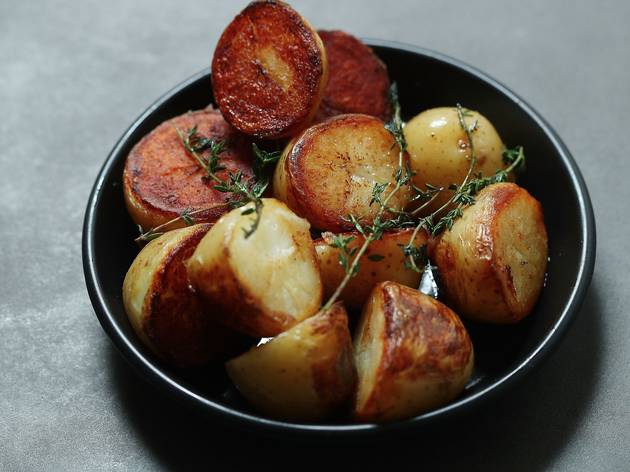 2/9
Photograph: Graham Denholm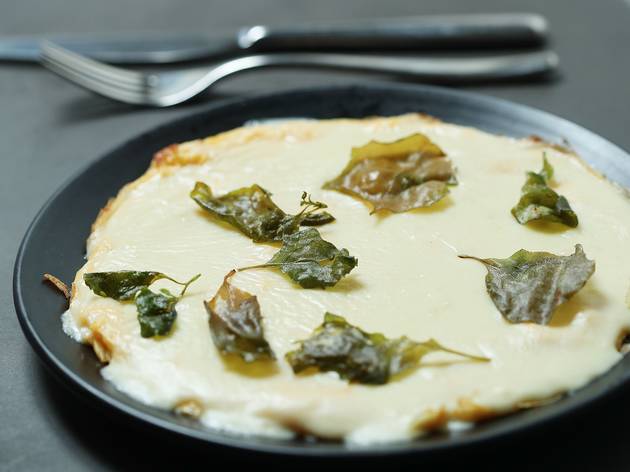 3/9
Photograph: Graham Denholm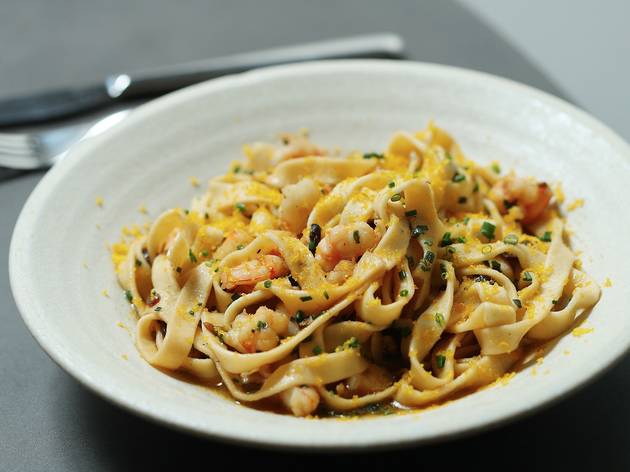 4/9
Photograph: Graham Denholm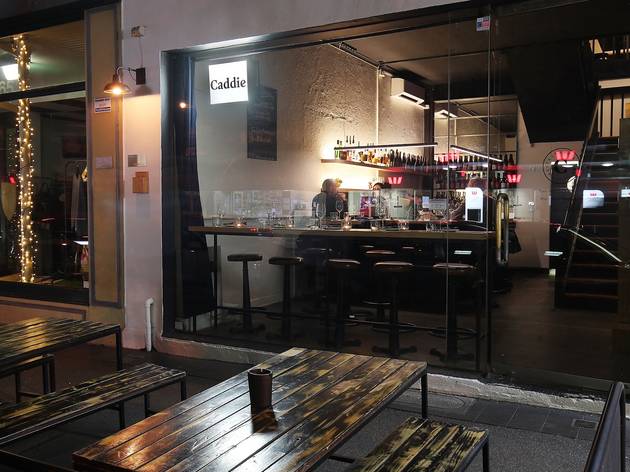 5/9
Photograph: Graham Denholm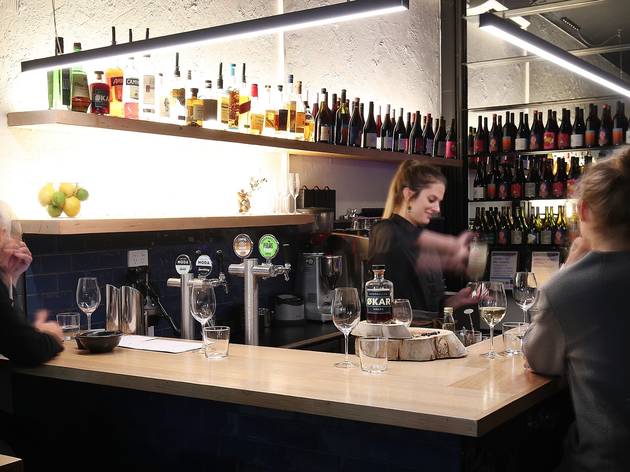 6/9
Photograph: Graham Denholm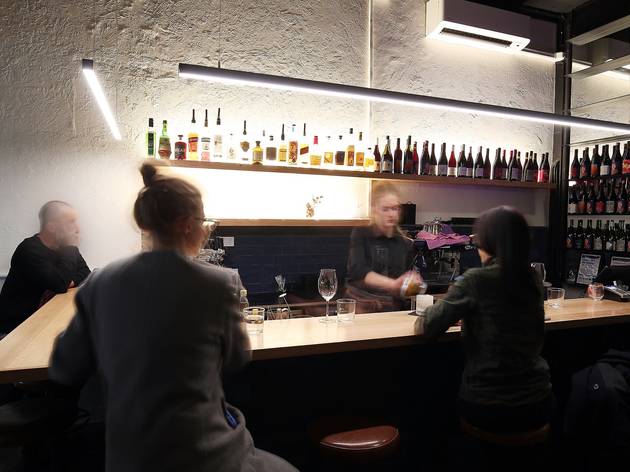 7/9
Photograph: Graham Denholm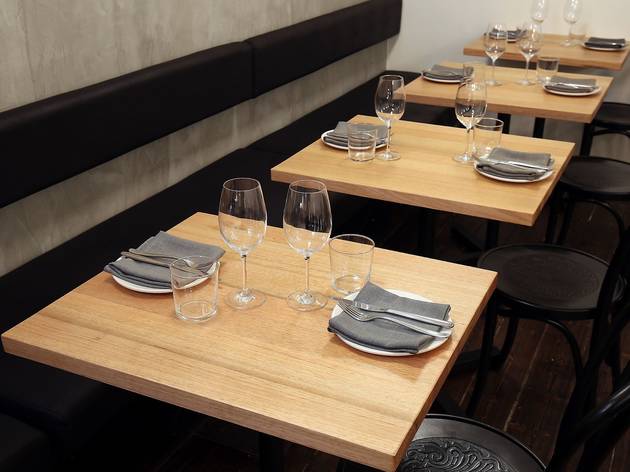 8/9
Photograph: Graham Denholm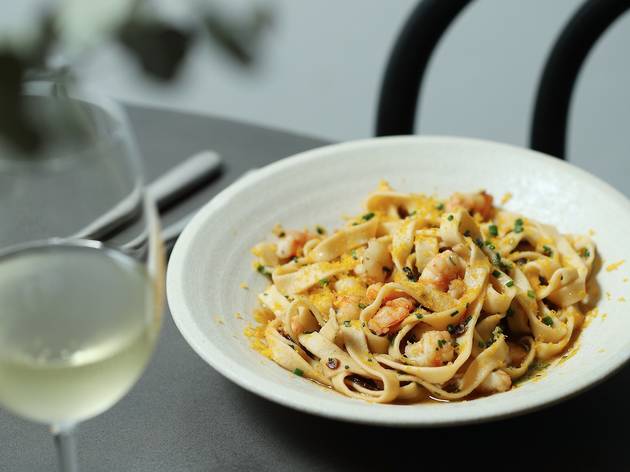 9/9
Photograph: Graham Denholm
Time Out says
An ambitious fine diner in a neighbourhood setting doesn't quite get there, but it's close
Swan Street is known for many things – burger joints, chain restaurants, massive pubs, the Corner Hotel, access to the most congested main road in Melbourne – but what it isn't known for is its schmick dining options. Polished operations like Union Dining have been forced off the street due to rising rents, and Noir is more casual than ever before. So, will new restaurant Caddie, by chef-owner Dylan Evans, who has spent time cooking at the internationally celebrated fine diners Noma (Denmark), Manresa (LA), and Alinea (Chicago), be too hard for the locals to swallow?
There's bar seating downstairs, but once you ascend to the first level, the room shifts into something a bit more serious – almost austere. As much as the room and the staff try to present Caddie as casual, it's already straddling the precipice into something finer, but it's not quite there yet. Service is confident but a little clumsy: empty water glasses and beverages sit sometimes forgotten and while the food is designed to share, dishes aren't accompanied with service cutlery.
The menu reads as a list of ingredients, rather than composed dishes – oysters, mignonette; little carrots, bread salt, mustard seed; pork scotch, betel leaf, date, tamarind – but here it's not an ominous sign of minimalism. Instead, it marks an informal, neighbourhood tone, which suits the lonza that arrives as a lard-lover's heaven: four thin slices of fatty pork loin that has been cured with chilli and fennel and drizzled in olive oil. The restrained presentation and conservative serve at $14 a plate is the ultimate sign of faith in one's produce, and it's well founded.
The 'omelette, smoked barramundi, cheddar' is a must-order. It brings together a dangerous combination of seafood and dairy that would normally set off all kinds of warning bells, but the disc of just-cooked egg topped off with slices of smoked barramundi and a caramelised top of cheddar sauce (similar to béchamel), embellished with shards of deep-fried saltbush, is a triumph. It's worth ordering a serve of bread just to mop it up. Pasta is housemade, cooked to the more tender side of al dente and generously tossed with diced prawns and fermented black garlic, topped with bottarga. An umami bomb with modern Aussie flavours using techniques that are undeniably Italian make this a subtly cross-cultural dish.
The Welsh rarebit listed among the desserts is a tricked-up cheese course in a stout-less interpretation of the English open-faced toastie, which is perhaps too tricky for its own good. This is the only slipup of the meal; the rarebit suffers from undertoasting and using a bread too dense to absorb the thin layer of cheddar, mozzarella, Worcestershire and mustard sauce.
The wine list is, at the moment, quite small and dominated by Australian producers with a few French examples thrown in for the purists. While the selection is cleverly chosen to suit the food, the sweet spot of pricing might be too high for the neighbourhood. We look forward to seeing the list expand with a few more months of trade behind it.
It seems remiss to write about Caddie without bringing up the suddenly shuttered Mister Jennings, as the parallels are glaring. A chef/owner with international experience under big, Michelin names? Check. Independent backing? Check. Clever food in a casual setting? Check. At the mercy of Richmond? Check. Let's just hope the neighbourhood is ready this time around. It's about time Swan Street became a dining destination.
Details
Address:
167 Swan St
Melbourne
Melbourne
3121

Contact:
Opening hours:
Tue-Wed 5:30-late; Thur-Sat noon-late
Best selling Time Out Offers