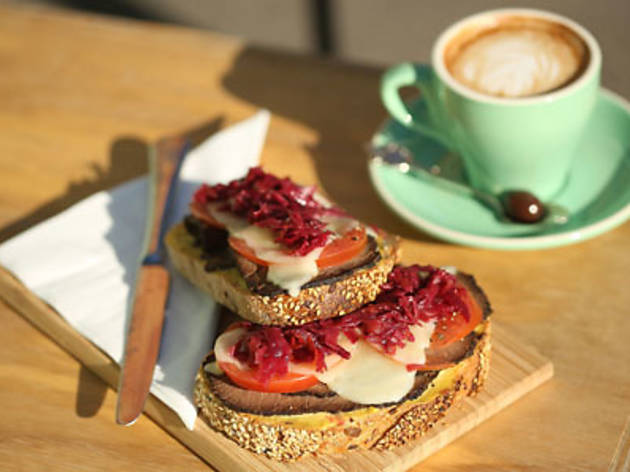 1/16
2/16
3/16
4/16
5/16
6/16
7/16
8/16
9/16
10/16
11/16
12/16
13/16
14/16
15/16
16/16
Roll-by espresso and roof top views
Putting a café on Canning Street (cyclist superhighway) is like baiting drunks with kebabs. The smart people to do just that are mum and son team Amanda and Nick Büsst, who are capitalising on the cyclists' natural need for caffeine with Café BÜ: a turquoise-tinted coffee stop on the corner of Pigdon and Canning.
As if they weren't already shooting fish in a barrel, Café BÜ also sports a timber-lined rooftop, plugged with little succulents and bright umbrellas. Soak up those winter rays like a lizard, or, if you're in need of fly-by caffeination, park your pushy by the hatch and get your refreshments to go.
They use Five Senses beans and serve them any way you like – espresso, pour-over or through the Clever Dripper. Our chai could stand to be a little more robust, but milk coffees are all zing and organic-milk-sweet. They also come with a chocolate-dipped bean as a bonus surprise.
Beverages outweigh the eats three to one, but there are nice things to pack in your pannier: pastries from wonder-bakery Dench and the odd counter special. On our visit, it's Nutella and banana croissants (Melbourne, take a note) and roast beef cheese melts – finely shaved meat, heaped onto multigrain with lots of Dijon mustard and aniseedy fennel sauerkraut from Pat's Organic Pickles. Delicious, and a cheap lunch at $7 for two. They're good with that stuff here. A single round of toast with condiments (often all we want) is $3. What a peach.
Venue name:
Café BÜ
Address:
585 Canning St
Carlton North
Melbourne
3054

Opening hours:
Mon-Fri 7am-4pm; Sat, Sun 8am-4pm