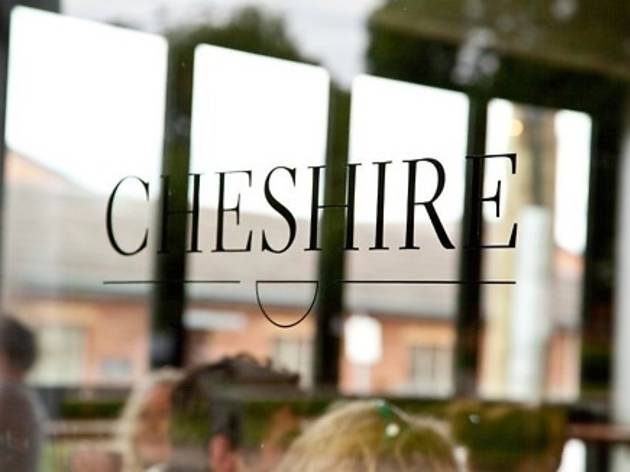 Hello Preston. You look awfully happy about something - a new café perhaps?
If you fancy yourself as a bit of an on-the-pulse breakfaster, you had best get your chomping gear over to Preston. The 'hood just keeps getting better and better, and with the arrival of a café that's putting forward some genuinely interesting gear, it's making the mostly uphill journey to the other side of Bell Street totes worth it. Even on a fixie.
Cheshire Café is the baby of Ming Lang (you may recognise his lengthy locks from Small Block and Octane) and Rosanna Pimm, two coffee moguls and cool cats with a raging enthusiasm for breakfast making and style in spades. With floor to ceiling windows taking up two walls, the place is like a hipster terrarium. Every window perch is taken up by artsy locals and in-the-know outsiders, industriously eating muffins, reading the (good) newspapers and staring smugly at the queue outside.
It's a bright but tight space, decked out with communal table, a modest few four-tops and canvas military chairs – which look awesome, but are a little snug unless you have the rump of an 18-year-old army recruit. Once you do manage to squeeze into one, kick things off with a house made lemonade for some tart'n'sweet breakfast shazaam and then get involved in some of their house-made bread and cakes. This place is all about the baked goods, so the muffin specials and cutesy gingerbread Cheshire cat cookies are all worth a nudge, while a hefty hunk of gluten free pumpkin, rosemary and polenta bread is a savoury winner for those to whom life and wheat has been unkind. Throw it on the side of their baked eggs, which mingle with tart green chunks of tomato and spicy chorizo, and come with a crumbly topsoil crust of fennel seed and pecorino cheese.
For a serious snack, get the sourdough (from local bakery-of-note Loafer Bread) topped with chunks of pear that's been roasted and given a bit of a pickling with vinegar and cinnamon before being topped with Cheshire cheese and grilled. It's like a super fresh cheese'n'pickle sandwich.
Lang has an acquired mastery over the coffee machine, so the on-temperature, silky Coffee Supreme brews here are getting everyone in the 3072 post code a buzzin' and a ravin'. They're smooth and sweet rather than whiplash strong so potent brew fans should consider a double shot.
The 20-seat capacity and lack of much competition nearby means you should get in early or come pre-armed with papers for the worthwhile wait. It looks like there's a lot of uphill cycling in our future.
Venue name:
Cheshire Café
Contact:
Address:
583 Gilbert Rd
Preston
Melbourne
3072

Opening hours:
Mon-Wed 7am-5pm; Thu-Sat: 7am-11pm; Sun 7am-5pm
Transport:
Nearby stations: Regent