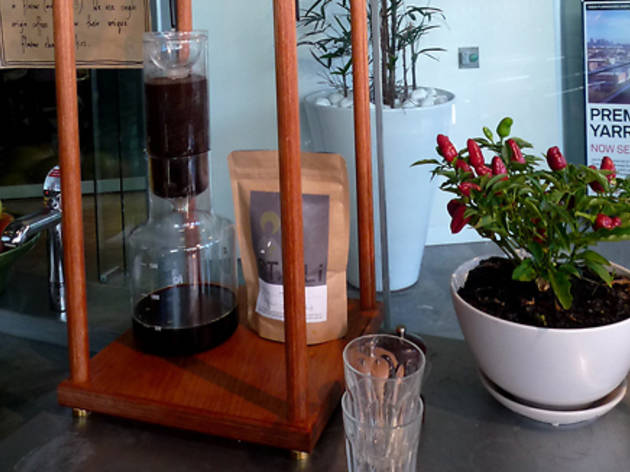 A Collingwood café aims to bring out your inner child
Cibi, meaning 'little one', is a Japanese café run according to a philosophy. Its slogan is 'Head Hands Heart', which translates into keeping the space, and the food, thoughtful, well designed and uplifting.

It's housed in what appears to be a converted workshop – a bright and spacious room filled with light, and decorated with an odd but pretty mix of colourful posters, tools and industrial flotsam displayed as art objects. The open-plan kitchen occupies pride of place directly behind the counter, where customers can watch their food being prepared if they are so inclined.

There's a great deal else to look at though, not least in the shop to the rear. Cibi sells a carefully selected range of high-end Japanese cookware, tableware and old-fashioned toys such as paper balloons and tin spaceships. It also sells Siwa-brand household goods including tote bags, pencil holders, slippers and hats, all made entirely from super-strong paper.

However, the main attraction is the café proper. The menu offers both Japanese and western-style dishes, with an emphasis on quality, organic ingredients and beautiful presentation. If neither the half-boiled eggs nor the avocado and lemon bruschetta appeal, try the Japanese breakfast plate, with rice, vegetables and either salmon or "more vegetables".

The miso soup, loaded with onions, vegetables and fish stock, is a world away from the mild and smooth version most gaijin will be familiar with. Ditto the green tea or ryoku-cha – at Cibi, it's not the insipid, slightly bitter stuff that's barely green at all, but a potent, pea soup-coloured brew. Cibi doesn't do dumbed down.

The storefront signage is minimal, the implements and crockery are Japanese traditional, and customers are assumed to be proficient with chopsticks. Lest that should make it sound imposing, it absolutely isn't – the staff are friendly and helpful, and the whole space is calm and pleasant. It's the perfect spot for absorbing a little culture with your morning coffee.
More of the best Japanese restaurants in Melbourne.
Venue name:
Cibi
Contact:
Address:
45 Keele St
Collingwood
3066

Opening hours:
Mon-Fri 8am-5pm; Sat 9am-5pm