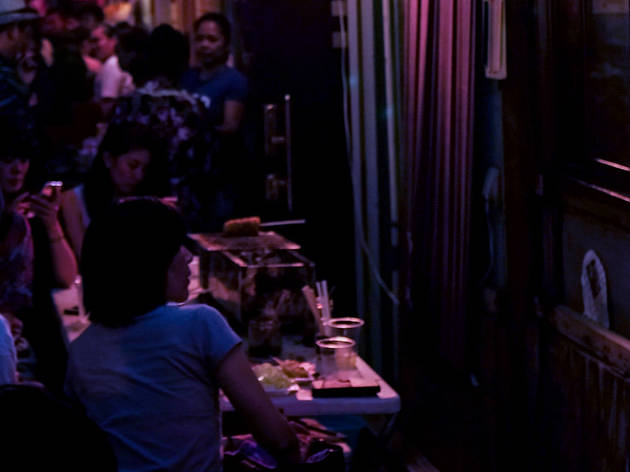 It's lights out at this global dining phenomenon, where you'll eat dinner in complete darkness
Dans Le Noir is now located at Rydges on Swanston in Carlton. The following review is from its previous location in South Yarra.
Dans le Noir is Australia's first dip into Paris's high-concept dining-in-the-dark experience. At the restaurant, diners are invited to eat, drink and interact with each other in complete darkness.
The aim of the project is to highlight not-for-profit organisations that support blind and visually impaired people in their everyday lives, including Vision Australia, SensWide and Blind Sports Victoria. The concept started back in 2004 and has since established restaurants in Paris, Auckland, London, St Petersburg, Barcelona and Nairobi.
'Dans le Noir' literally means 'in the dark', and they mean it. The lobby is well lit for initial explanations and surprise menu selections (there's a seafood menu, a seasonal vegan menu and a feed me menu), and it's here we are introduced to our guides, who happen to be people with vision loss.
We are then shuffled, hand to shoulder, through a series of curtains that successfully eliminate all light. I close my eyes and open them, and I can't tell the difference.
Once seated, we are guided through a mystery three-course menu designed by Como's executive chef, Dinesh Munirathinam. The food is good (the kind that you'd expect from the kitchen of a mid-range hotel), but it's more about the surprise and the intrigue here. Because I can't see my food, I have to rely on my secondary senses. Is it chicken? Is it pork? Is it even meat at all? It's amazing how much sight can play a part in how things taste.
I have no concept of time, since there are no phones, no watches and no windows with setting suns to look upon. What felt like an hour inside was actually more like three, with the only reassurance that I wasn't falling into an abyss the usual clinking of plates and loud dinnertime conversations. Dinner games are part and parcel of your meal, as is some surprise entertainment – but that's best kept secret for now.
Our guide, Jenny, was fantastic, giving us specific instructions for every course, utensil and wine glass coming our way. It's humbling to hear stories of people living with low vision, with Jenny's one instruction that we all understand that living with a lack of vision doesn't mean helplessness. And if you manage to make the whole meal without using your fingers to pick up your food, you'll understand.
Venue name:
Dans Le Noir
Contact:
Address:
Rydges on Swanston
701 Swanston Street
Carlton
Melbourne
3053

Opening hours:
Thu-Sun 6.30-10.30pm
Price:
$95-$125