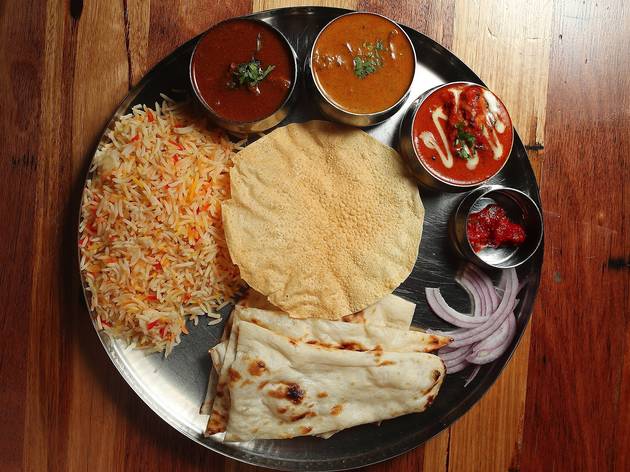 1/11
Photograph: Graham Denholm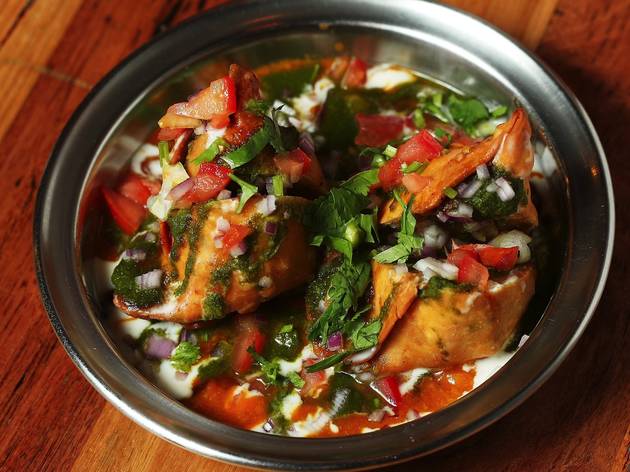 2/11
Photograph: Graham Denholm
3/11
Photograph: Graham Denholm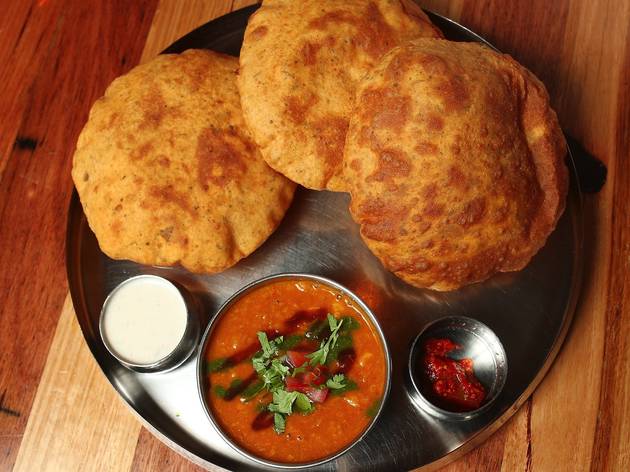 4/11
Photograph: Graham Denholm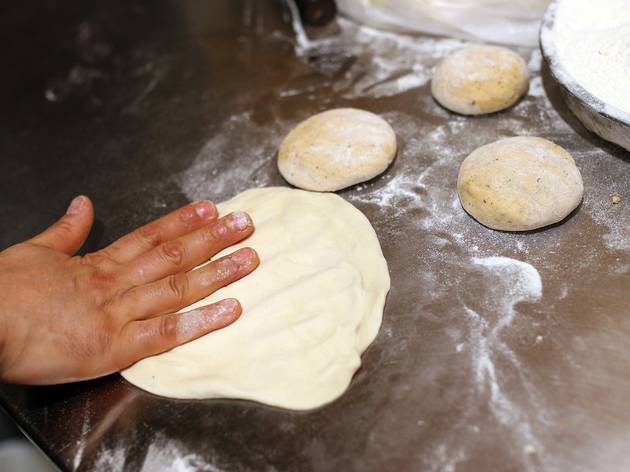 5/11
Photograph: Graham Denholm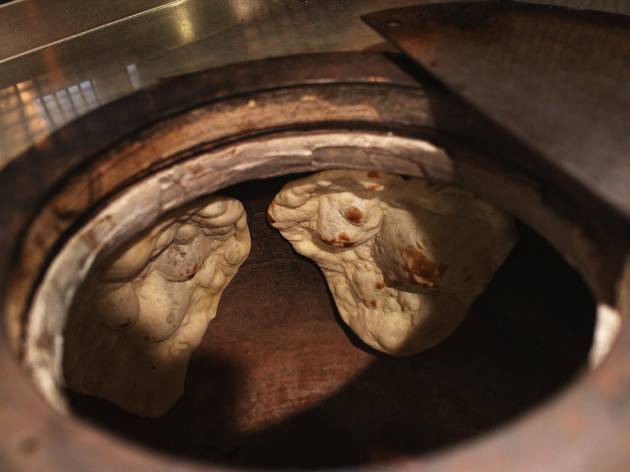 6/11
Photograph: Graham Denholm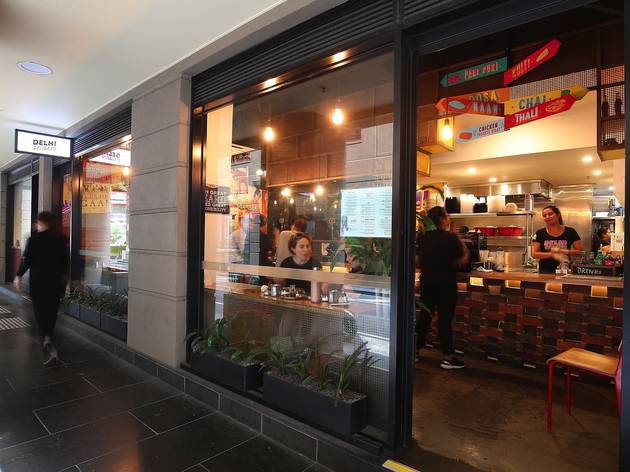 7/11
Photograph: Graham Denholm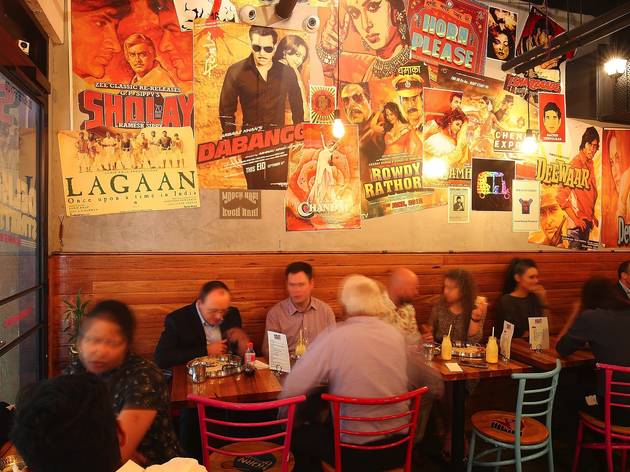 8/11
Photograph: Graham Denholm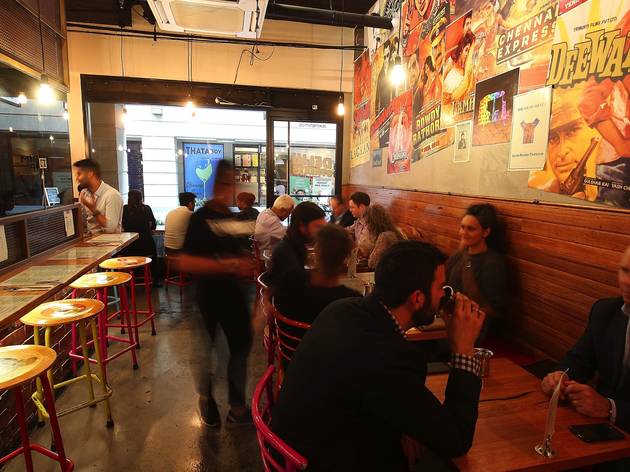 9/11
Photograph: Graham Denholm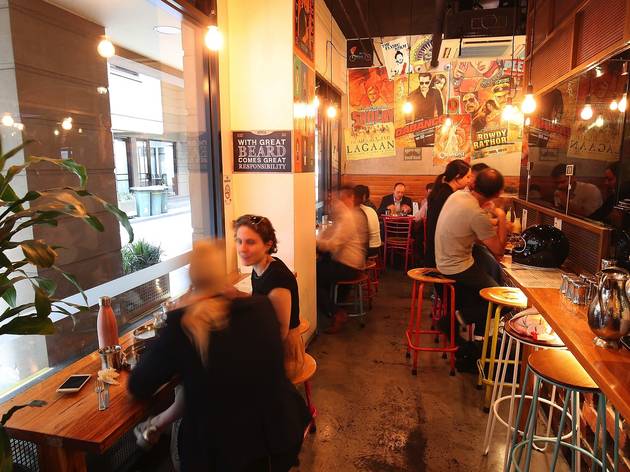 10/11
Photograph: Graham Denholm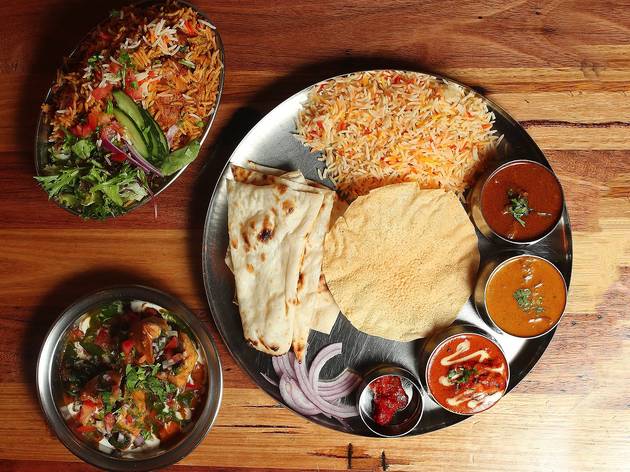 11/11
Photograph: Graham Denholm
Time Out says
Don't be fooled by Delhi Streets' remote location as far as CBD venues go – you're best off making a booking or you'll end up sitting in a flight seat formation
We learn the hard way by venturing to Delhi Streets on what we think will be a quiet Monday night, only to find each four-person table is taken, leaving us with two options: the stools encircling the glass-framed kitchen or the stools overlooking Katherine Place, the quiet alleyway the restaurant is tucked into. If you're a group of more than two, you really need to book.
Thankfully we are early and so we find ourselves perched on the low and sturdy stools, artfully emblazoned with popular Indian sayings such as 'horn okay please', and the lack of back support is remedied by our newfound ability to watch chefs knead dough as we sit flanking the kitchen.
Delhi Streets may be named in honour of India's capital, but its menu criss-crosses the country. South India is represented by the dosas (thin crisp pancakes made from fermented batter), while Mumbai's famed pav bhaji (vegetable curry served with soft bread rolls) makes an appearance. Fusion dishes marry Western and Eastern influences, with the paneer pizza using India's version of cottage cheese instead of mozzarella, and the chicken burrito swapping wheat tortillas with naan.
But back on more traditional footings, we can't go past the pani puri, those crisp, hollow miniscule dough shells with diced potato and chickpeas inside. As instructed, we pour tamarind mint water into the shell and eat it in one mouthful. Between the crunch of the shells and the pleasing tartness of the tamarind water, we can see why this refreshing snack is one of India's most popular street foods. Those who've tried them before will know to only use a dash of water, or your fragile shells might spring a leak.
Unlike the standalone samosas served in most Indian restaurants in Melbourne, Delhi Streets' samosa chaat features everyone's favourite triangular pastry doused in spicy chickpea masala, curd and tamarind chutney and then topped with slivers of raw onion. The samosas remain crisp despite the deluge of sauce, and the interplay of sour, sweet and spicy elevates the popular snack to a main meal qualifier.
Delhi Streets' curries change daily. They range from popular vegetarian staples like dahl and aloo gobi, to meaty mainstays like goat curry and butter chicken. The thali meals, where ramekins of curries and pickles are served on a round metal plate, are as traditional as they come and worth every buck. Eschew cutlery in favour of using the naan as a makeshift spoon to scoop up the two curries of your choice, or pour them liberally over your heap of rice.
The chicken biryani is a mountain of aromatic saffron rice for an eminently reasonable $14 price tag. It comes interspersed with bite-sized pieces of chicken marinated in onion, garlic, cardamom and cinnamon. The beauty of biryani is that the rice and chicken are cooked together, infusing the rice with the heady flavours of the spices and meat.
Here the choley puri features golden, crisp, unleavened wheat dough that puffs out into a round, flat disc once it touches hot oil (puri), served alongside chickpea masala (choley). The buttery quality of the puri is a perfect complement to the heat-filled masala. These two dishes are a highlight.
Barely a minute after our plates are cleared and while we're still deliberating whether to go down the dessert route, the bill is produced and we're informed that people are waiting for our seats. The brusqueness is a defining characteristic of the service at Delhi Streets, but we're too sated from the food for it to concern us. Delhi Streets is the perfect place for a reasonably priced meal in a lively setting, but it's not a space one can linger – the tables rotate as quickly as the kneaded dough on the chef's table.
Details
Address:
22 Katherine Place
Melbourne
Melbourne
3000

Contact:
Opening hours:
Mon-Fri 11.30am-2.30pm; 5.30pm-9.30pm
Best selling Time Out Offers