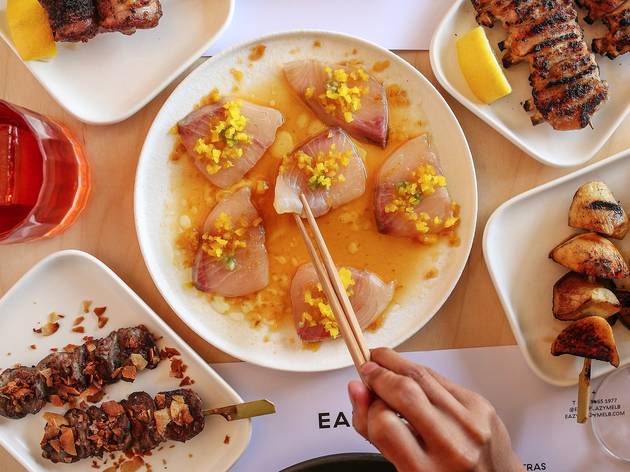 1/11
Photograph: Graham Denholm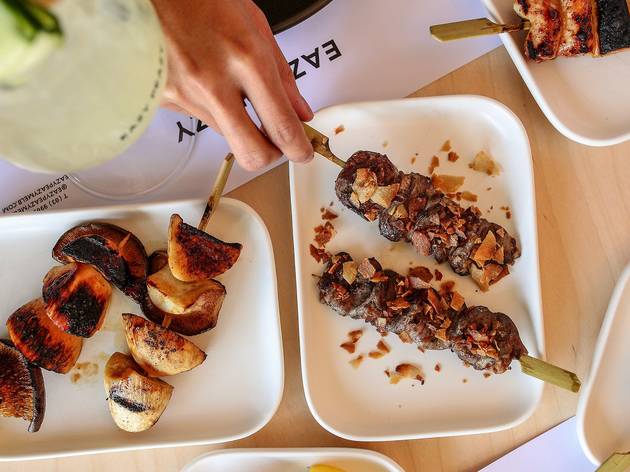 2/11
Photograph: Graham Denholm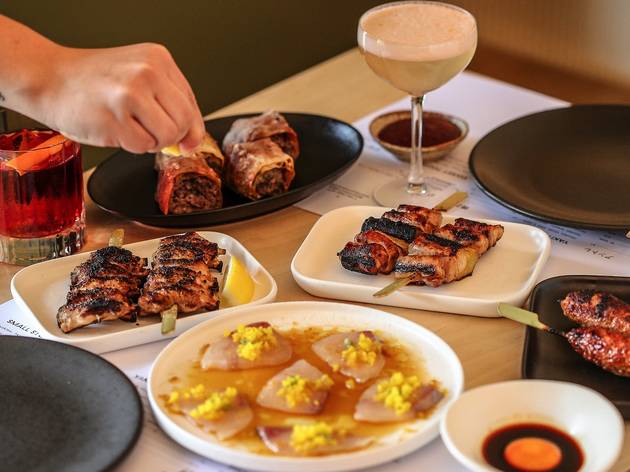 3/11
Photograph: Graham Denholm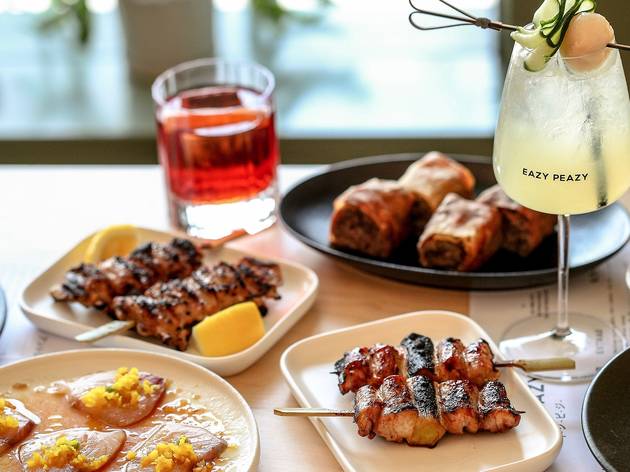 4/11
Photograph: Graham Denholm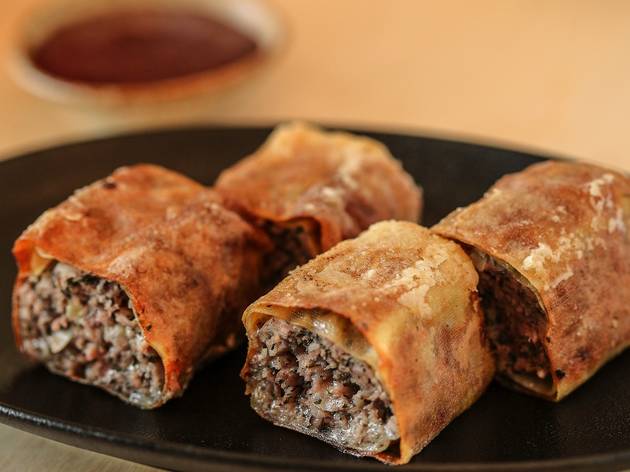 5/11
Photograph: Graham Denholm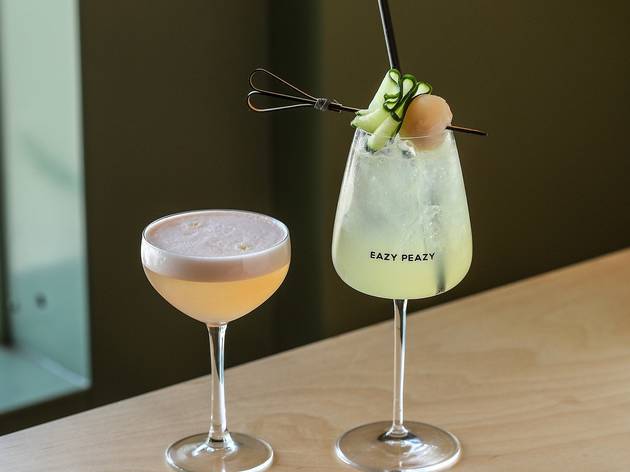 6/11
Photograph: Graham Denholm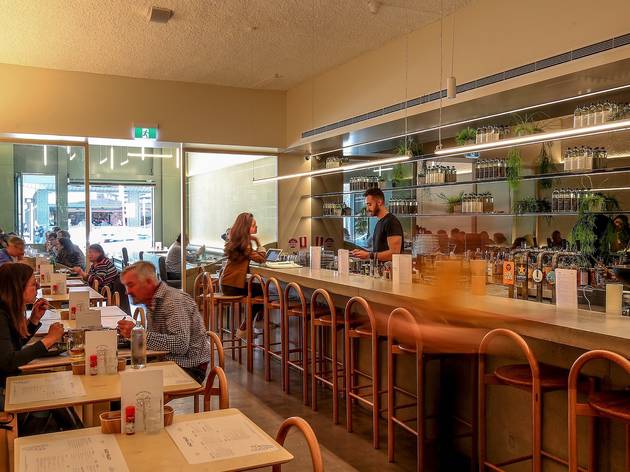 7/11
Photograph: Graham Denholm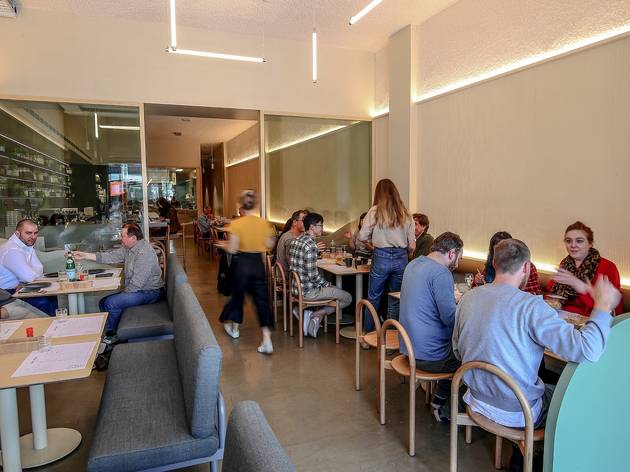 8/11
Photograph: Graham Denholm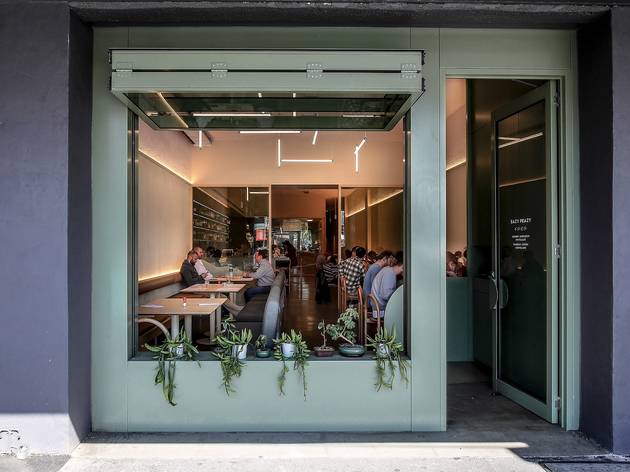 9/11
Photograph: Graham Denholm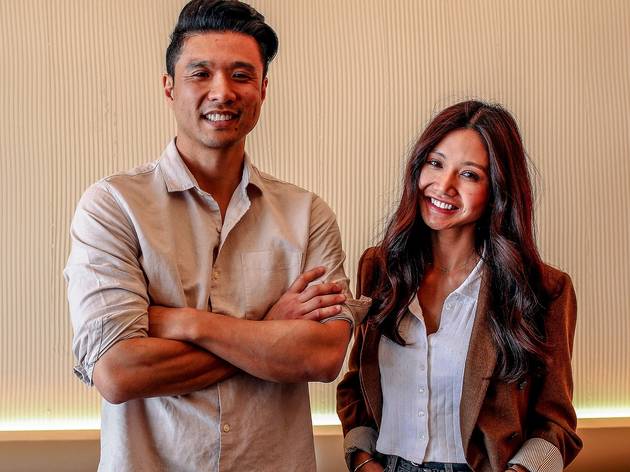 10/11
Photograph: Graham Denholm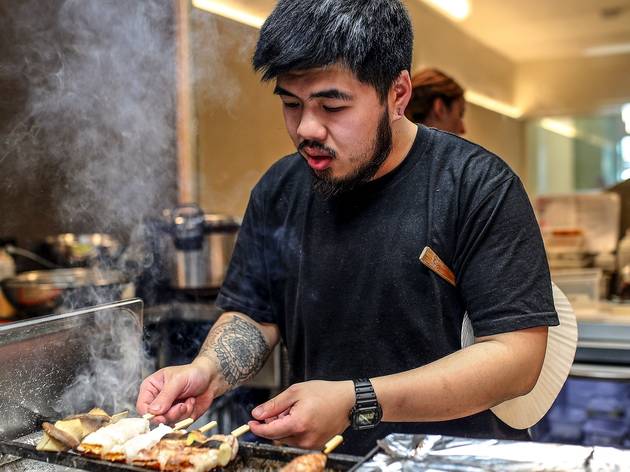 11/11
Photograph: Graham Denholm
Time Out says
Good times come on a stick at Richmond's Eazy Peazy
It's a globalised world where food media wields the power of Cambridge Analytica, so there's a good chance anyone who's been to Hong Kong since 2011 has been to Yardbird, the super-hyped yakitori joint in Sheung Wan. That the restaurant still holds its clout in a city where six months is considered old speaks loads for the appeal of chicken on a stick and a fun-loving drinks program to match.
So the news that a former Yardbird chef is busting some moves at a Swan Street joint is enough to make anyone head to Tiger Town. In the happening little patch near the Richmond Club and Corner Hotels, Eazy Peazy was opened by Yuta and Sharlyn Kobayashi, originators of Armadale's Coin Laundry and the duo behind the Toji Sake brand.
Opening a restaurant to go with your drink brand has got to be about the most Millennial move we've heard, and bringing chef Dan Chan on board after a "stint" (as they say in the trade) at Yardbird as well as Andrew McConnell's Supernormal and Cumulus Up gives an added sprinkle of fairy dust.
Eazy Peazy goes the chic and modern route with what is essentially an addition to Melbourne's league of izakayas. The room is a neutral thing; easy to pass by (we missed it twice), but once your bottom is enthroned on a banquette there's plenty of time to admire the layers of thoughtfully considered texture in the thoroughly Japanese approach to minimalist design, with vertical rivulets running precisely down the walls and sand whorls captured between the sliding door glass panes.
When it comes to those skewers, the hoped-for beak-to-tail program is circumscribed by the lack of organs, apart from bouncy little hearts interleaved with garlic. No livers or gizzard here, alas. The adventurers in our midst will have to be satisfied with the salt and pepper oyster meat, that dark and mysterious little puck from the back of the thing, or deeply scorched wing meat with yuzu salt and a squeeze of lemon, or simply the quotidian yet compellingly juicy and charry charms of thigh proper and tare sauce (soy and egg yolk).
If you haven't scratched your poultry itch with the chicken there's duck gyoza,
their beancurd skin wrapping corrupting what should be a wholesome dumpling experience to no apparent end except annoying anyone who isn't gluten-free.
Other dishes tip their hat to global classics: beef intercostal with chimichurri; a cheesy beefy rice ball wearing its arancini inspiration on its sleeve, along with a thematic Bulldog sauce; an excellent kingfish crudo with pickled daikon and a citrussy slosh of ponzu.
The "sharing is caring" header is meant to bring out the big boys, but despite being covered in a heroic blizzard of finely grated daikon and togarashi, eggplant is more side dish than vego hero – which kind of sums up the tepid experience meat-avoiders are going to have here. Four vegetarian sticks (kushiyaki, as opposed to the chicken-only yakitori) including leek and zucchini hit a duff note, including king mushrooms that prove to be little more than charry-edged bits of spongy puff.
All those little sticks sure can add up quickly, and eating at Eazy Peazy can be more expensive than anticipated – especially if you add a Japanese-twist cocktail, or Kirin from the tap. Not saying they're not worth it – banish the thought – but the Eazy Peaziest way to a good time here is to sit at the bar and order some sticks and drinks, rather than settle in for the full multi-course monty. It's a globalised world, like we said, and Yardbirdists might feel a little underwhelmed. But sticks and drinks are always a good thing, no matter where you are.
Details
Address:
108 Swan Street
Melbourne
3121

Menu:
View Menu
Contact:
Opening hours:
Open Mon-Wed 5pm-10pm; Thu-Sun noon-11pm
Special offers
Feed Me - Super Eazy
Chef's selection of the best bits Eazy has to offer. *minimum 2 people* Terms and Conditions: Maximum of 20 diners. Includes VAT, includes service. Valid For: 2 - 20 People Mon-Thu 4:00PM-6:00PM
Offer valid until
Dec 11 2119
Feed Me - Super Premium
Like the Feed Me Super Eazy but a lil' extra (+Super Hibachi and a special dessert). Terms and Conditions: Maximum of 20 diners. Includes VAT, includes service. Valid For: 1 - 20 People Mon-Sat 4:00PM-11:30PM
Offer valid until
Dec 11 2119
Best selling Time Out Offers