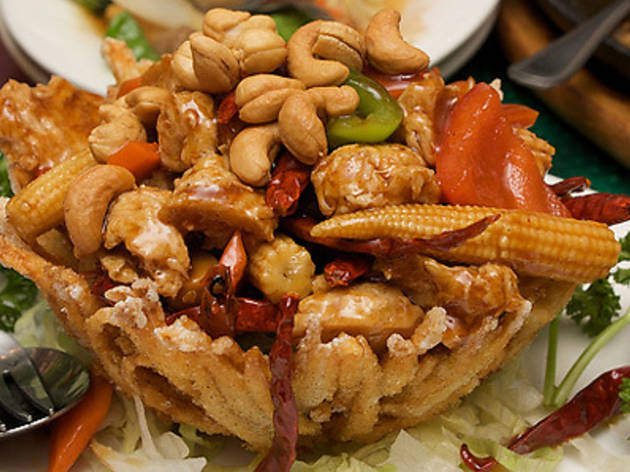 Enlightened Cuisine is your one stop shop for eerily realistic fake meat
In centuries past, Chinese emperors were required to observe annual periods of vegetarianism for religious purposes. So that he wouldn't be deprived of his favourite dishes during his time of supposed fasting, imperial chefs developed highly realistic imitation meats (apparently it isn't done to call bullshit on an emperor for pulling cheats). Later chefs, including Buddhist monks, refined and perfected those techniques until mock meats were virtually indistinguishable from the real thing.
Enlightened Cuisine, a Chinese vegetarian restaurant in Southbank, has made such faux meat their specialty; everything from roast duck to shark fin soup is on the menu, completely meat free. The mock meat is made from soy protein and seitan (pronounced 'satan' – it's the most metal of all meat substitutes).
Among Enlightened Cuisine's offerings are beef, lamb, chicken, pork and a huge array of imitation marine life including jellyfish, sea cucumbers and prawns. The duck is almost creepily realistic, with textured skin and even a fat layer; the barbecue pork is a little less believable, with a smooth, springy texture, but the prawn toast and hot and sour soup both get high marks. For those vegetarians to whom mock meat doesn't appeal, there are plenty of straight vegetable and tofu-based dishes on offer.
The restaurant is fully licensed and allows patrons to bring their own wine; entrees start from a mere $3.50 and generously-sized banquets can be had during dinner hours from $30 per head. Takeout is available, and if you haven't overdosed on mock meat during your meal there is a large display near the door where you can stock up for home.
An outing to Enlightened Cuisine is a cruelty-free culinary adventure.
Venue name:
Enlightened Cuisine
Contact:
Address:
113 Queensbridge St
Southbank
Melbourne
3006

Opening hours:
Mon-Thur 11.30am-2.30pm & 5.30pm-10pm; Fri-Sat 11.30am-2.30pm & 5.30pm-11pm; Sun 5.30pm-10pm
Transport:
Nearby stations: Flinders St