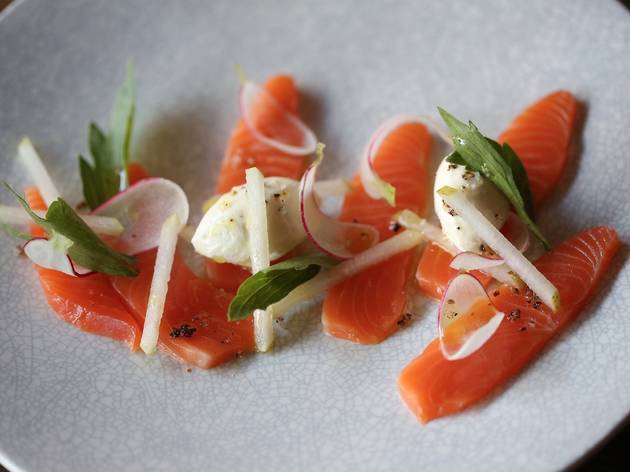 1/8
Photograph: Graham Denholm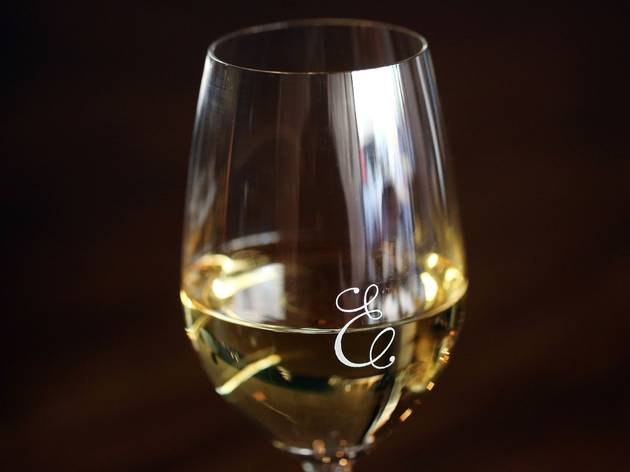 2/8
Photograph: Graham Denholm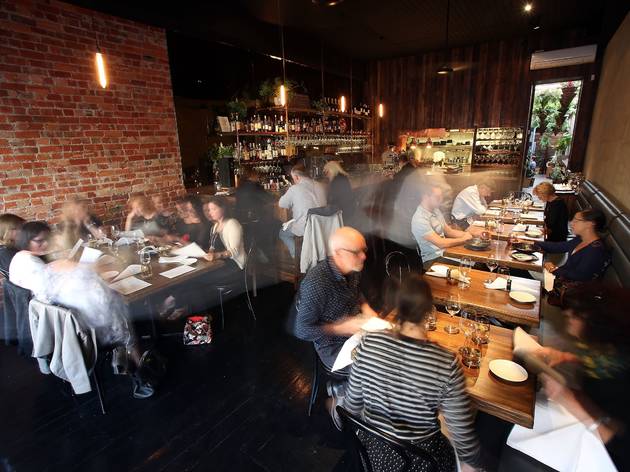 3/8
Photograph: Graham Denholm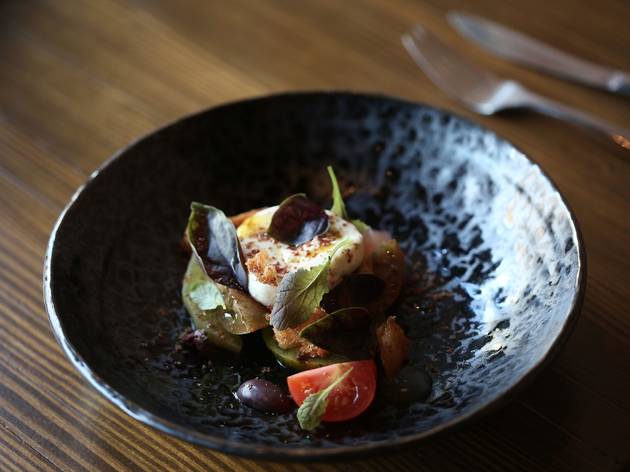 4/8
Photograph: Graham Denholm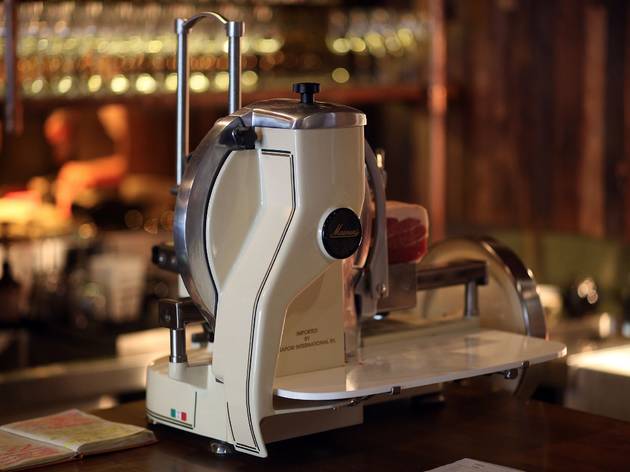 5/8
Photograph: Graham Denholm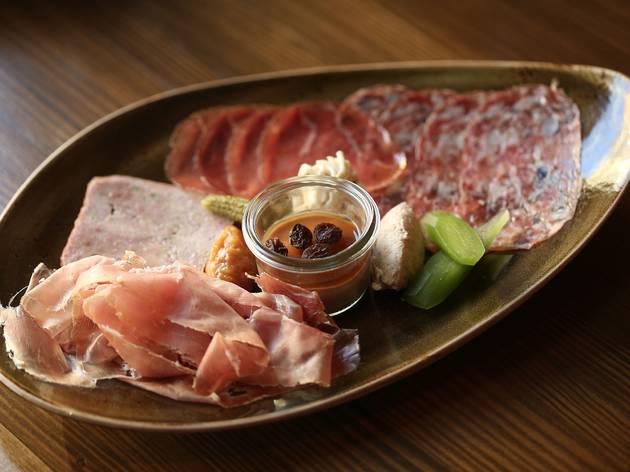 6/8
Photograph: Graham Denholm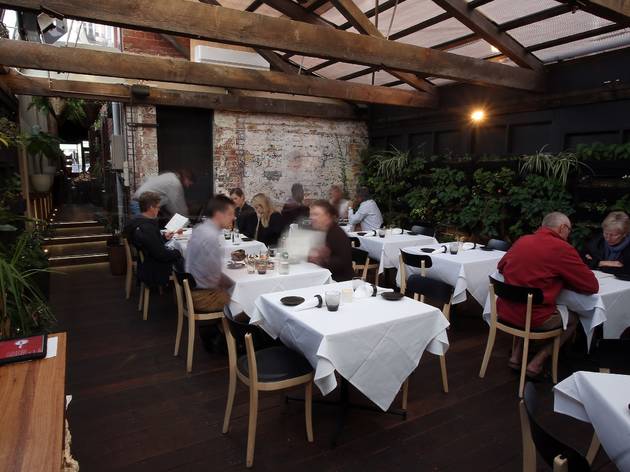 7/8
Photograph: Graham Denholm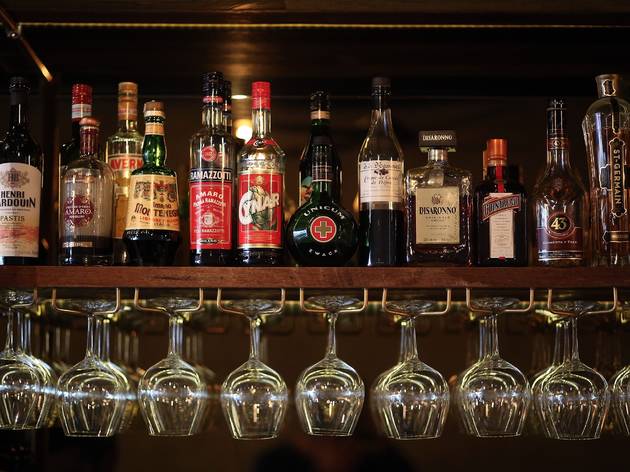 8/8
Photograph: Graham Denholm
The Estelle 2.0 delivers more masculine swagger and a casual carte menu
The pink and grey tiles are gone. The old girl's twee mid-century tea-party stylings are no more than a faded memory. In their place: a clubbish, very masculine space of dark timbers, rugged red brick, and a gorgeously moody, smoky-mirrored bar. Out back, there's a covered, palm-bedecked courtyard. Owner/chef Scott Pickett says it's the restaurant he always wanted. Understandably – it's a bit of a stunner.

Things are going gangbusters for the former protégé of Phil Howard (at London's two Michelin-starred the Square). His second restaurant, Collingwood's Saint Crispin (with fellow chef Joe Grbac) is revving along in fourth gear. Estelle Bistro, as this revamped space is officially known, is a looser beast to the old Estelle. The great-value set menus (three courses are $70; five courses are $90) are still available but it's OK to pop by for a single course (provided you can get a seat – already it's heaving) or some of the snackage Pickett and head chef Josh Pelham do so well. Pristine Moonlight Flat oysters; foie gras parfait with a glossy hat of Sauternes jelly; salt cod croquettes and rouille; a giddy array of red-blooded charcuterie.

The main carte is classic Pickett territory: simple Europhile things with modern tweaks. Traditional pairings with a sense of style, some modern technique and a dash of fun, such as burrata crusted in dehydrated olive, hearty slices of heirloom tomatoes and black garlic, or a gooey smoked egg with asparagus spears, tangy parmesan custard and toasted breadcrumbs. The octopus is a Greek-style winner: blobs of excellent, non-pink taramasalata, squid ink and salmon roe make for a salty delight, and bright king salmon arrives covered in a pick-up-sticks latticework of nashi with wafer-thin slivers of radish. The only negative is an underpowered horseradish cream, which needs more nostril-quivering oomph to hit a home run.

The Estelle's chefs perform small miracles in an open kitchen the polite would call compact and the less polite, squeezy. Pork – a pink loin and a curl of jowl with a perfect rib of crackling – takes the Sunday roast in a stylish direction with apple cider gel and textural crumbs of blood pudding. Delish. And if dessert – richer-than-Croesus chocolate parfait, malted milk ice-cream and honeycomb – doesn't pack any surprises, it certainly brings the meal full circle.

Add a hip wine list with plenty of surprises and a floor that purrs thanks to the energy of manager Stuart Neil (last seen at the Town Hall Hotel), and what Estelle Bistro has – apart from a very nice makeover – is a very bright second life.
---
Venue name:
Estelle Bistro
Contact:
Address:
243 High St
Northcote
3070

Opening hours:
Fri-Sun noon-3pm; daily 6pm-late
Transport:
Nearby stations: Northcote; Merri