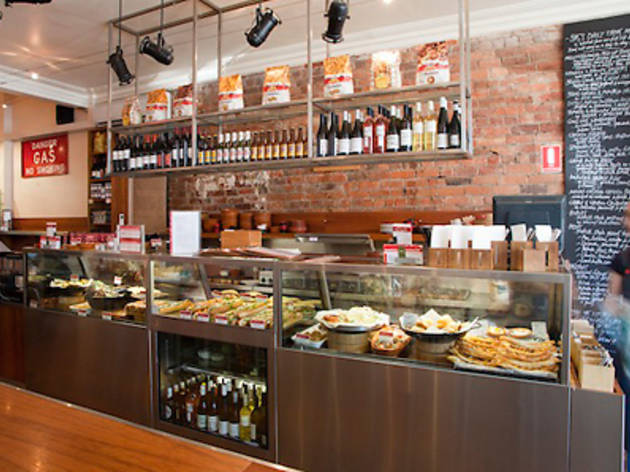 O sandwich, we never knew thee - till now
You can spot a second-generation chef from a mile away. When culinary students are just learning to chop an onion, family trained protégées are calmly running kitchens and seeking to improve on their mentors' successes. Sisters Nichole, Kate and Samantha Maskiell cut their teeth working for their parents at sophisticated Armadale café Tartine, and their own venture GAS is a testament to their lifelong education.
Like Tartine, it's a small but slick operation, serving Middle Eastern and Spanish-influenced mezze and baked goods, and selling a range of take-home dinners plus preserves, muesli and teas. It's the sort of outfit you'd expect to find attached to a chic farmers' market near the likes of foodie haven Daylesford.
The communal tables are constantly packed with the cool kids and writers from the nearby creative agencies, as well as ladies who lunch, exhausted by their search for a lovely new throw in the numerous boutiques that line the street.
There is no written menu. The salads, tapas dishes and café favourites such as sausage rolls are in a league of their own, so rather than labelling the food and risking comparison to inferior versions of the product, they set it out in large glass cabinets for your eyes to do the deciding.
Bocadillos (that's Spanish for sanga) are pricey at $10.50 but stuffed to the gills with rare roast beef, cornichons, horseradish aioli and sweet roasted capsicum. Salads change daily and offer a wide breadth of ingredients. In a single bowl for $13.50 you may find grilled asparagus, smoky roast tomatoes, almonds, feta, mescalin, beetroot, olive bread croutons, roasted carrot, yoghurt, green beans, pine nuts, currants… phew! Throw a little of this next to some olive and mint chicken balls ($8 for four), or a pastie-like borek filled with aromatic lamb or beef mince, and you're in business.
They're also licensed, so if your job doesn't involve operating heavy machinery, or you have an afternoon to while away, grab a glass of local wine and watch the world go by while the sisters chop, knead and laugh in the kitchen behind you.
---
Venue name:
GAS Eatery and Supplies
Contact:
Address:
253 Coventry St
South Melbourne
3205

Opening hours:
Mon-Fri 8am-6pm; Sat-Sun 8am-5pm