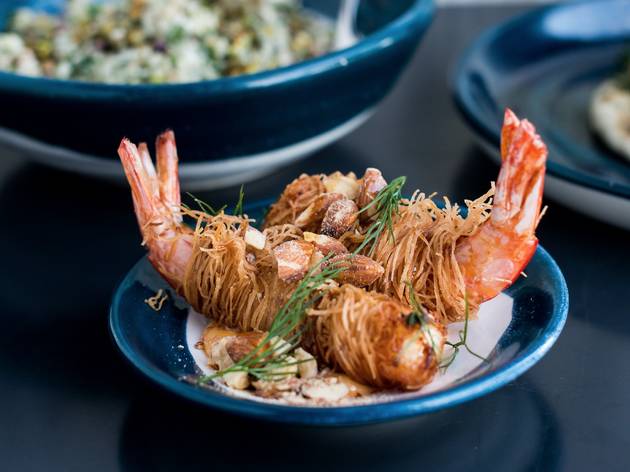 1/10
Photograph: Carmen Zammit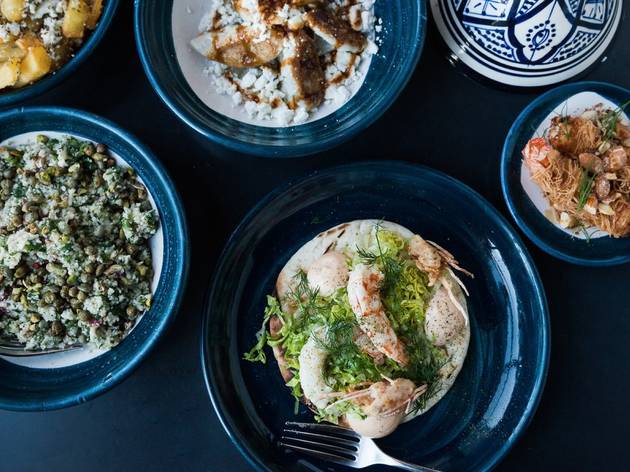 2/10
Photograph: Carmen Zammit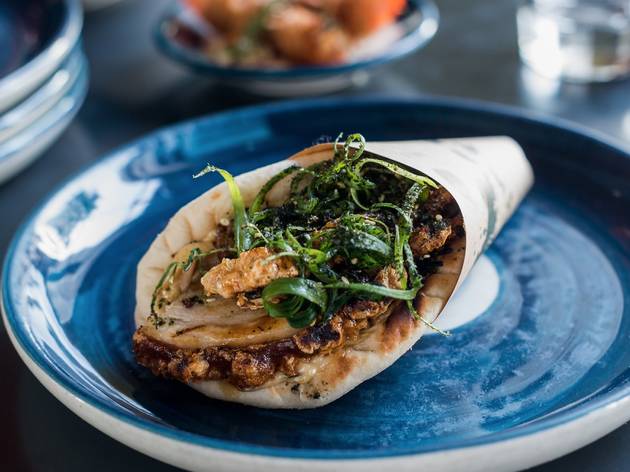 3/10
Photograph: Carmen Zammit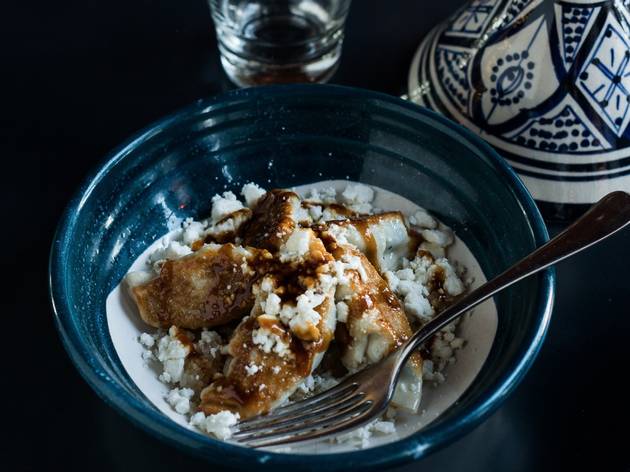 4/10
Photograph: Carmen Zammit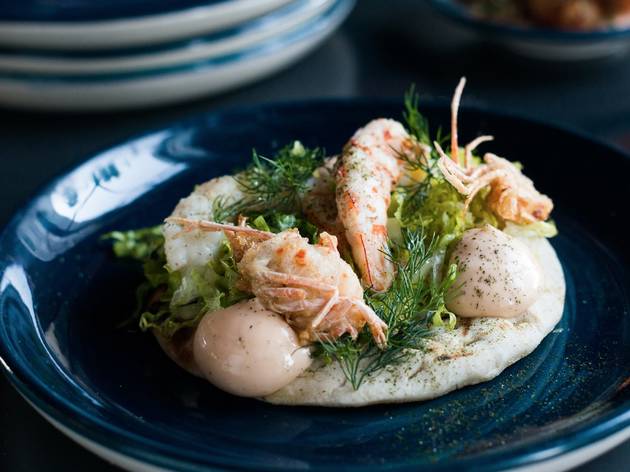 5/10
Photograph: Carmen Zammit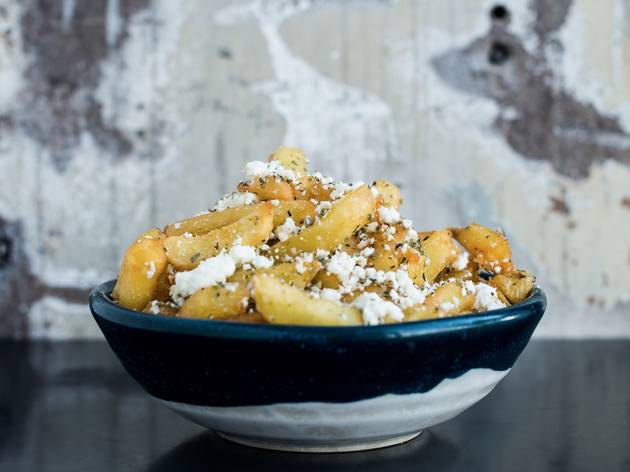 6/10
Photograph: Carmen Zammit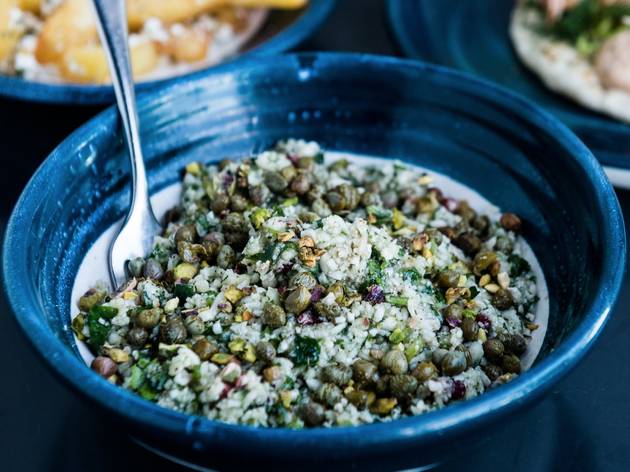 7/10
Photograph: Carmen Zammit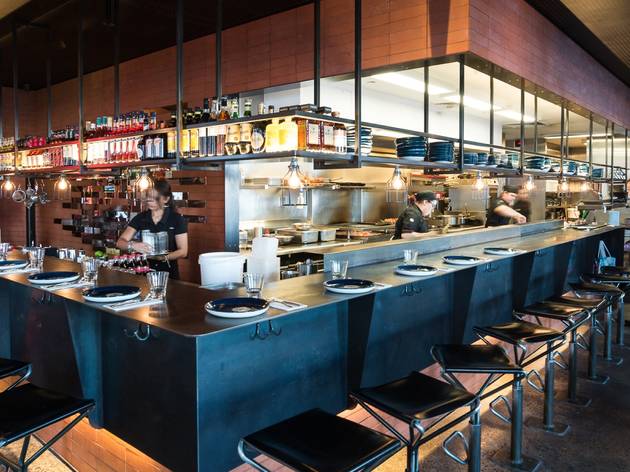 8/10
Photograph: Carmen Zammit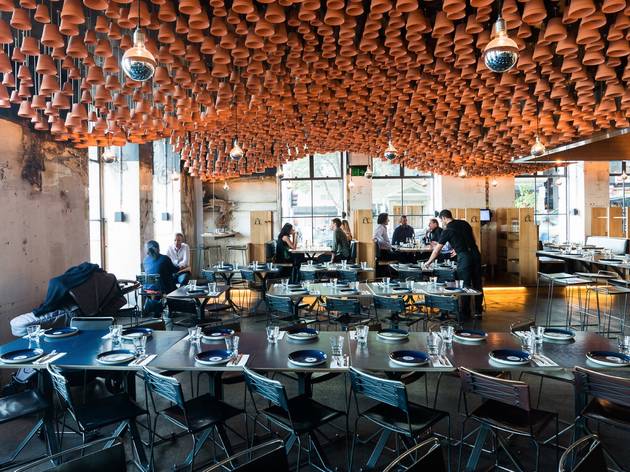 9/10
Photograph: Carmen Zammit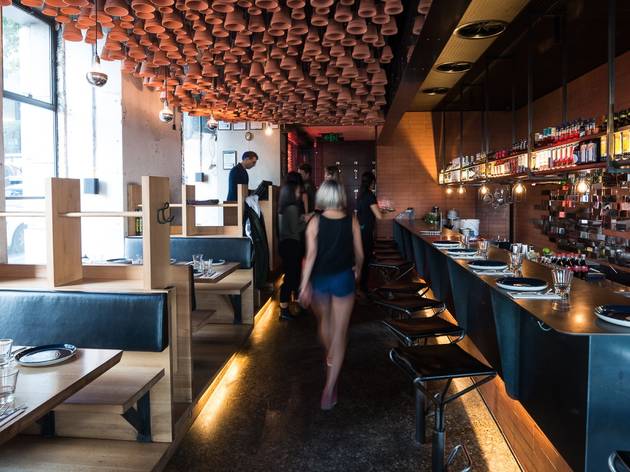 10/10
Photograph: Carmen Zammit
Time Out says
George Calombaris's taverna is a Greek conundrum wrapped in a fusion riddle
It's rare but exciting when a restaurant is able to recalibrate something as ordinary as the chip and make the diner see it with fresh eyes. The humble chip is one of the leading lights of the global food canon, transcending race, religion and class, but the chips at Gazi take things to the next level: super-crisp, salty batons of starchy goodness decked out with baubles of feta with a whisper of garlic and oregano adding their subtle notes. They're the prince of chips; the Oscar winner of fried food. A plate of happiness, yours for $11.
The souvlakis are also fabulous. At Gazi and his Jimmy Grants souva chain, George Calombaris has taken the ubiquitous Greek street food and poshed it up by dint of excellent produce and a sympathetic eye. It's still recognisably souvlaki but so much more (translation: something you won't hate yourself for eating). The version with chicken off the spit, red onion and mustard mayo with a few fries nestled alongside for extra comfort is nigh on perfect, partly thanks to the pita bread, a light, fluffy, sauce-sopping wonder.
There are other things to be happy about at Gazi, where an undulating ceiling of terracotta pots looks as design-fresh as it did on opening five years ago. Dishes sticking closest to the brief of Greek street food do best. A chilli-heavy lamb skewer of minced meat formed around the stick like the evil kebabs of yore is decent, with a bracingly minty pool of yoghurt to mollify the creeping heat. So is a charry corn on the cob slathered in Aleppo-spiked mayonnaise and a blizzard of salty kefalograviera cheese, the sort of thing no mortal can eat without wearing half of it but really not caring too much. A tail-on prawn wrapped in tendrils of kataifi pastry with more chilli-spiked mayo and smoked almonds is dominated by a sluice of honey, the cloying sweetness emblematic of the palate dominating this kitchen.
Celebrate the chips, but scratch your head over some other Gazi moves. Does the world really need spinach and feta-filled gyoza (fusion alert!) topped with a tumble of feta (a recurring theme here) and bedded in – this is the really weird part – clumps of 'crispy' white rice, like the stuff stuck to the bottom of the rice cooker? Did we mention the teriyaki sauce over the top? It's a nightmarish combination, a what-were-they-thinking moment that might remind you of share-house leftovers and that weird housemate who liked to get creative in the kitchen.
Other things that make sense on paper don't really fire here. The tabbouleh, mined with barberries and capers, is soggy and sweet. A crackle-girdled round of pork belly desperately needs seasoning. Its 'Byzantine' fig syrup dressing is another sweet assault.
It's a damned shame, really, because there's a lot to like about Calombaris's Greek cooking, all the way across his Made Establishment from Jimmy Grants to the Hellenic Republic modern tavernas and the high altitude of fine diner Press Club.
But it's hard to balance a ledger that veers so violently from the righteous (the taramasalata, a soft white cloud of cod roe dip) to the ridiculous (butter chicken moussaka? Err…. no, thanks.) The staff are lovely. The Euro-trash electronic music is horrible. But choose carefully and you'll like Gazi. If you do go forth, make sure you go Greek. Above all, order the chips.
Details
Best selling Time Out Offers