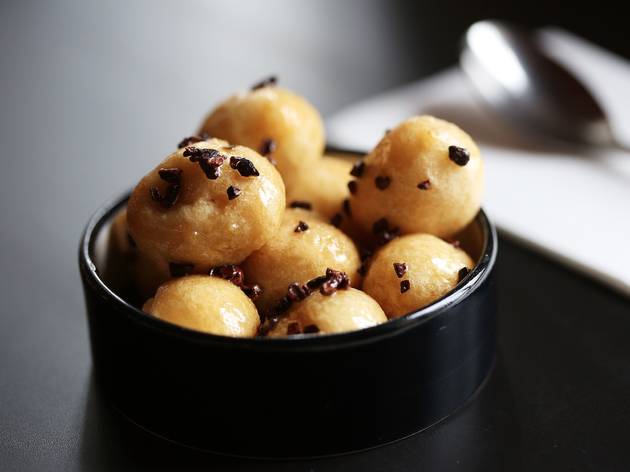 1/10
Photograph: Graham Denholm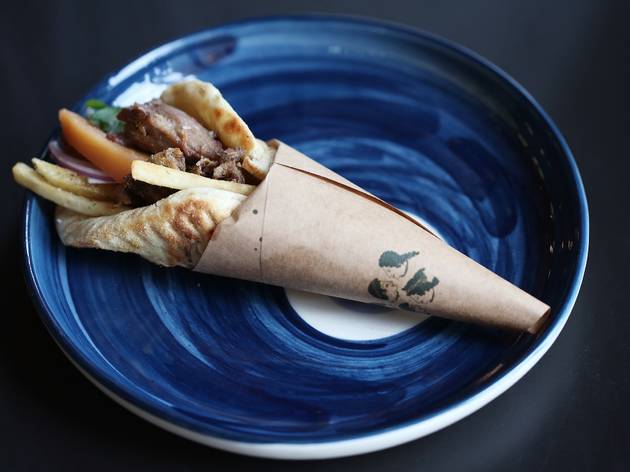 2/10
Photograph: Graham Denholm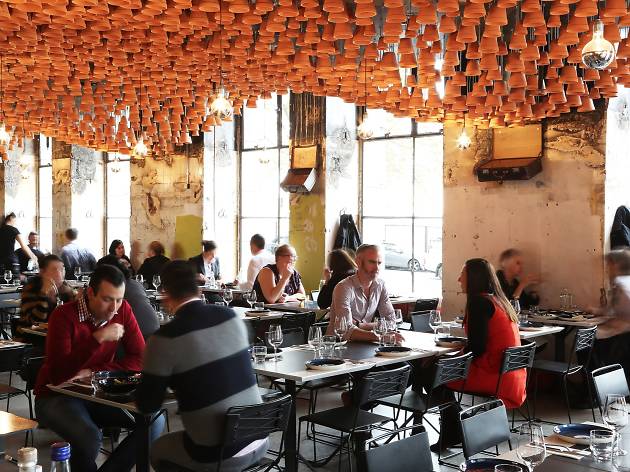 3/10
Photograph: Graham Denholm
4/10
Photograph: Graham Denholm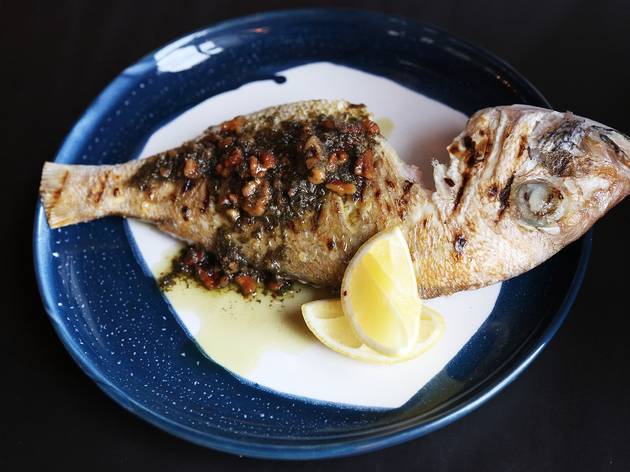 5/10
Photograph: Graham Denholm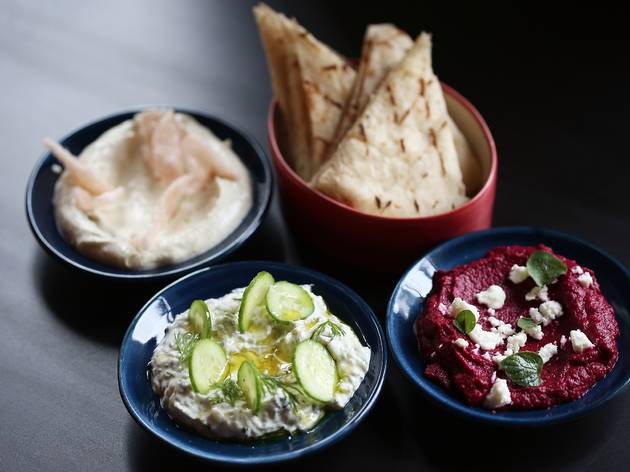 6/10
Photograph: Graham Denholm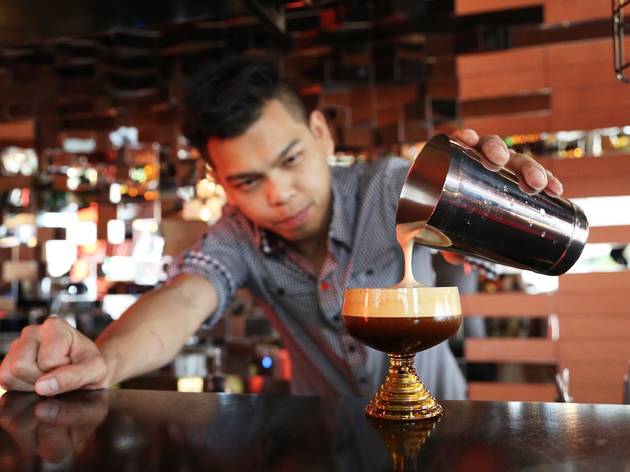 7/10
Photograph: Graham Denholm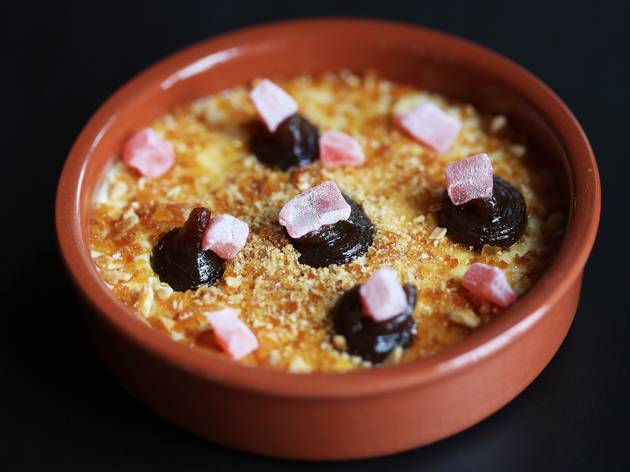 8/10
Photograph: Graham Denholm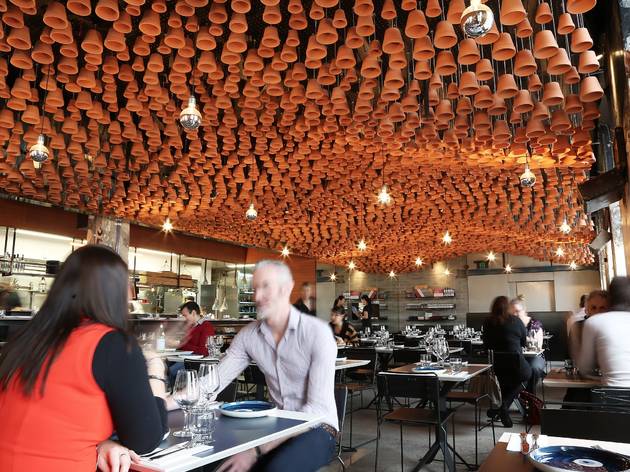 9/10
Photograph: Graham Denholm
10/10
Photograph: Graham Denholm
The Press Club has been reinvented as a casual Greek restaurant
George Calombaris, everyone's favourite chilli-hating MasterChef judge, has reinvented the Press Club as a casual Greek canteen. And Melbourne diners are lining up to prove his decision a good one.
Gone are Press's banquettes and fancy crockery, replaced by backgammon sets, a ceiling festooned with hundreds of upturned terracotta pots and fluorescent pink floodlit toilets. It's like the louder, brasher Malia-loving cousin to Calombaris's other Greek joint Hellenic Republic.
Food-wise they're pushing the same sort of sharp, uncomplicated Greek gear, from satiny beetroot dips to big hunks of meat – here done spit roast-styles – but a big bar pushing cocktails ($6 espressotinis!) and plenty in the way of snacks means you'll find as many fly-by punters downing Mythos beers and fancy souvlakia as those doing serious banquets.
That souvlaki is a winner – a pillowy flatbread enveloping the likes of juicy charred chicken, with plenty of mustardy mayo, wisps of red onion, parsley, and a bundle of salty French fries. It's the souva you don't try to forget.
The tasting menu is a good option so long as you don't mind playing it safe. You'll start with dips and golden slabs of fried saganaki boosted by bittersweet cumquat compote – stretchy, fatty, sharp – it's everything you want from a plate of fried cheese. Hopefully you'll get the king prawns too – soft-shelled and salty thanks to being braised with a dice of black olives and capers – followed by heaving plates of roasted pork in a crisp crackling shell and the sweet greasy wonder of honey-soaked doughnut balls.
But if you want the likes of the lamb's brains (and you do), go à la carte. The spongy little organs are captured in a golden crumb crust with pickled grapes bringing a sweet acid kick at the end. It's the sort of dish that shows they're still taking things seriously in the kitchen, whatever a joke-heavy menu may imply.
On the drinks front, you'll find plenty of Greek wines like the dry and briny Sigalas Assyrtiko and they're pushing ouzo hard. There's a whole trolley of Greece's favourite grape-skin liquor, and if you're feeling fancy-free you can get it by the 200mL carafe. Opa!
As expected they're getting slammed, so we recommend making a booking (which you can do, FYI) as well as allowances for floor staff who are friendly, but still finding their feet.
Gazi is a fun time. The food is good and the price is right. We'll be back.
Venue name:
Gazi
Contact:
Address:
2 Exhibition St
3000

Opening hours:
Daily noon-10pm