Have you tried these cult classic Taiwanese dumplings?
The Melbourne CBD is home to dumpling royalty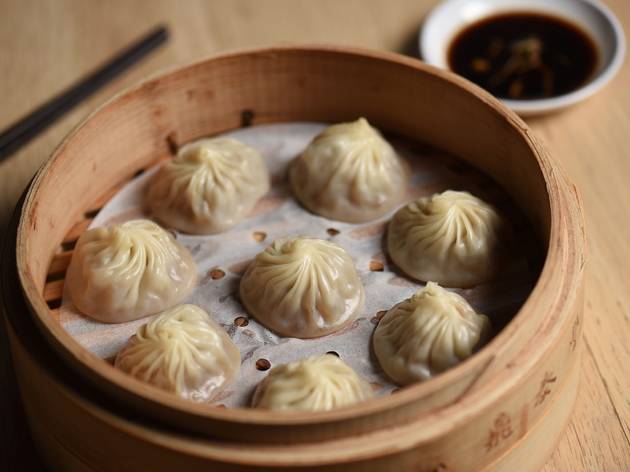 It's safe to say that Melbourne punches above its weight when it comes to dumplings.
There's certainly no lack of venues dishing out the steamed, fried or boiled morsels of deliciousness with decent dumplings available on almost every street in the CBD – and that's before you even get to Chinatown. But hidden in one of the city's major shopping centres is an international dumpling allstar that serves what has been described as the "world's tastiest dumpling".
The first thing you see when you enter Din Tai Fung at Melbourne Emporium are the piles of bamboo steamers, confirming that at this restaurant dumplings aren't just a side. Those in the know come here for one dish in particular: xiao long bao, or soup dumplings. Biting into one of these little guys releases an explosion of rich, meaty broth alongside a soft pork filling (we puncture them with a chopstick first to avoid scalding). You get six to an order, with the dumplings folded to an 18-pleat standard in a laboratory-like kitchen.
Din Tai Fung has plenty to offer beyond their xiao long bao. Soups, noodle dishes and crunchy, Taiwanese-style fried chicken all grace the menu, with even the restaurant's fluffy, egg-laden fried rice going down a treat. Vegetarians – Melbourne, we know you have quite a few – have a respectable number of options here too, ranging from appetisers, dumplings, steamed buns to fried rice dishes.
Din Tai Fung started in Taiwan in 1974 and has expanded thoughout Asia, the US and Australia. Despite having four stores (plus food court outposts) in Sydney, their Melbourne Emporium store is their first Melbourne outlet. Don't be surprised if you have to wait for a table at peak times – it's worth doing for the dumpling
---