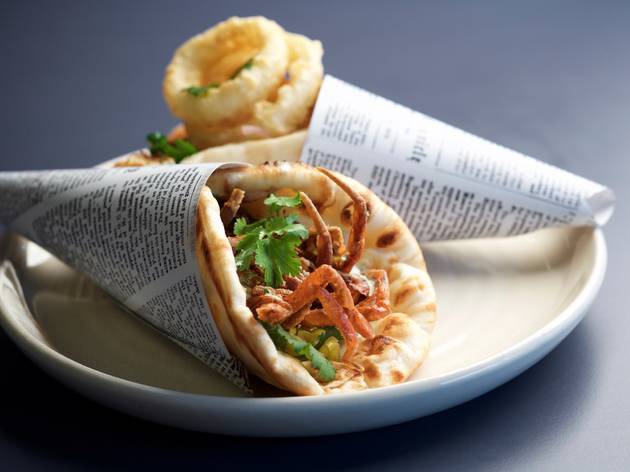 1/3
Photograph: Guy Lavoipierre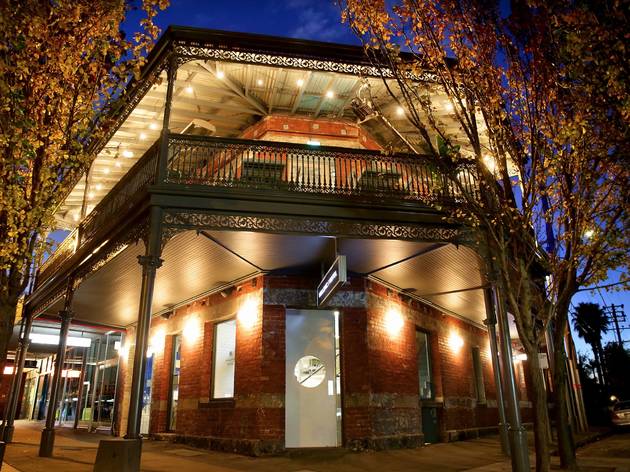 2/3
Photograph: Angela J Wylie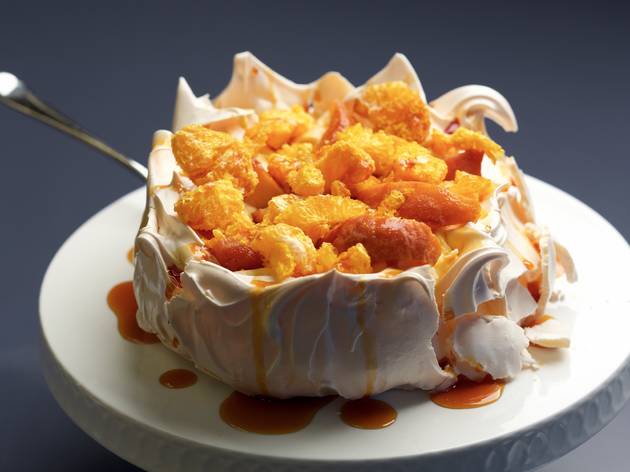 3/3
Photograph: Guy Lavoipierre
Time Out says
George Calombaris turns his hand to pub fare, with predictably delicious results
George Calombaris's latest venture in Williamstown isn't the place where you'd stop by for a pint and parma after work with your mates. There are no TVs, no outdoor seating, and only three uncomfortable stools at the bar, so it's barely a pub at all. But if you're after a workday lunch, a school-night feed for the family or a couple of glasses of wine with your favourite grown-ups, Hellenic Hotel has got you wrapped up like a souva.
The building is divided into a large downstairs restaurant where you'll probably want to book, and a small upstairs bar with high tables for social drinking. This is touted as the "pub" part, with beer on tap and cheap, pub classic specials (a different one every day) that you won't find on the restaurant menu. Everything on a plate of fish and chips is outstanding from the golden fries, impossibly even in hue, to the lightly battered flathead tails, to the tartare-tzatziki hybrid sauce threaded with fresh dill. This would be a cracker lunch, but the portion size is too small for a dinnertime pub appetite. A single spoonful of neon green (and bloody tasty) mushy peas is so small it's easily mistaken for a dollop of condiment. Same goes for the souvlakia – delicious but probably not enough to constitute dinner. A tender and herb-roasted half chook might tide you over, but you'd need at least one side to make a meal of it, taking you close to $30 for a proper feed.
Up here, better off sticking to a pint of Two Birds Golden Ale or a 'Ptoma' - their Hellenic riff on a corpse reviver cocktail made with Greek brandy and rinsed with aromatic ouzo instead of absinthe. Sweet and sour are balanced right, and she's got a zing like a chewable vitamin C. Better yet, grab yourself a mate and a bottle of excellent Greek wine and hit up the snacks section of the bar menu where the kitchen does its best work. That taramasalata is on point as always, but stick with the traditional accompaniment of fluffy, chewy pita bread rather than the bland prawn toast option. Prawn cocktail, though? Hells yeah.
Downstairs the ultra keen young crew zip about in blue aprons, packing families with young kids in and out at a rate of knots. On the full menu, pub classics are replaced with more serious mains like steaks and grilled fish of the day – all perfectly nice if lacking a bit of zing. But this is the ultra casual and family friendly rung on Calombaris's ladder of hospitality that reaches from cheap take-out (Jimmy Grant's) to ultra fine dining (Press Club), and the food matches. The Caesar salad, though, turns the flavour up to eleven, romaine lettuce replaced with grilled Brussels sprouts that act as bittersweet vehicles for marinated anchovies, soft boiled egg and lardons.
But the best bit? Takeaway. This food is built to be boxed up and enjoyed in the comfort of your own sweatpants. The line at the window tells a story of weary nine-to-fivers and time-poor parents sick of pizza and stoked to feed themselves and their families real food. So pub or not, you get the feeling it's just what the neighbourhood needed. Onya George.
Details
Best selling Time Out Offers