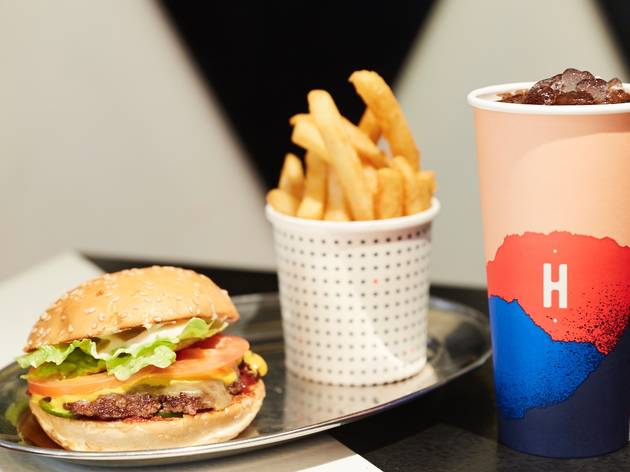 1/9
Photograph: Cam Cooke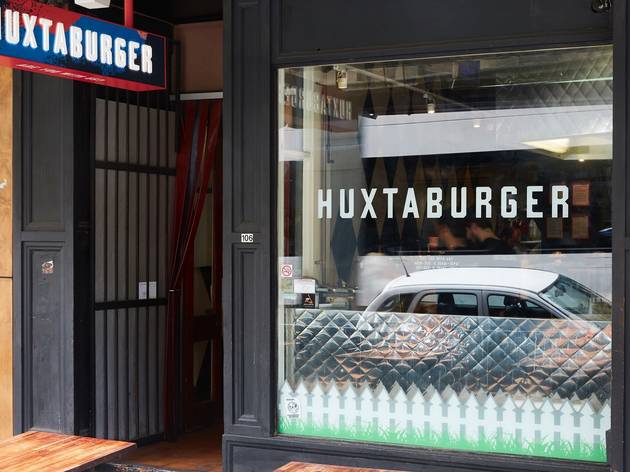 2/9
Photograph: Cam Cooke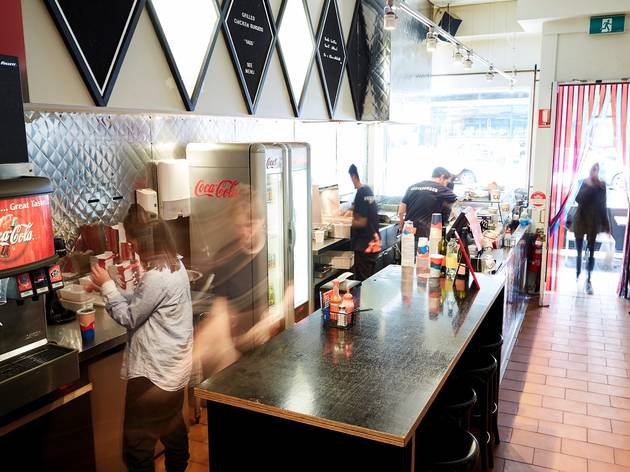 3/9
Photograph: Cam Cooke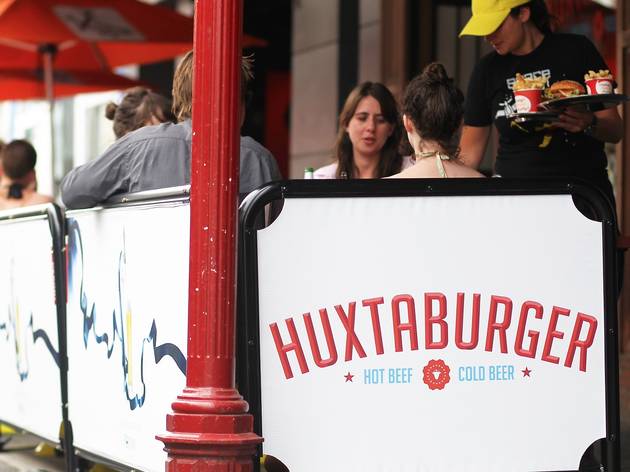 4/9
Photograph: Graham Denholm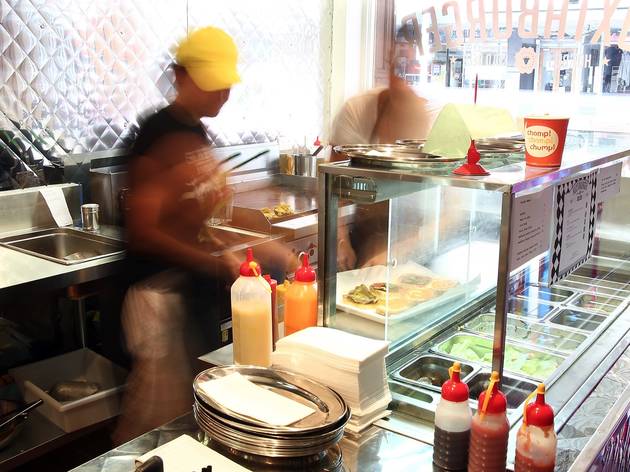 5/9
Photograph: Graham Denholm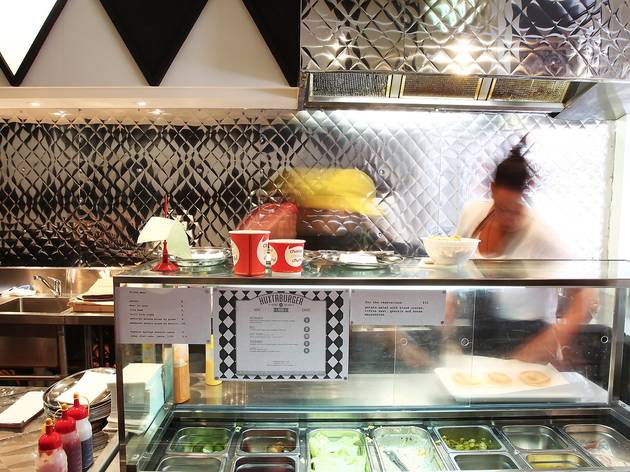 6/9
Photograph: Graham Denholm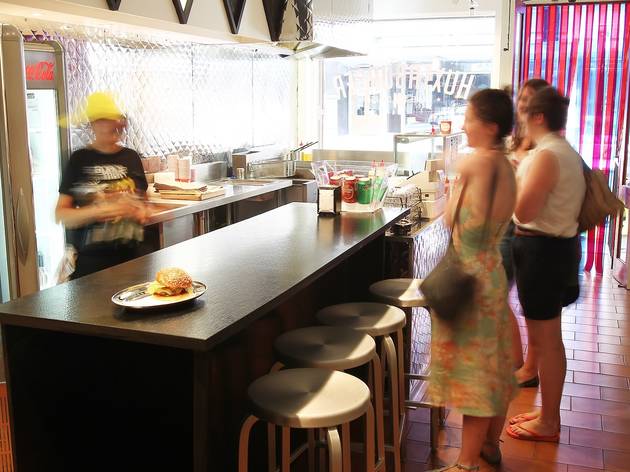 7/9
Photograph: Graham Denholm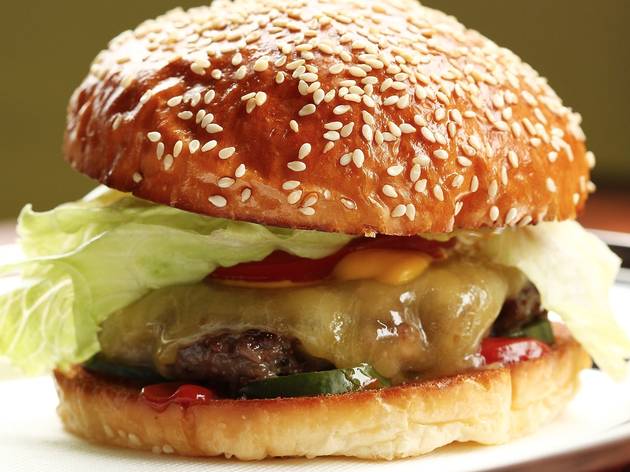 8/9
Photograph: Graham Denholm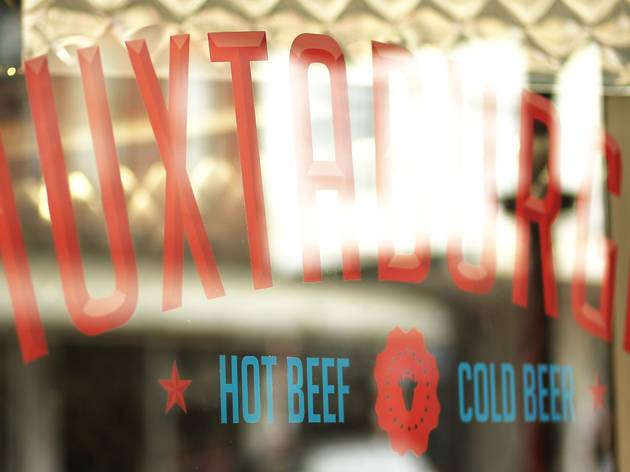 9/9
Photograph: Graham Denholm
Team Huxtable bring hot beef, cold beer and American diner culture to Smith Street
Before you ask, there are no veggie burger options, no chicken fillets, teriyaki sauces or wholemeal buns at Huxtaburger. No sir, the slogan here is 'hot beef, cold beer' and that is what you get. Run, as the name suggests, by the dudes responsible for mod-Korean-eatery-of-note Huxtable, this joint is not only an extension of their portfolio, (which in a few weeks will add speakeasy wine bar Bill's to the mix), but a way for them to express their profound love for The Cosby Show. They've even named the jalapeno and sriracha chilli sauce spiked burger 'Denise' after the hottie in the cast. We like their style and we like their burgers.
Huxtable are getting all up in the healthy food pyramid's grill with take-no-prisoners American-style burgers that see meat, cheese and condiments as king, and all other accoutrement as crazy gourmet tat. Unlike the sophisticated set-up across the road, here they simply have Pilsner or tinnies of Carlton, five burgers, crinkle cut fries and a rotating salad for the veggie crew. It's served up from takeaway counter in a simple, hose-friendly tiled room, which vibrates with Richter scale rocking hip-hop. Seating takes the form of a few kerb side tables with plastic stools, indicating that it's more of a pit stop than a lock-in kind of place.
Your basic burger sees a rose-pink wagyu beef pattie (it's all wagyu here, by the by) sandwiched with a sniff of salad, sweet slices of pickles, cheddar, mayo, and luminous American mustard on a sweet and squishy butter-brushed bun. It's full of flavour, easy on the drip factor, and has kamikaze-style bread that dutifully serves its purpose of delivering meat to face and then self-destructs without question. That, friends, is a good bun.
Variations stretch to double meat, double cheese and bacon (the 'Theo', who we assume was the fat character), mini sliders for the kids, and of course, 'Bill's Burger', which is your basics plus egg, fresh pineapple and beetroot. Call us unpatriotic, but we prefer to forego these slippery missiles and keep it simple. Because it's a simple joint, modelled on the pattie-flipping diners from a time when burgers didn't pretend to be healthy, and nice guys and gals like us could get together for some good clean high calorie fun.
---
Venue name:
Huxtaburger
Contact:
Address:
106 Smith St
Collingwood
Melbourne
3066

Opening hours:
Mon-Thu 11.30am-10pm; Fri, Sat 11.30am-11pm Sun 11.30am-10pm