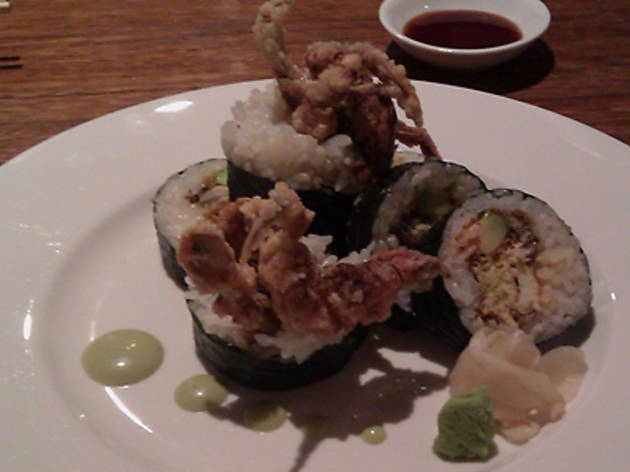 Tasty noodles and frustrating waits are order of the day at this inner city noodle house
When the waitstaff at Ito Japanese Noodle Cafe bellow irashaimase! don't be alarmed, it's simply a friendly salutation that roughly means 'welcome to my shop'. The decor at this long noodle cafe is a little bit Happy Days meets The Last Samurai with American diner style booths (in a past life it was a burger joint), alongside a grey stone bar and navy curtains with samurai faces.
You can't go wrong with the gyoza to start. Five pan-fried dumplings have nicely tanned bases and mince pork filling with just enough fat to keep things juicy. The sushi 'spider roll' is so named as the crab's spider-like pincers emerge from the ends of the sushi roll. It's freshly rolled off the bamboo mat and firmly packed with hot soft-shell crab, avocado and carrot. Mild wasabi mayo is dotted prettily on the plate.
Bowls of soup noodles make an honest, satisfying meal. Nabeyaki udon is swimming with udon noodles, a tempura prawn in lacy batter and a poached egg with a barely set yolk that spills into your soup. Katsudon ramen (a little like schnitzel in soup noodles) sees a crumbed pork cutlet nesting on top of soft ramen noodles sourced all the way from Hokkaido, Japan.
Service is friendly and accommodating, however the wait for meals can be frustrating: you've worked your way through your bowl of udon while your dining companion is left to nurse their green tea and look on mournfully. Time delays aside, Ito Japanese Noodle Cafe is a comfortable, good-value restaurant that serves up some pleasing Japanese favourites.
---
Venue name:
Ito Japanese Noodle Café
Contact:
Address:
122 Bourke St
3000

Opening hours:
Mon-Sun 12 noon-10pm
Transport:
Nearby stations: Flinders St; Melbourne Central; Parliament