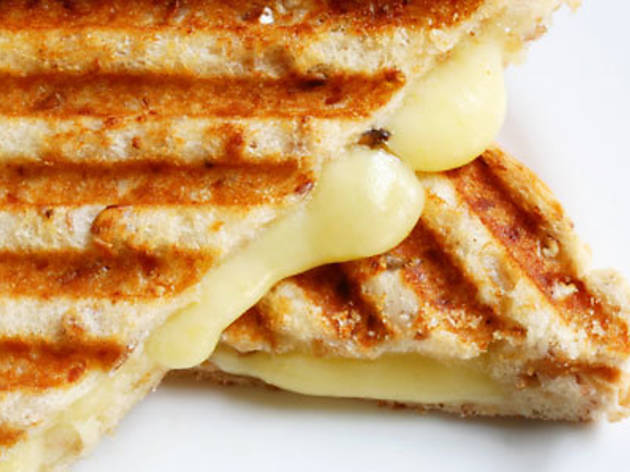 Time Out says
Order your jaffle online, stand on the X, and your sandwich will be thrown at you from the roof. Because, obviously
Before we explain Jafflechutes, we need to clear something up. Sometimes we invent ridiculous food concepts as a point of comparison for eateries that favour classicism. Y'know – like when we said that Epocha was as far as you could get from a faddy Indo-Jap-Turkish sex shop dumpling bar. Well, this time we're not making it up. Jafflechutes is every bit of crazy as it sounds. A group of enterprising young upstarts has taken sandwich delivery to a new height. Literally. They're making jaffles (cheese and tomato; ham, cheese and pineapple), which you order online (and pay for via Paypal), and then they attach them to a parachute and chuck them off a building roof spomewhere in the CBD. We shit you not.
Friday August 16 was their launch – again, literally, they chucked over 60 sandwiches into the breezy night skies – and due to the success, this little pop up is going ahead again. Get on their Facebook and Twitter to keep track and place your order. The next drop is this Saturday (October 26) and $1 from every jaffle goes to Father Bob.
Well played, Melbourne.
Meet the Jafflechute boys
So, David, why?
Adam came home one night and he'd locked himself out of his fifth floor apartment. He got his keys thrown down, which hurt his hands. We got to discussing how there should be more things delivered via parachute. We were also discussing how much we liked jaffles. It was obvious.
Apparently so. Everyone loves it.
They do. I mostly enjoyed making the website. We thought there would be five orders, and then there were so many we had to close off the page.
What would someone have to do to out-hipster you?
Geo-tagged brownies.
Are you doing it again?
Probably, but we'll be keeping it quiet. We're taking suggestions for new flavours.
Want a sandwich thrown at you from a height? Of course you do! Stalk Jafflechutes on Facebook and Twitter.
Details