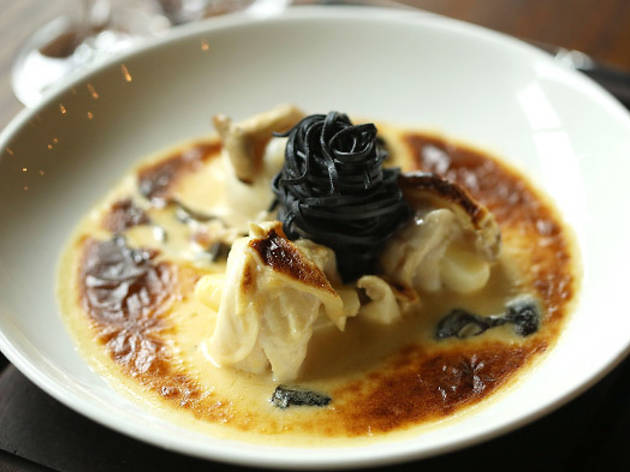 1/11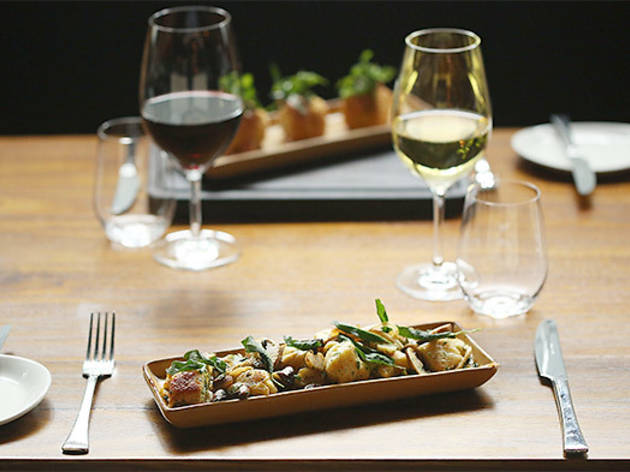 2/11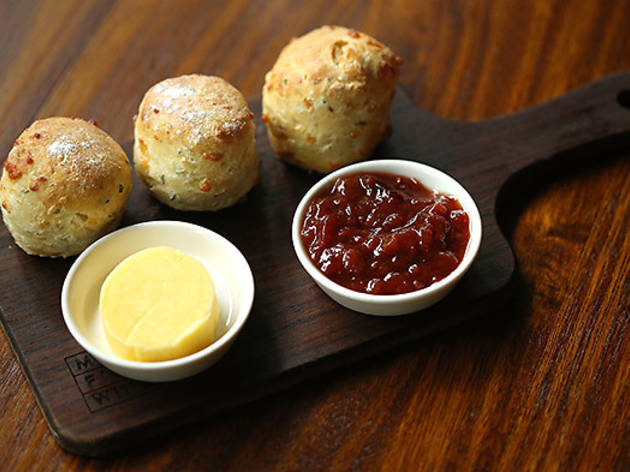 3/11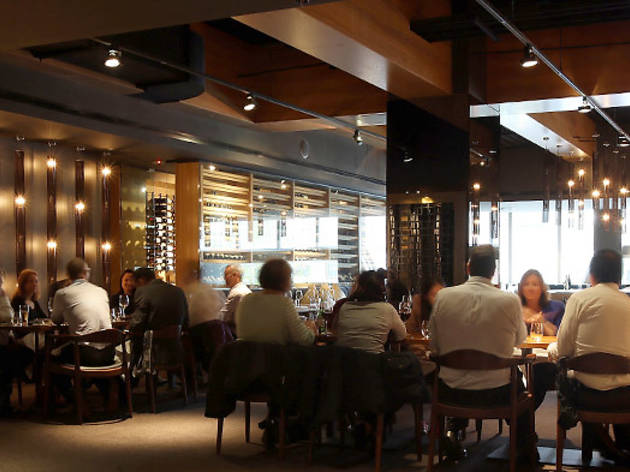 4/11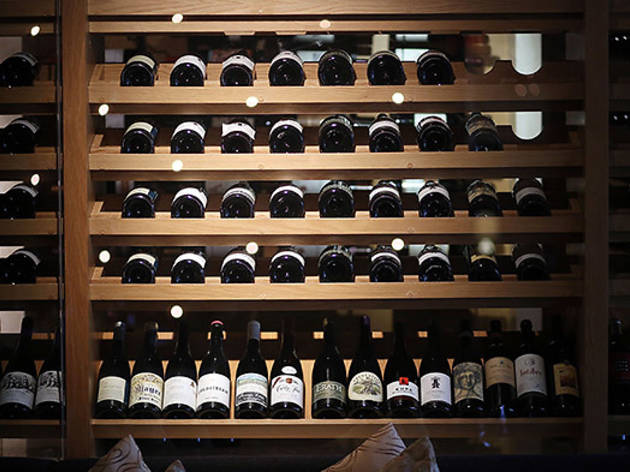 5/11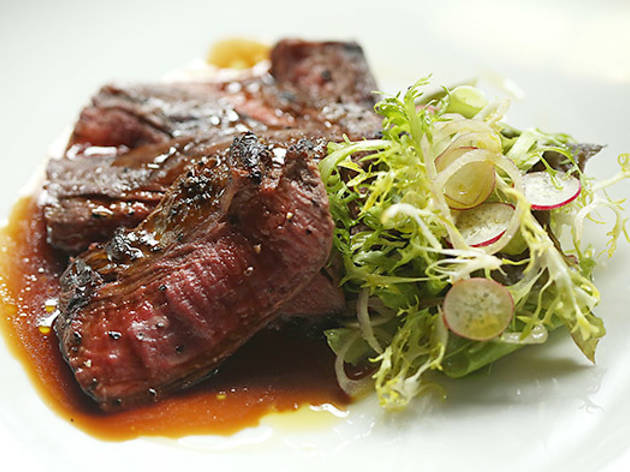 6/11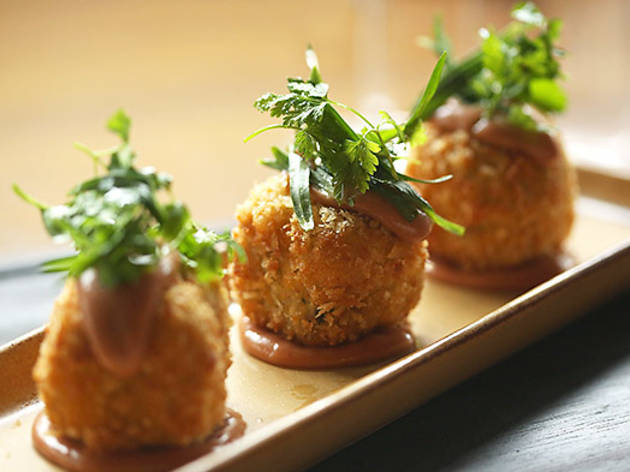 7/11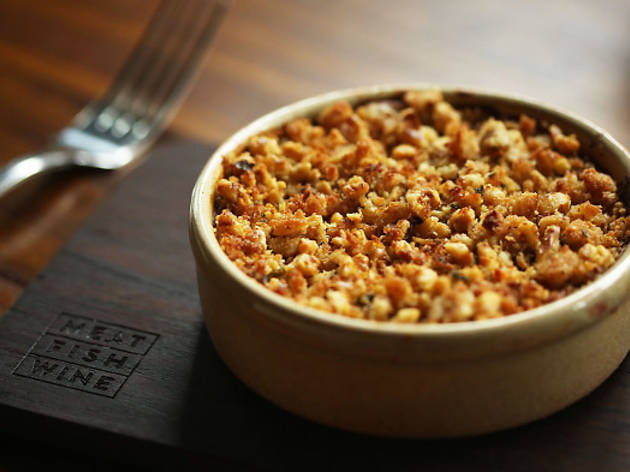 8/11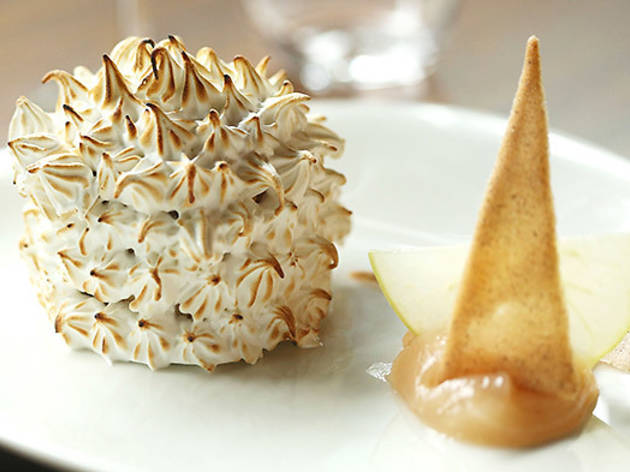 9/11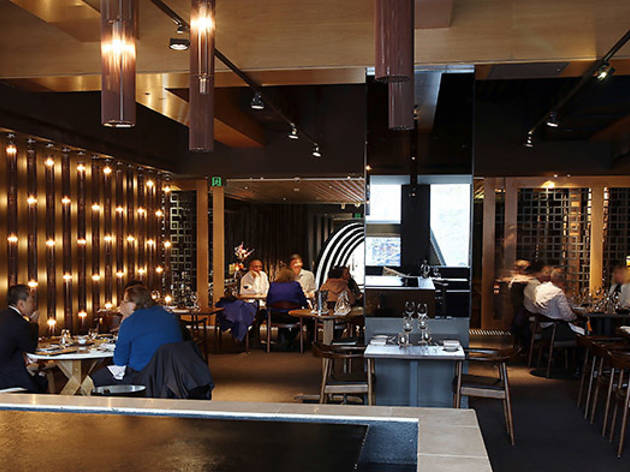 10/11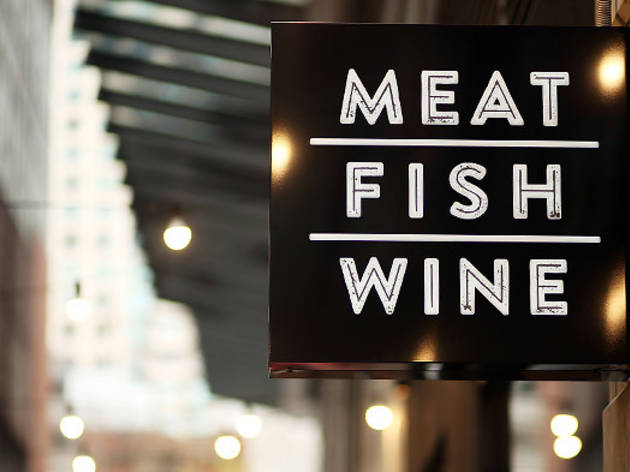 11/11
Time Out says
Haven't you heard? The steakhouse is back, and Meat Fish Wine is leading the charge
It's one of those names that says everything and nothing. Meat, fish and wine. A food haiku. Obtuse, but terribly on-trend. It won't tell you that Meat Fish Wine is the latest roll of the dice from the same restaurant group behind the two Thai-leaning Red Spice Roads and Burma Lane. They're all clustered in the CBD – the second Red Spice Road is right next door on QV's Artemis Lane – although MFW stands out for being their first that shakes off the Asian thing for a business diner-friendly retinue of posh steaks and whole fish and a support cast of other fashionably retro things.
You'll find it inhabiting the dimly-lit space originally designed for the ill-fated Duck Duck Goose. Not a lot has changed. The square-edged marble pool lapping serenely away in the centre; the dramatic arched proscenium through which diners promenade into the darkly glittering bar area; the softly-lit wall of wine that whispers about the serious vinous program, with an excellent selection by the glass to match. It's a fitout that leads rather than follows, which means it lessens the shock over the rather exxy menu where entry-level steaks are $40 and come so naked you'll be needing to splash extra on sides.
But look, the steak will broach no complaints. One of those entry-level cuts, the Wagyu flank (full introductions: full-blood Wagyu flank from SA's Mayura Station) is 350 grams of expertly cooked meat with a charry crust and bold red flesh with three sauces, including an anise-led red wine jus and classic béarnaise. Chestnut and parmesan dumplings (gnocchi by any other name), pan-tossed with sage and mushrooms, are an excellent accompaniment; so is the baked cauliflower, luxed up with blue cheese and a buttery brioche crust.
The John Dory is a decidedly old-fashioned plate of poached fillets wrapped around turned potato in a tangy, white wine-led sauce. The twirl of squid-ink pasta in the centre can't quite manage to drag into the noughties something with the whiff of the 1970s French hotel restaurant clinging to it. It's a dish that scoffs in the face of the "great produce-minimal intervention" mantra a name like Meat Fish Wine implicitly suggests.
And aside from steak, and fish? Well, you can kick off with three impressively square croquettes filled with boudin noir and a molten spill of gruyere, the golden-fried casings too thick for real joy but the pear aioli just right. Or a meaty duck and pistachio saucisson, thin slices topped with goats' curd. And pumpkin scones, of all things, which come gratis in place of bread, their slight sweetness offset by beetroot and rhubarb relish. Kind of weird, but also kind of wonderful, and kind of like MFW itself, where everything old is new again.
---
Details
Best selling Time Out Offers