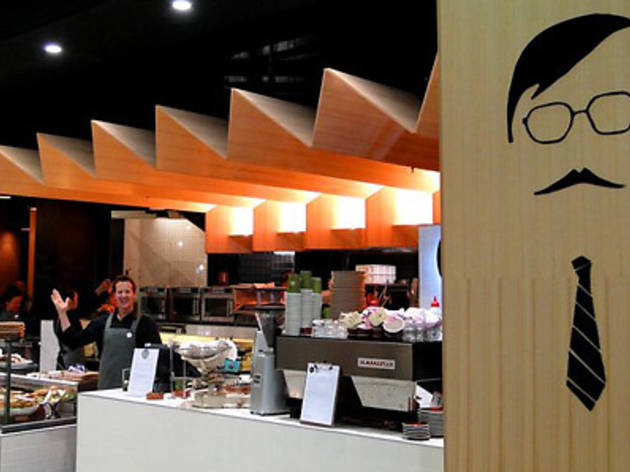 Mister Close brings great food and coffee from Arcadia to the arcade
The Midtown Plaza, directly opposite a Starbucks, doesn't seem a promising spot to find a true, foodie's café. I can certainly think of worse places to look for one, like in a football stadium or at the bottom of the sea, but not a whole lot of others. This is part of what makes Mister Close such a lovely surprise. Peter Knowles, former part-owner of Gertrude Street's Arcadia, has struck out with partner James English to create an intriguing academic-themed café in the heart of the CBD, named in tribute to their boyhood geography teacher. In keeping with the academic theme, the decorations include light-up globes, stack of National Geographic back issues and a map of the world dramatically rearranged with scissors and glue, the result looking something like how I imagine Sarah Palin views the world, if only because Alaska is at the very top.
The menu changes almost daily and the kitchen is capable of accommodating vegans, celiacs, and the lactose intolerant (though a little advance warning is, as always, appreciated). Your reviewer's date having cancelled at the last minute, I simply ordered two lunches, those starving African children lost somewhere in that remixed map be damned. What? It's called research, philistine. Were it not for my Hilary-like courage, you may never have learned that the soup is thick, loaded with vegetables and served in a bowl the size of a Jacuzzi, the wild mushroom risotto cakes are served with coleslaw and flavoured with so much parmesan that it's almost irresponsible (do order some if they are available on the day of your visit) and that the good-natured staff will let you take home whatever you're unable to cram down your gullet so you can taunt your errant date with leftovers. Mister Close offers excellent food, specialty local coffees and an air of academia gone attractively haywire. Beat that, Starbucks.
---
Venue name:
Mister Close
Contact:
Address:
Shop 13, Midtown Plaza
246 Bourke St
Melbourne
3000

Opening hours:
Mon-Fri 7am-4pm; Sat 9am-4pm
Transport:
Nearby stations: Flinders St; Melbourne Central; Parliament