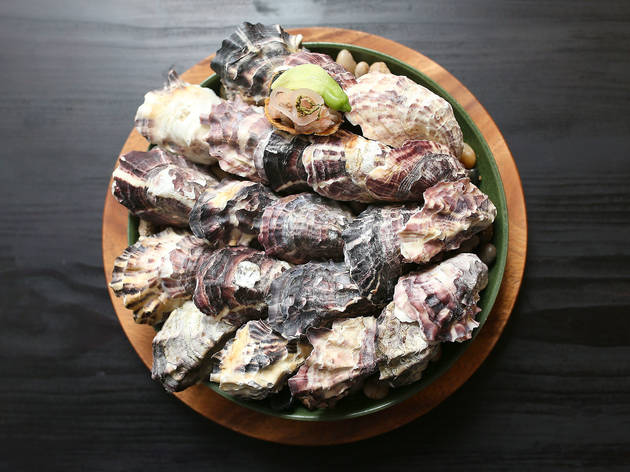 1/8
Photograph: Graham Denholm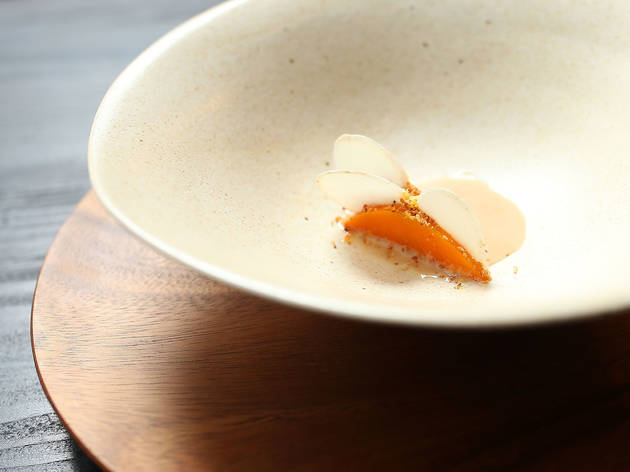 2/8
Photograph: Graham Denholm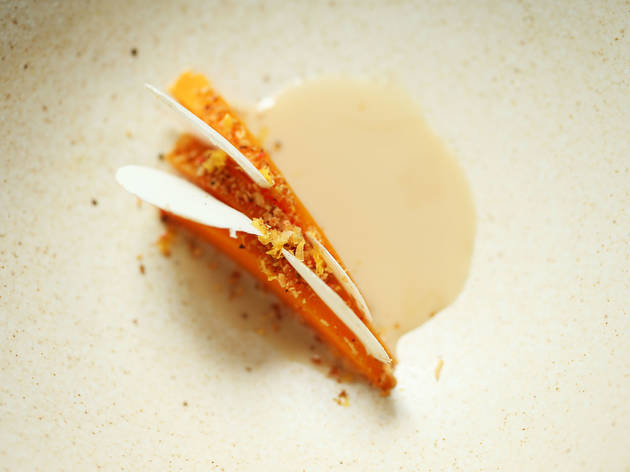 3/8
Photograph: Graham Denholm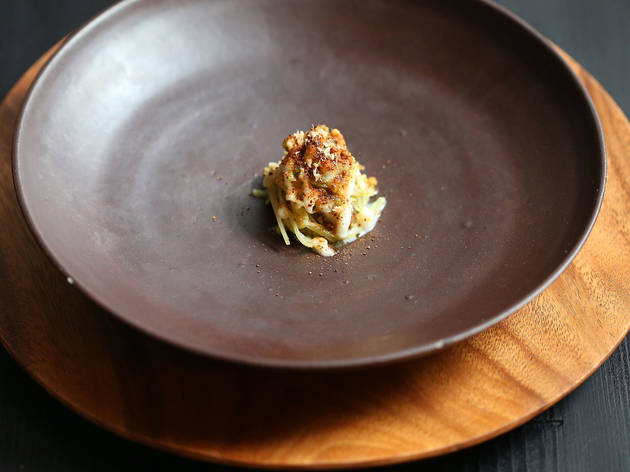 4/8
Photograph: Graham Denholm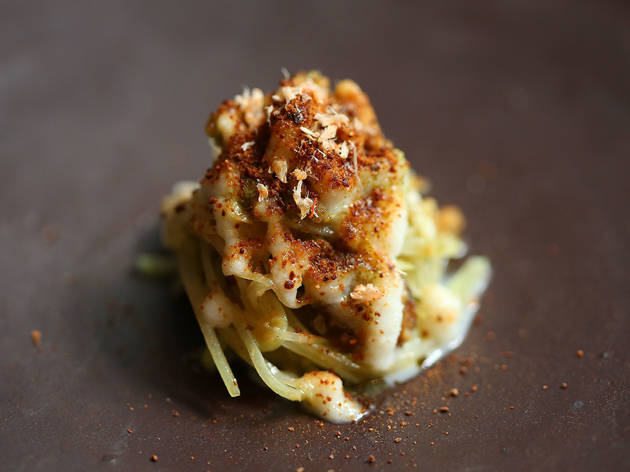 5/8
Photograph: Graham Denholm
6/8
Photograph: Graham Denholm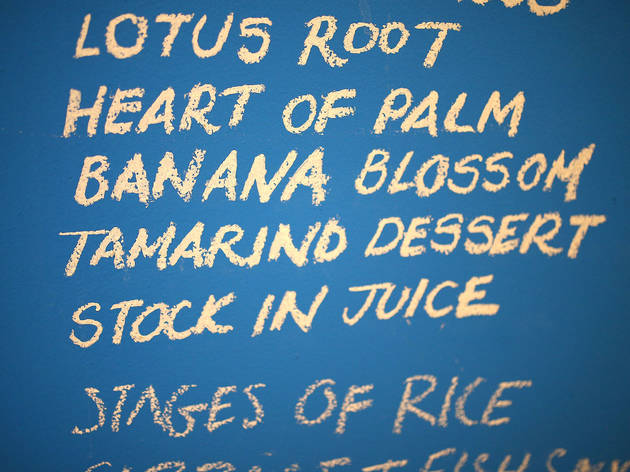 7/8
Photograph: Graham Denholm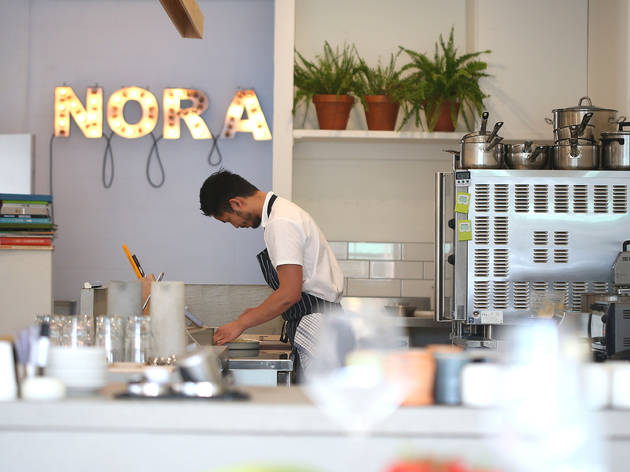 8/8
Photograph: Graham Denholm
A creative Carlton venue now offers 11 courses of fun and intrigue
Nora is a fascinating and playful experience. To dine here you need an open mind, a trusting palate and approximately three hours.
But let's backtrack a little. It all began with Jean Thamthanakorn and Sarin Rojanametin's much-loved black charcoal tarts, which they peddled at Melbourne markets.
The creative husband-and-wife team then opened their envelope-pushing breakfast and lunch café, Nora, which in February transitioned into being an evening degustation restaurant – a vehicle for their Thai-influenced experimental foods.
This small, softly-lit restaurant champions simplicity with a dash of quirk. There's a beautiful round table in the front window, timber shelving housing wine and sake, little vases of flowers and craftily placed watermelons. You can perch at the stainless steel bar to watch the chefs do their painstaking thing, from precision plating to fastidious washing of sorrel leaves. The wait staff care deeply about the Nora experience and you can see in their attentiveness an earnest desire for you to enjoy yourself.
All of the imaginatively titled courses are presented beautifully on ceramic plates and bowls. From the opening dish of a deep green sorrel leaf folded over sticky and crunchy egg yolk and durian, to the final wax-wrapped Nora-made lolly, ingredients are used to intriguing and sometimes dazzlingly creative effect. The enigmatic combinations and curious techniques run rings around your tastebuds, bamboozle your brain box and cause you to reflect: was that sweet or savoury? Banana and cheese go together? I ate a chicken's heart?!
A key element of the Nora experience is surprise, and far be it from us to spoil that; but here's a few highlights. A sardine's head and backbone is fried till shatteringly crisp and deeply savoury, with bashed-up dried scallop that will have you scrabbling over the fried rubbly remains. The clever and gloriously plated 'not oyster' nestles in an edible black charcoal tart shell. 'Pasta' comprises coils of thin, and somehow creamy, papaya noodles. Pickled mackerel and pressed watermelon come showered in a snowy-white granita that orchestrates an unexpected ice-and-chilli collision in your mouth.
Natural wines and sakes can be matched to the meal for $75. Among the matching non-alcoholic beverages ($55) the bitter melon and grape concoction is particularly delicious.
Nora offers a challenging, cheeky and, at $95 a head, affordable experience. It's not the comfort food your nan would make, but in our routine lives it's refreshing to feel such wonder at the possibilities of food. Nora, we salute your audacity and flair.
Venue name:
Nora
Contact:
Address:
156 Elgin St
Carlton
Melbourne
3053

Opening hours:
Tue-Thu 8.30am-3.30pm; Sat, Sun 9am-4pm