Pickett's Deli and Rotisserie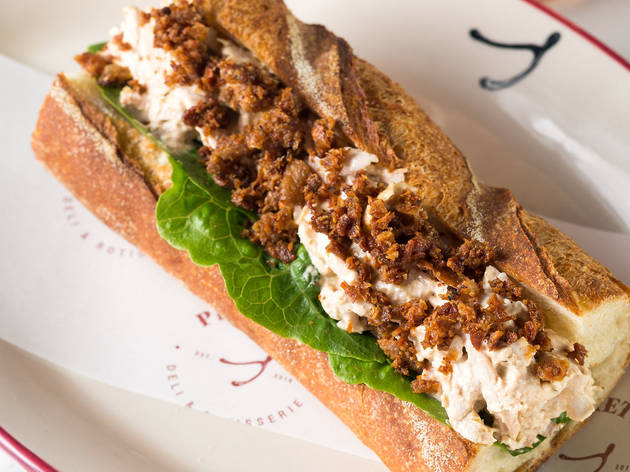 1/10
Photograph: James Morgan
2/10
Photograph: James Morgan
3/10
Photograph: James Morgan
4/10
Photograph: James Morgan
5/10
Photograph: James Morgan
6/10
Photograph: James Morgan
7/10
Photograph: James Morgan
8/10
Photograph: James Morgan
9/10
Photograph: James Morgan
10/10
Photograph: James Morgan
Time Out says
Put the borek and bratwurst down, Pickett's Deli & Rotisserie is your new market lunch spot
Jostling with crowds for bok choi, queuing for doughnuts and dodging prams and grandmas – a visit to the Queen Victoria Market can be hungry work. While the rightly revered borek or bratwurst have their place, substance seekers can also take a seat at the sauve deli and rotisserie helmed by Scott Pickett (the man behind Saint Crispin, Estelle Bistro and ESP). Forget polystyrene boxes and trestle tables – Pickett's Deli is a very cool customer, offering a wildly different class of market dining with marble benches and a herringbone floor.
Breakfast gets cracking at 7am. Early birds can catch egg and bacon butties (the bacon is house-cured and smoked), ricotta hotcakes and even a breakfast ramen with a 63 degree egg and house barbequed pork. Two hours later, they rev up the rotisserie, threading Bannockburn chickens and pork onto the mechanical axels. Order hot rolls stuffed with rotisserie meats (chicken, gravy and mayo or pork, chutney and coleslaw), or fresh picnic sambos like ham and chutney or curried egg and cress.
You'd be mad not to go for the signature rotisserie chicken. These heavenly hens can be ordered by the quarter ($9), half ($18) or whole ($29). A quarter serve of breast and drumstick is juicy and sweet, its golden skin crisp with Pickett's herb and spice rub with notes of thyme, bay leaf and parsley. There are chips, salad or confit vegetables to accompany your chook, but our pick is the slick carrots and fennel slices roasted down to a caramelised sweetness and creamy kipfler potatoes. It'll take you back in time to your nan's Sunday roast.
Beef was the roast of the day on our visit. Two slices of Sher wagyu topside, a meaty field mushroom and pretty dutch carrots sitting atop a splash of sweet, creamy carrot puree surrounded by a sticky moat of jus. The beef is cooked medium, tender with a gnarly chariness round the edges. It's not a big lunch, but it's robust in flavour and quality and, happily, leaves room for dessert – an orange and almond cake that's soft and fragrant, or a shortbread, memorably spicy with ginger, cinnamon and citrus peel.
On a busy Tuesday lunchtime, Pickett's bustles with office workers rushing away hot rolls, market-goers savouring a glass of wine (there's seven available, beer and ciders too) and friendly staff ushering people to their seats. With just 36 spots available, it can be a tight squeeze at peak times. Those eating at the outside tables will quickly discover that the local seagulls rate Pickett's chicken too. Stay alert to defend your lunch from feathered fiends.
Pickett's Deli and Rotisserie hits just the right spot between comforting (rotisserie chicken) and classy (with wine!). No longer do you have to bolt down your bratwurst in a crowded deli hall, because this approachable deli is bringing beautifully executed, unfussy food to market.
Details
Users say