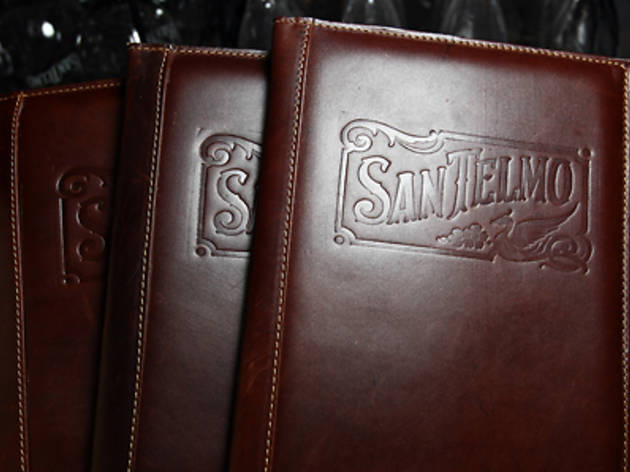 1/10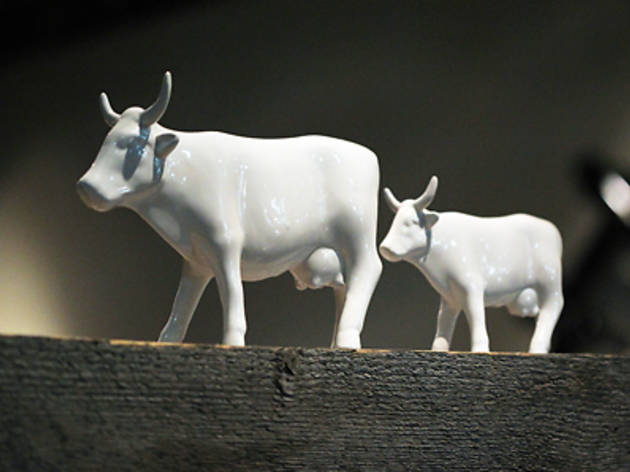 2/10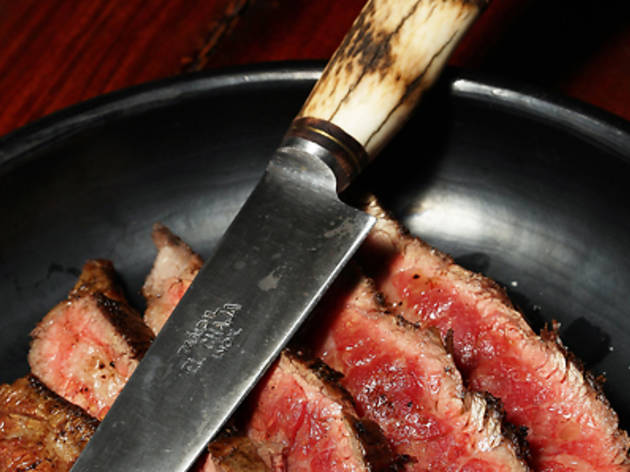 3/10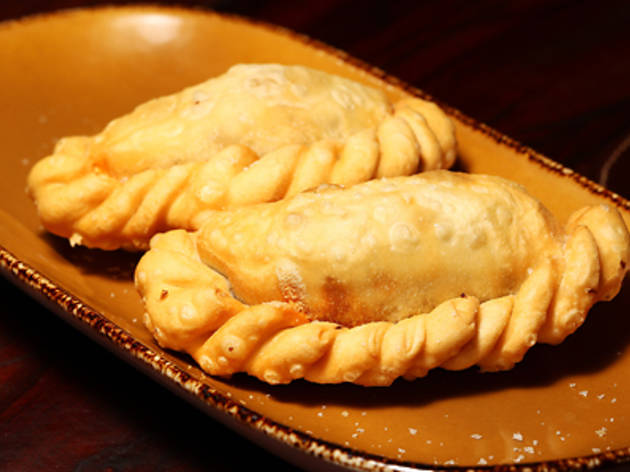 4/10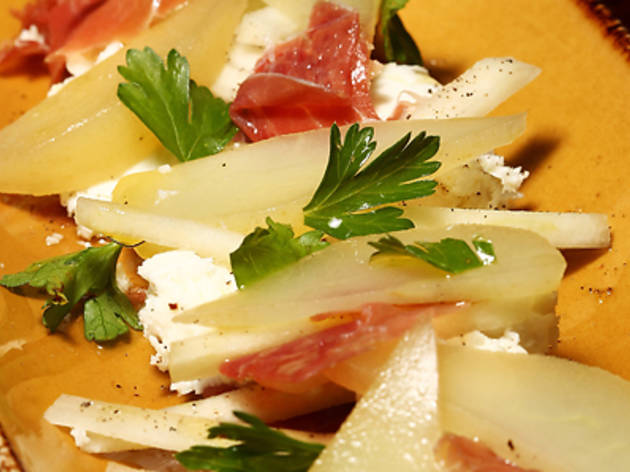 5/10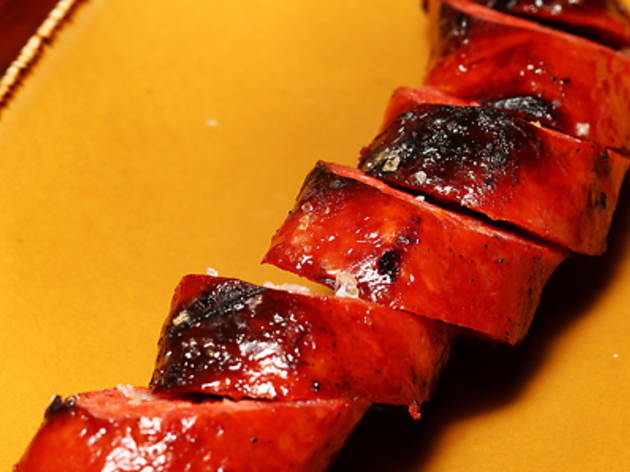 6/10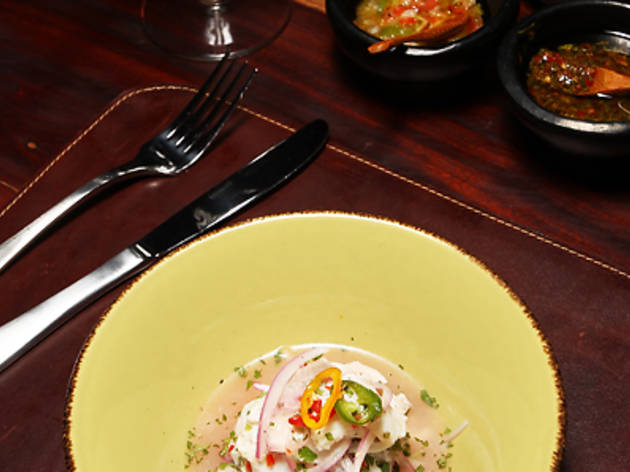 7/10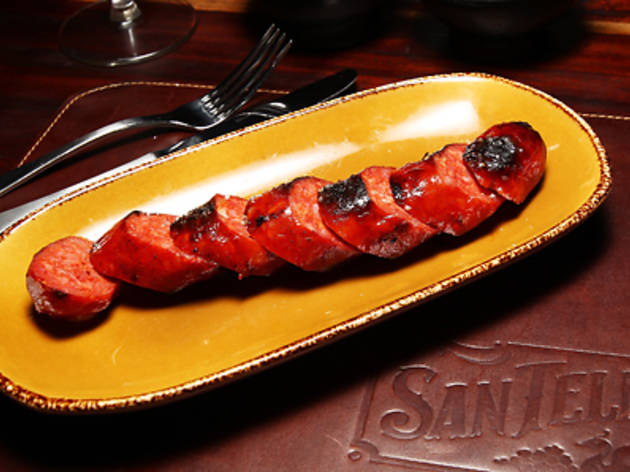 8/10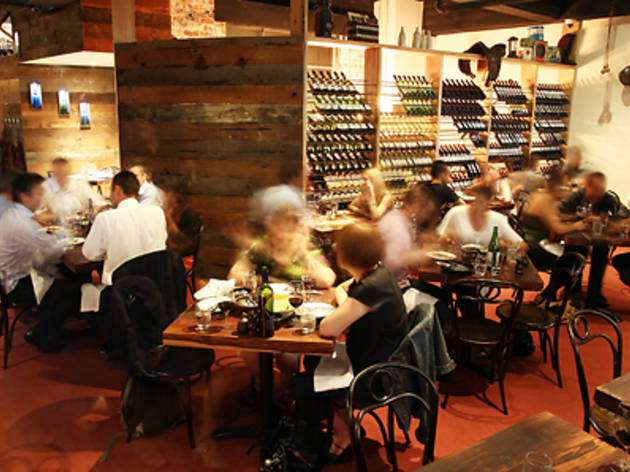 9/10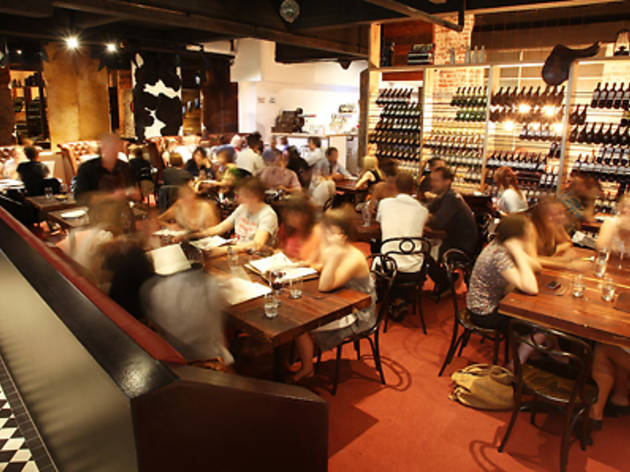 10/10
Fire in the hole! We're ready, oh-so-ready, for San Telmo
Giddy up, meat fans. San Telmo has ridden into town like an Argentinean gaucho (that's a cowboy, kids), brandishing hefty slabs of flame-grilled cow and some serious Buenos Aires swagger. Don't know Argentina? Here's a cheat sheet: it's all about salt, antiques, Fernet Branca and cola, spicy malbec wines and bar-be-cue. Owners Jason and Renee McConnell, and brothers Michael and Dave Parker, have done a bang up job of getting all this into San Telmo. It's named for the bohemian, antique loving Buenos Aires 'hood and while Sydney's Argentine star, Porteno, is all about rockabilly good-time vibes, this joint is bringing an authentic South American brand of funk, including a no-steak-too-big attitude, Latino tunes and staff who take the time to stop by for a chat.
There's also a staggeringly impressive parrilla grill. This friends, is two and a half metres of charcoal fuelled firepower, custom made in Argentina and getting a red-hot workout from head chef Michael Patrick (Ladro, Supermaxi). There's plenty of vege dishes on the list (try the charred heirloom carrots dabbed with goats cheese) but that grill was destined for meat. The broad and deep room is wall-to-wall leather and skins. Menus, placemats, stools, and even the waiters are all decked out in buffed hide. This is no place for vegans, folks – unless you stick them at the back bar with a bracing Hanky Spanky (a Hanky Panky anywhere else), made with gin, sweet vermouth and Fernet Branca. Outdoor seating makes this back section a good spot for snacks and summer drinking, so order up a crimp edged empanada apiece. The moon shaped crisp pastry hot pockets are filled with a mild mix-up of cauliflower, potato, provelone and ricotta cheese, deep-fried and sprinkled with salt. They're a good $6 starter but for prime beer snack material, hit the humita cornmeal batons. You're looking at a well-accomplished polenta chip here, tinted with basil and served with a side swipe of spicy chipotle mayo. Pair 'em with a frosty Antares cerveza, which, like every last drop of wine on the menu is Argentinean, born and bred.
If you're sticking around for dinner, lead the charge with the ceviche. It's a tangy-fresh kicker of a dish, arriving as a bowl of sliced lightly cured kingfish tossed with shaved red onion, finely diced chilli, salt, and a combo of lemon and lime juice. On Time Out's visit, the citrus and onions are pre-mixed, so it's a touch more acidic than it should be, but it still packs a nice wallop of flavour. From the parrilla, gird your loins for the kilo of rib-eye, aka ojo de bife. It's comically huge, but also a damn fine juicy sucker of pink, smoky, salt coated goodness. It comes with naught but a knife for spearing, the bone for gnawing, and a hot/fresh parsely, oregano, and chilli chimichurri. Forget arm wrestling, prove your might with one of these $95 bad boys. Get the smaller 300g of flank steak ($26) if you can't face a kilo large, or hit up the charred pork chorizo sausage served solo in a terracotta pot in its own spicy oils. You'll need salad, and thankfully they have a bunch. Soft palm hearts, with vinegar-sharp pickled pear, parsley, wafer-thin strips of jamòn (dry cured ham – pride of Spain) and mozzarella make a nicely balanced combo, but next time, we'll try the meat-free rocket number, studded with glistening broad beans, baby peas, and tomato.
San Telmo is a smoking hot good time with an impressive range of authentic booze to boot. Get her done.
Group dinners:
Get the better part of a cow fired up on the huge parilla grill, paired with Argentinean snacks and hooch in a room clad with more rawhide than a cowboy fetish club. Numbers: 8-16 $100pp.
Venue name:
San Telmo
Contact:
Address:
14 Meyers Pl
3000

Opening hours:
Mon-Fri 7am-late; Sat 12 midday-late
Transport:
Nearby stations: Parliament