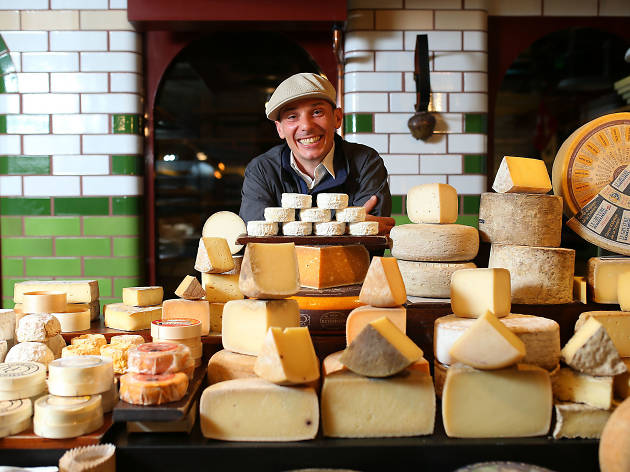 Spring Street Grocer, purveyor of Melbourne's best sorbetti and foie gras sandwiches, is blowing our minds one more time with the addition of the Cheese Cave
Delicious things are happening in car parks at the moment. Circa's underbelly has been turned into a ghetto winery as part of an amateur winemaking competition (Wine: Baptism of Fire), while over in the CBD, Con Christopoulos has finally converted the carport under Spring Street Grocer into a cheese cave.
Descending the tight spiral staircase is like sinking into a pit of wet socks. It's an Art Deco wonderland of white and emerald tiles where you'll soon be able to eat lactose-laden lunches and do master classes. Behind a set of glass doors, you'll find cheesemonger Anthony Femia playing classical music to truffled brie and tending tractor tyre-sized wheels of Comté from 9am-9pm. Yep, throw your hands up for a place that's open when you're actually free to shop.
Plan your visit when you're homeward bound (if you're packing a wedge of the soft, washed rind Livarot in your handbag, you are armed and disgusting). We can't go past European gems like the soft vacherin that comes in a pot ready to be baked into a molten dip, or the L'Etivas – a hard gruyere, gritty with sweet, crunchy calcium crystals. We also love that you can get a tangy wedge of Bruny Island C2, Australia's only raw milk cheese. If you get out with less than $50 worth of dairy and tiny pears from upstairs, you've a stronger will than us.
---
Venue name:
The Cheese Cellar, Spring Street Grocer
Contact:
Address:
Spring Street Grocer, Basement
157 Spring St
3000

Opening hours:
Daily 9am-9pm
You may be interested in: