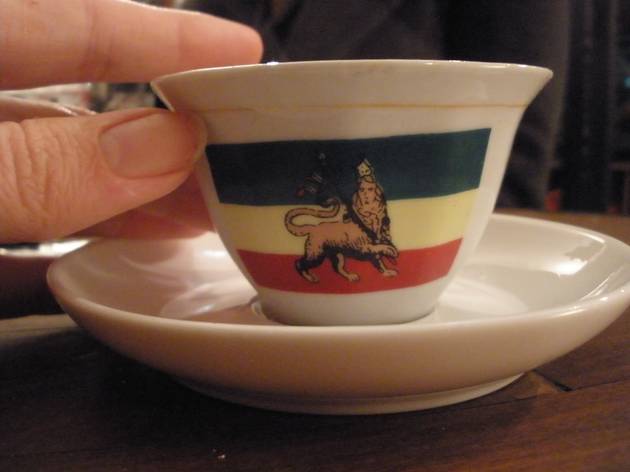 From Egyptian to Eritrean, the menu for The Cutting Table's African Night introduces patrons to new cuisines (and vocab)
Sometimes you really want to make a difference, but feel more inclined to punch a clipboard toting, working on commission charity mugger in the chops rather than donate to 'insert cause name here'. If that's the case, get down to The Cutting Table in Collingwood. Half of The Social Studio, the space is a hospitality training centre for young refugees. By day, it's a café come burger joint pumping out tofu, chickpea and halal beef burgers with condiments galore, but on Wednesday nights they operate an African Night, serving an ever-varying set banquet for a banging $30.
Karkadé, a sublime sweet hibiscus tea served lukewarm, kicks things off as diners crowd around the big, rough wooden table that forms the centrepiece of the room. If you haven't had the pleasure of say, Ethiopan cuisine before, you're likely to be equally impressed and perturbed by the show stealing main course. An enormous platter covered with layers of injera, (a stretchy, yeasty bread) the idea is to tear bits off and use them to scoop, dip and pinch morsels from the rainbow assortment of dishes arranged on top. Designed for all-hands-in dining, this is a place to take your better (cleaner) friends. Green salad is surrounded by red lentil curry cooked with berber (a spice blend purchased from the Ethiopian Consulate, so you know it must be legit), a chicken curry cooked with shiro (a chickpea spice blend), and elbow-your-friends-out-of the-way salty shredded beef- the first to disappear off the platter. Each dish is packed with favour, but with the Eritrean chefs adhering to their traditional cooking style– think spices, not spicy. Providing textural relief, dainty fried chicken pieces, and blood red beetroot salad help your fingers continue on their path towards irredeemable dirtiness.
In the last leg – which you will be more than ready for by this point, comes coffee that would put lead in the pencils of 20 schools, along with zalabia, small Sudanese doughnuts drizzled with honey. Finally, besbousa, a moist Egyptian semolina cake with pistachios. By the end, you will be stuffed – and newly-addicted to pan-African cuisine.
Best of all (aside from the fact that this is an outstanding social enterprise) The Cutting Table has no corkage fee! Time to pick up some tej, (Ethiopian honey wine), and revel in the goodness of it all.
Venue name:
The Cutting Table
Contact:
Address:
The Social Studio
128 Smith St
Collingwood
3066

Opening hours:
Mon-Fri 8am-4.30pm; Sat 10am-4.30pm (cafe); Wed 6-9.30pm (Africa night)
Transport:
Nearby stations: Collingwood
Price:
Up to $50