The Deli Counter (Closed)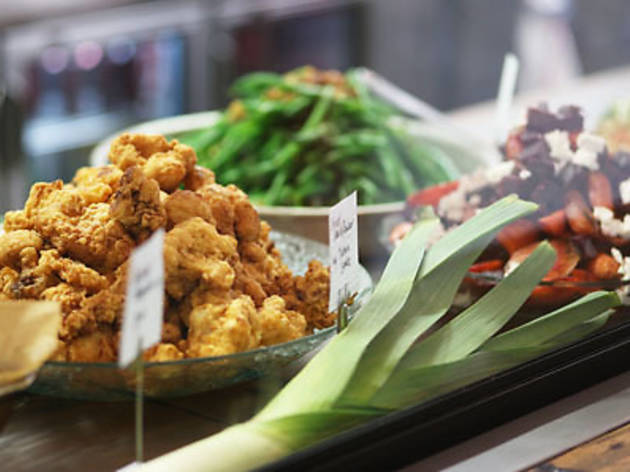 1/13
2/13
3/13
4/13
5/13
6/13
7/13
8/13
9/13
10/13
11/13
12/13
13/13
The humble pita gets a makeover at this new Israeli café
We've long been fans of the pita pocket – it's the holy union of carbs and convenience. But we never knew their full potential until now. At Deli Counter, Queen Street's new Israeli-flavoured caff, a wholemeal pita comes filled with a smoky, creamy mess of charred cauliflower, cucumber, parsley, and pickles, all bound by tahini. The sesame paste adds such richness to the neatly-confined smoosh of ingredients, it's hard to fathom it's vegan. Harder still to reconcile an $11 price tag for what could easily be a two-person lunch.
Pocket rockets are just the tip of the iceberg at this six-week-old eatery. Israeli owners Eitan Doron and Avi Raz have turned an old pasta restaurant into a blue-and-white striped lunch haven, where influences from their homeland are combined with those of the Mediterranean.
Every morning, Doron churns out platter after platter of deep fried cauliflower florets in an egg wash, and pulse-and-parsley-driven dishes until his servers demand he stop. They fill the big front cabinet for pairing up with a few key staples like rosy pink slices of roasted lamb shoulder or an Israeli take on moussaka. Here, the Greek staple of cinnamon-flavoured minced beef is layered with spiced eggplant and coated with tahini (Doran loves it) in place of the traditional cheesy béchamel, giving you the intense creamy texture with more of a nutty edge. We get ours with the crisp green beans tossed with caramelised slices of roasted garlic, peanuts and coriander, and a heap of charred baby leeks mixed with pearl barley, tomatoes, mint and dill, all coated in fruity olive oil.
This is formidable food, chased with crisp, syrupy filo thread rolls filled with crushed pistachios and an espresso that will leave you dangerously alert. Everything's served on beautiful glass plates on weathered timber benches to the sounds of Jimmy Hendrix' 'Castles Made of Sand'.
If you head in now, you'll only be fighting a handful of punters. That's likely to change once the proposed veg-heavy weekend brunch buffet and booze is thrown into the mix. Doron and Raz are hospitable enthusiasm personified. Doron's already gearing up to host cooking demontsrations, and both work the room, providing a bonus side order of information and the occasional free pita crisps.
You're looking at $18 for your plate of lamb with salads, but considering the quality of the goods and free charm, you can chalk that up as a win, lunch fans.
Venue name:
The Deli Counter (Closed)
Contact:
Address:
211-213 Queen St
Melbourne
3000

Opening hours:
Mon-Fri 7am-5pm
Transport:
Nearby stations: Flagstaff; Melbourne Central
Price:
$10-$30