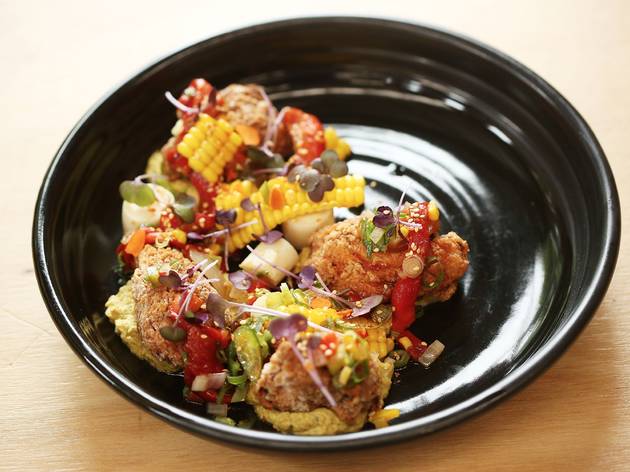 1/10
Photograph: Graham Denholm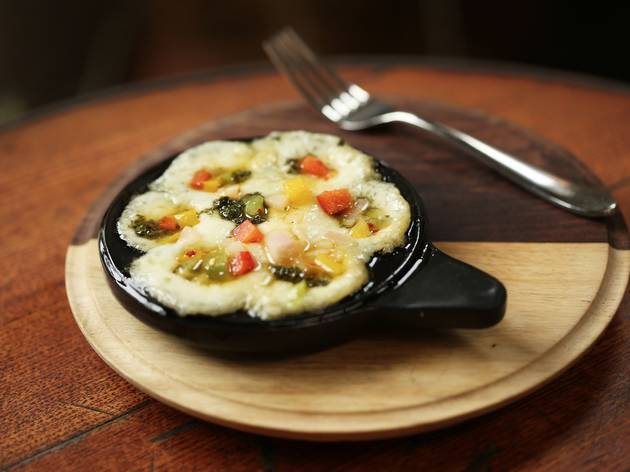 2/10
Photograph: Graham Denholm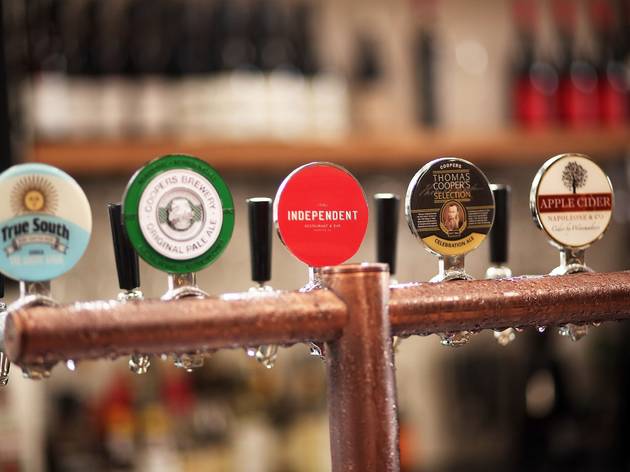 3/10
Photograph: Graham Denholm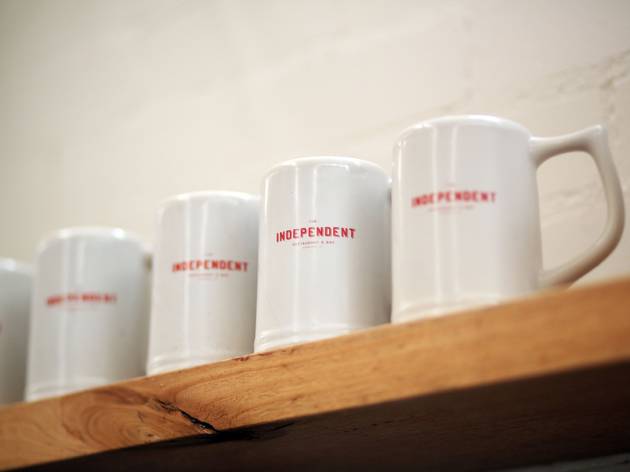 4/10
Photograph: Graham Denholm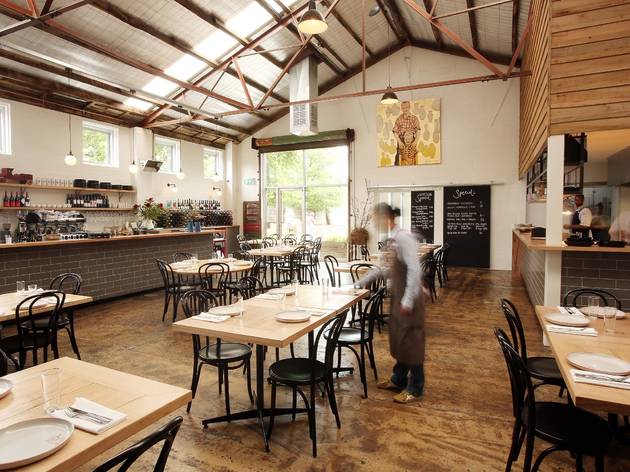 5/10
Photograph: Graham Denholm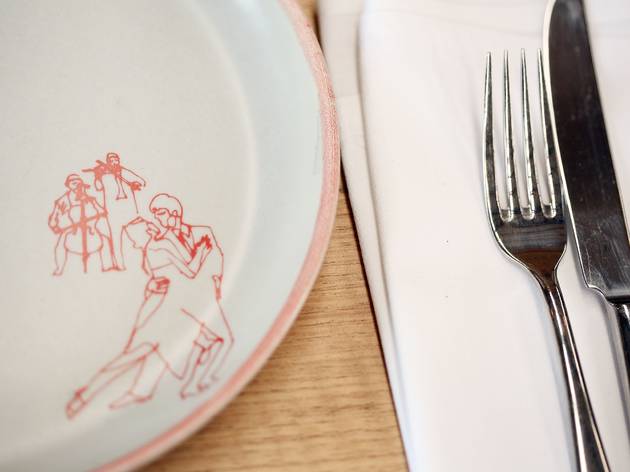 6/10
Photograph: Graham Denholm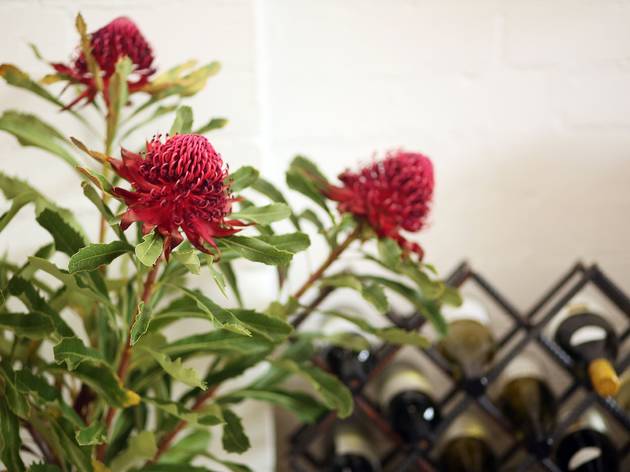 7/10
Photograph: Graham Denholm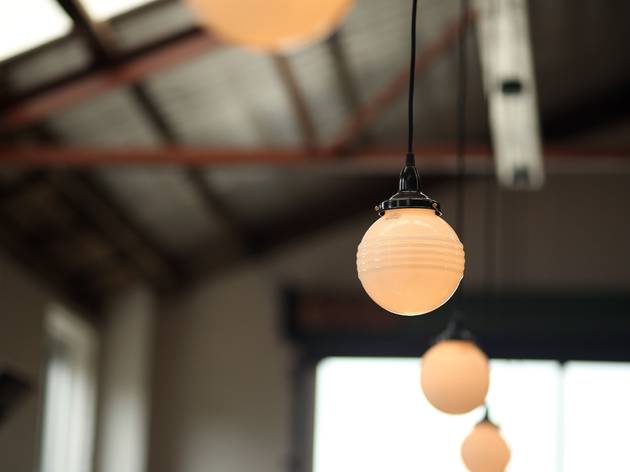 8/10
Photograph: Graham Denholm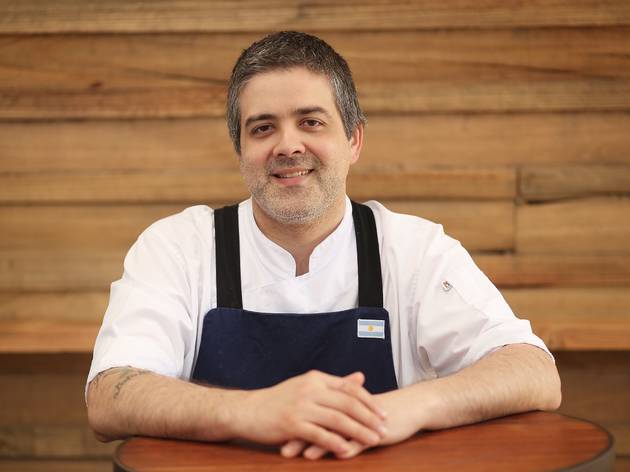 9/10
Photograph: Graham Denholm
10/10
Photograph: Graham Denholm
You could forgive Puffing Billy for getting his pistons out of joint with the arrival of the Independent. The schmick diner – like an inner-city beer hall on holiday - has relegated the little steam engine to the second-best thing in Gembrook
Remember the guy who liked the shaver so much he bought the company? The Independent is a bit like that. The family behind the local Robert Gordon pottery, which makes bespoke crockery for Vue de Monde, Press Club and a bunch of other 'names' decided to see what this restaurant caper is all about.
It sounds like a recipe for disaster but a few things have pulled heavily in their favour – the fabulous bone structure of the former hardware store, for one. The refit left the character, and the timber support beams, well alone and calmly splurged on all the things diners seem to expect these days, including (of course) their own line of bespoke crockery. The textures – a character-filled mix of white tiles, white-painted exposed brick, a motley polished concrete floor and a masculine expanse of bar – is softened with a herb-filled beer garden complete with kids' play area out back. Bring on summer.
And top points for bringing in chef Mauro Callegari (he's a co-owner, too, which means he won't be running away anywhere soon). Callegari's South American-inspired, booze-friendly food has enjoyed the past few years at Black Rock's True South brewery, and it seems to be enjoying the tree change to the Dandenongs. If anything it's opened up a little – you can count Northern African and Creole among the more traditional Argentinian influences of Spanish and Italian. Authenticity? Begone, trainspotters. It works just fine.
Callegari's menu finds its mojo in a smart modern middle ground: neither too fancy and overworked, nor deserving to be thrown under the abject banner of drinking food. His chicken is the Captain Crunch of fried bird, dressed up with a spicy-smoky eggplant puree, corn kernels, palm heart and wicked hits of green chilli. It's so beautiful you don't hate yourself when you reach for another piece. Fried calamari has a similar vibe, bedded in a chickpea puree with cucumber, chilli and Callegari's trademark spicy salt that looks like carrot flecks but is a dehydrated mix of salt, sesame flakes and paprika. It's a great mix of textures and salty oomph.
Head for the morcilla, too – more frying, but the fat cigars of black pudding have a beguiling dark, humid fug – and the provoleta, as traditional as the tango, that arrives sizzling with a lash of chimichurri. And don't forget vegetable dishes that take a walk on the wild side: cos lettuce buried under a finger-licking blizzard of sharp cheddar with a bitey mustard dressing, or smoked carrots with chilli and peanuts in a maple syrup slick.
The compact wine list isn't about to win any awards, but it's got the local and Argentinian bases covered, plus a keen price point. Oh, and they've got their own Independent lager on tap, brewed by Coopers.
The Independent is the kind of place that just opens and rolls through non-stop until close, ignoring the usual signposts marked 'lunch' and 'dinner'. Which (arguably) makes it the hardest-working thing in town. One P Billy might be consulting his lawyers, but we reckon Gembrook ought to be big enough for the both of them.
Venue name:
The Independent
Contact:
Address:
79 Main Rd
Gembrook
3783

Opening hours:
Wed-Fri noon-10pm; Sat, Sun 10am-10pm
You may be interested in:
Rating Breakdown
5 star:

1

4 star:

0

3 star:

0

2 star:

0

1 star:

1
We visited on the 23rd September 2017 and found the food to be incredible, the service to be attentive and the experience to be one of the best dining experiences we have ever had.
Full of flavour vegetarian cuisine.
After reading the review's left here i can only deduct that ...
A: Either i visited the wrong place
B: All the review's are by staff or others related to the business
C: Argentinean food has one of the lowest known standard's in the World !
I couldn't find where the negative Rating button was on this site which is almost as disappointing as the food itself ....
After seeing " The Independent " featured on Channel 31 i had looked forward to visiting and trying some of the food on offer . I prefer to support local businesses in the Yarra Ranges area and whilst out on a drive stopped for lunch . After taking a seat in the somewhat confusing lay out which has neither a view of the area or even a view of the puffing billy station or street , I had the wonderful view of a painted wall ! Greeted by an overzealous waitress whom suggested 4-6 dishes , over and over thoughout her speech that she rushed though so quickly ! i had to request her to run though them a second time .
Considering the place as a unknown i cautiously ordered the fish of the day . Which was from the description given , snapper and broad beans and salad . Such was the repeating of the " broad beans " i was somewhat wondering if that was the main ingredient of the dish . I also ordered the Papa and a pot of tea . My partner ordered the special of the day which from our understanding was a risotto of some type with mushroom , and a coffee .
After what seemed like a very long time , which was mostly spend watching ants walk about the table . Once again we where visited by the overzealous waitress whom basically dropped on the table a small basket and rabbited on about complementary bread and dip . I couldn't even see the bread as it was hidden in the bottom of this small basket . After tipping out the container onto a plate , there where two of the smallest nuggets of bread you would ever be likely to see . Yes not four but two bite size pieces . After consuming these bit size pieces i was starting to think that was small but of a ok standard ... Things looked up temporarily ...
Finally the tea and coffee arrived , and after a long wait the so called mains arrived with the one side dish .
Well this is where things took a huge turn for the worst .
The fish was two small pieces with a splash of some kind of dressing spooned out next to it , with a various bits of salad to one side and draped over the fish . Almost hiding is small natural , but also heating the lettuce to a very limp state . The plate was luke warm and given this i decided to start on the fish , which was almost colder than the plate itself . The fish had no actual favouring that i could tell . So i used the cold dressing to product a almost completely tasteless end product . The salad was a sad creation and i had one piece of soggy limp lettuce and pushed it aside to find the magical eight broad beans which had been given such a hard sell . They where indeed the best part of the dish . At $32 you would to find them magical for sure .
And onto the side dish , Papa / Potato's which where to be roasted with onion , garlic and thyme . Well once again on a cold plate . The potato's where under cooked , and one potato piece would have some sprinkling of flavour whilst other's would not . The onion pieces lined the bottom of the bowl and where so small of course this is where they would end up. Feeling so hungry i eat these as least potato can be eaten at cold to warm temperatures .
My partners dish ... well i still cannot tell what it was meant to be ! going from the overzealous waitress description . It was what looked like a microwave overheated dish that had gone cold , mushroom with NO risotto and few pieces of canonbert cheese . My partner tasted it and immediately wondered if any more of the bite size bread would be coming ... no such luck . I asked what was her dish like , her answer was very salty . I had a taste and i couldn't really work out given the lack of ingredients in the dish how mushroom could be so salty .
After the dish sitting there for a while and trying to work out how someone could produce something that salty out of mushrooms , the overzealous waitress returned to ask if how everything was . My partner gave here the reply that she would need litres of water with given the salty nature of the dish , the waitress popped off the the counter of the open kitchen and asked the chef . Returned and gave the answer it must be the cheese , I was somewhat shocked how the canonbert cheese could have possibly made the dish that salty . She returned the dish and suggested a few other dishes . Given the total lack of vegetarian dishes available there really wasn't any other option , she gave a suggestion of a risotto with the meat removed . Fearing the worst we left it as that . Then the waitress started to ask if we wanted desert LoL .
Sitting there watching the chefs ( well i think they might not be chefs as is known in Australia ) we noticed the guy i had seen on TV taste testing food and stirring the licked spoon back into the food !!!!
I finished my cup and a half of tea and partner her coffee and stood up and walked around trying to find where to pay in the confusing layout with no actual front counter and left . There was no apology and the waitress couldn't even give us the bill ! some other staff member had too ...
Yes that is a long review , but i have the time as i today have a sort throat . No doubt caused by the low hygiene standards of this overpriced dump that is no doubt only still going off the backs of tourists getting off at the end of the line on the puffing billy ...
You have been warned people , eat at your own risk on this one .
And BTW this is my second only review of a dinning place ever ...