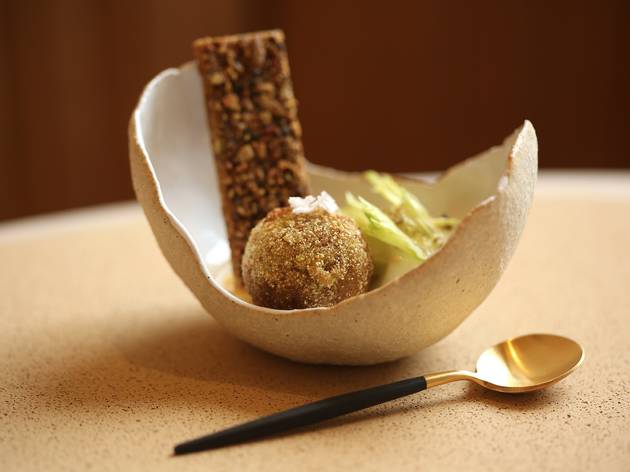 1/9
Photograph: Graham Denholm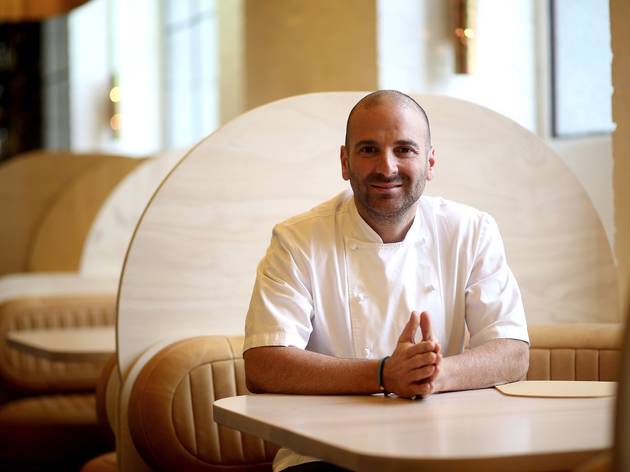 2/9
Photograph: Graham Denholm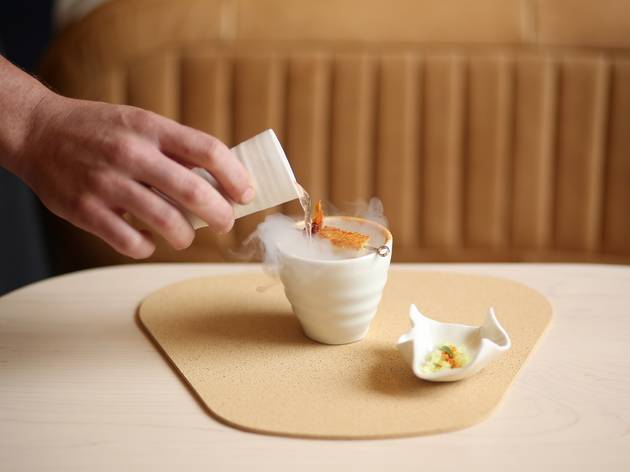 3/9
Photograph: Graham Denholm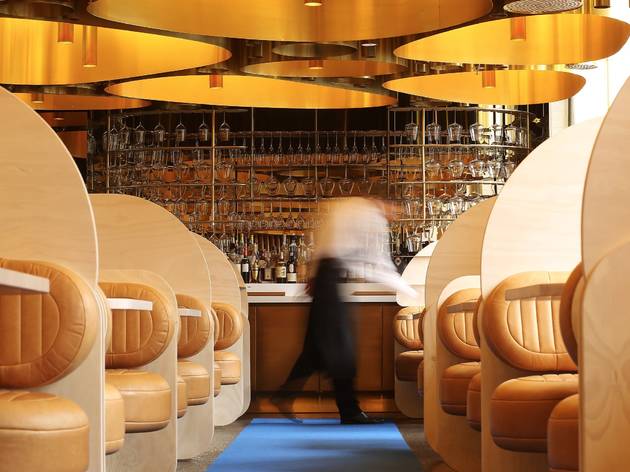 4/9
Photograph: Graham Denholm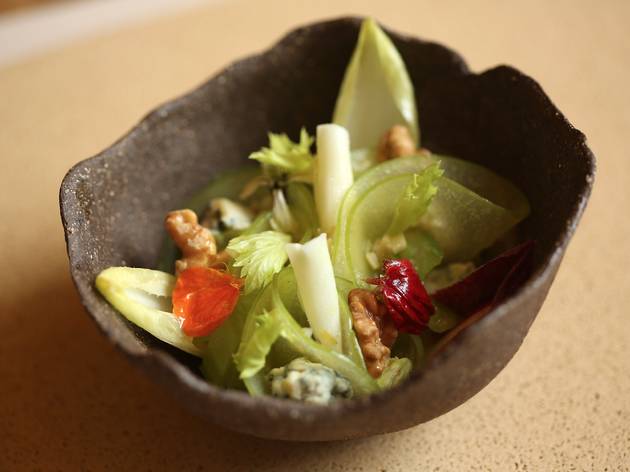 5/9
Photograph: Graham Denholm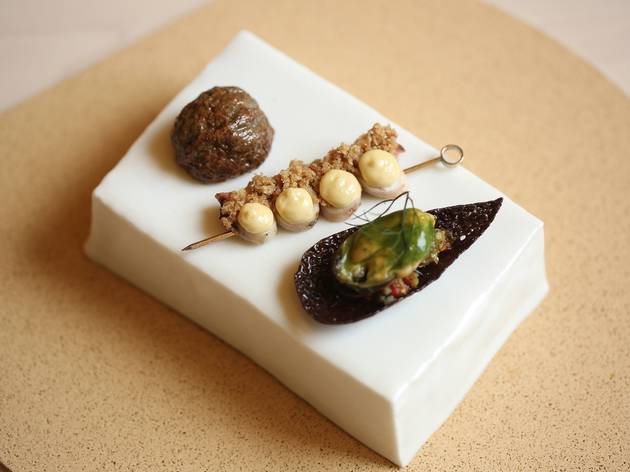 6/9
Photograph: Graham Denholm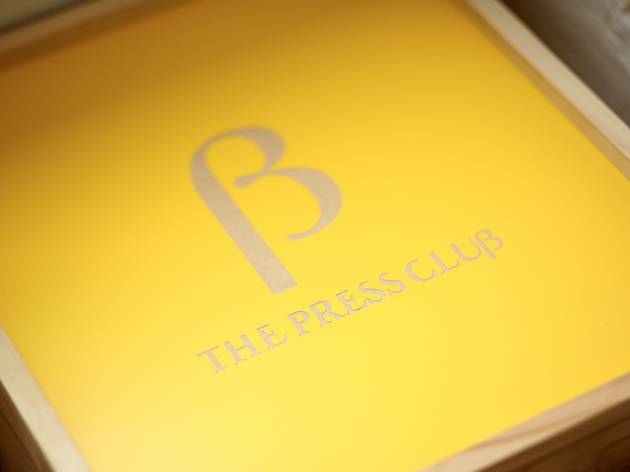 7/9
Photograph: Graham Denholm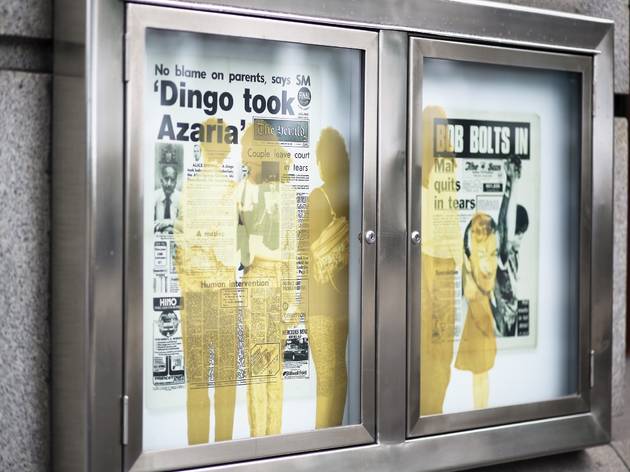 8/9
Photograph: Graham Denholm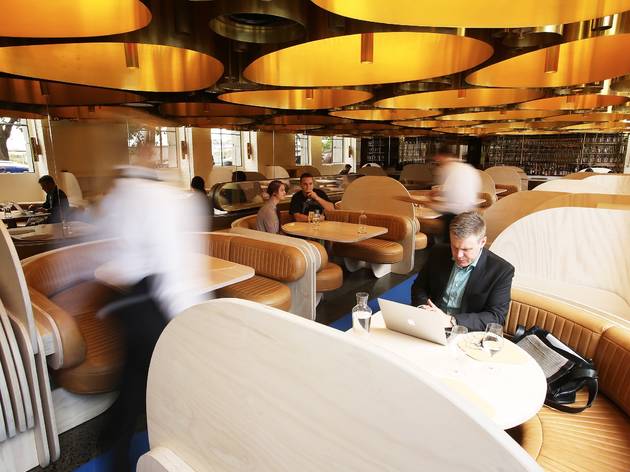 9/9
Photograph: Graham Denholm
After a year in hibernation, the Press Club has downsized, moved digs and returned as a smarter, flashier, first class restaurant
It's high noon, and just like the days of old, the Press Club is filled with a crowd for whom doing lunch is a part of the job. A couple of equine models blouse in and out to smoke and across from us, a group of Amex-toting chunky men are boasting mateship with owner George Calombaris and jocularly baiting the waitress. But this isn't the Press Club of old. It's a smaller, smarter operation with a fresh menu, just ten booths, and zero need to suffer fools to fill them. A fact so excellently proved by Calombaris himself, who emerges from the kitchen, gives the men some souvas and bids them all good day. It's the classiest and only sandwich-based shaming we've ever seen, and it says everything you need to know about the all-new Press Club: it's back. It's great, and it deserves your damn respect.
Gone are the $35 express lunches – you've got Gazi for that now. A la carte lunch has a two-course minimum for $50; the degustation is $120 ($140 at dinner) for five courses or $190 for eight, and an odyssey you won't be coming back from for hours. That's a solid cash and time commitment. So is it worth it? If you value the sound-vacuum hush you only get from the softest of furnishings, innovative, tweezer-sharp cooking and balletic service from a crew at the top of their game, then the answer is, absolutely.
Each dish is delivered by two waiters moving in unison, and the door is so fancy nobody can find it – a seemingly solid wall of gold pipes beyond which lies a deep, narrow pod of American Hustle-style glamour: two rows of deep tan leather horseshoe banquettes backed by mirrors and overhung by what look like upside-down gold Jacuzzis stuck to the roof.
If you're here to show off, they don't disappoint. Basil, snap frozen with liquid nitrogen Vue de Monde-styles, is smashed for a gently fizzing, tongue-bracing tomato consommé Martini. It's chased by a whimsical cluster of snacks: a plump chilled mussel in a faux shell candy raft; the genius surf-and-turf union of anise-forward octopus rounds with chicken dripping whipped into salty mayo, and creamy blue cheese piped into a dense and chewy fake walnut casing made from its own crushed contents.
It's a razzle-dazzle opening act, but beyond, Calombaris and head chef Luke Croston's menu is no show pony. It's all measured elegance and style. There's a salad full of pickles, apples and punch – compressed sheets of Granny Smith curled around blue cheese, walnuts and a vinegary dice of palm heart, crested by frilly celery fronds. It's pretty. It's also the sort of smart, fresh and peppy dish that makes this dining mission possible without undoing your pants.
Vinegar and vegetables rule. A soft tranche of grouper, browned in a taramasalata butter, is bedded on sweet germinated lentils with a hit of pickled cucumber. And then there's the crunch, tang and cream of a crisp eel croquette balancing on a smoky custard with sharp vinegar jelly cutting between, the whole dish subtly Greek-ed up with a seeded strip of baklava.
And have we mentioned the drinks? Gun sommelier and all-round charming human Marc Esteve Mateu pairs your custard with a Tengumai Uma Jun sake that's all blossom and umami. To our mind, that alone makes it worth taking the booze match option. Then again, you're looking at a wine list where anything is possible given an open mind and wallet, be it natural shiraz from Geelong or a remortgage-your-house 1988 vintage Salon Cuvée.
Yes, there's a touch of Calombaris's trademark Greek-ness – there's the obligatory 48-hour braised lamb, and you'll be smashing a meringue plate over your berry-mousse-custard paint-palette dessert – but it's not too much.
The Press Club is a restaurant designed to impress but it does so without being gauche. It's the new Press, and it's all class.
Venue name:
The Press Club
Contact:
Address:
72 Flinders St
3000

Opening hours:
Tue-Sat noon-3pm, 6pm-late
Transport:
Nearby stations: Flinders Street; Parliament; Jolimont
You may be interested in: