Titanic Theatre Restaurant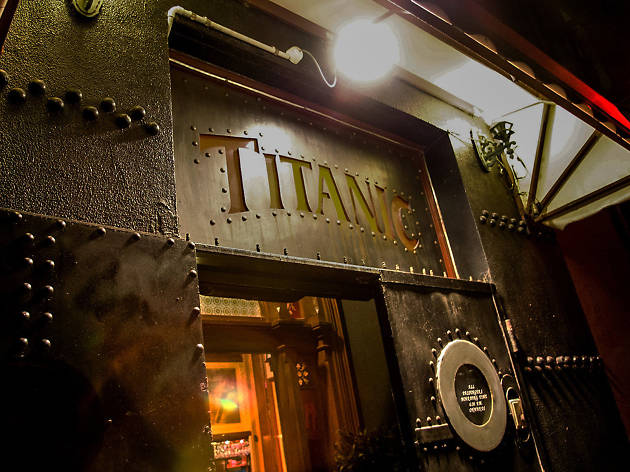 Time Out says
Eat your heart out, Clive Palmer. David Varney's bluestone-pub-turned-Titanic-diner provides all the weird and wonderful we need
That something this whimsically insane exists – and that it's packed from starboard to port every Saturday – fills us with such fist-biting joy, we have a shaky moment on the Titanic where we almost completely lose it. Not during the appropriately sad reading of the death toll at the end. Not even during Celine Dion, by which point everyone has unhooked their emotions and inhibitions with rainbow cocktails, Crown lagers and bottles of Mumm. It happens as our bushy Captain and fourth officer Joseph Boxhall commence a surprisingly thrusty rendition of 'Gangnam Style'. Yes, really.
We are not really sure what we expected from a dinner theatre restaurant based around the world's most famous maritime tragedy, but Titanic is everything we dreamed – chandeliers, linen, and pinny-wrapped waitresses included – with less water and more charm. And a little awkwardness, because of the whole 1,500 people lost at sea thing.
The whole night feels like a nautical '90s wedding and is every bit as nostalgically awesome as that sounds. We get alternating dishes – arancini or salmon carpaccio; roast chicken or a medium-well done steak with creamy mash and greens. Is this a life-altering gustatory voyage? It was not, shall we say, to our first-class taste.
But the food is not the point of the evening. The point is to have an absolute blast, and good times are pretty much guaranteed here. People arrive at the restaurant in limos, and fashions are fancier than a Cup Day birdcage. Guests are encouraged to indulge the fantasy of travelling first class, and there are plenty of top hats and tails, elbow-length gloves and hats fancy enough to satisfy Kate. Almost everyone is celebrating something, from an anniversary to a 60th. If you bring your daughter for her birthday, it does seem to be mandatory to buy her a Heart of the Ocean pendant, conveniently available in the gift shop. It's also, heretically, available in pink.
The show is a sort of nautical-themed comedy cabaret, led by Captain Edward Smith and Officer Boxhall, both real people (spoiler: Boxhall makes it, Smith does as captains are expected to do in such cases). This is fairly crude stuff, production-wise, but it's diverting. In the end, we all live to see New York, and there's a neat coup de theatre moment to banish all thoughts an icy death.
There is also a truly surreal conga line of celebration behind three people dressed as a ship. You know how two people can dress as a horse? It is like that, but with a ship.
If you're allergic to soft-hearted, cornball entertainment you might find yourself all at sea, but if you're suffering hipster fatigue and craving the simple pleasures of dress-ups, cocktails and the chicken dance, then try Titanic. You can also book the venue for parties and weddings – we're sure they'll keep the champagne on ice.
Details
Address:
1 Nelsons Pl
Williamstown
Melbourne
3016

Transport:
Nearby stations: Williamstown
Price:
$40-$95
Contact:
Opening hours:
Sat 6.30pm-late
Best selling Time Out Offers