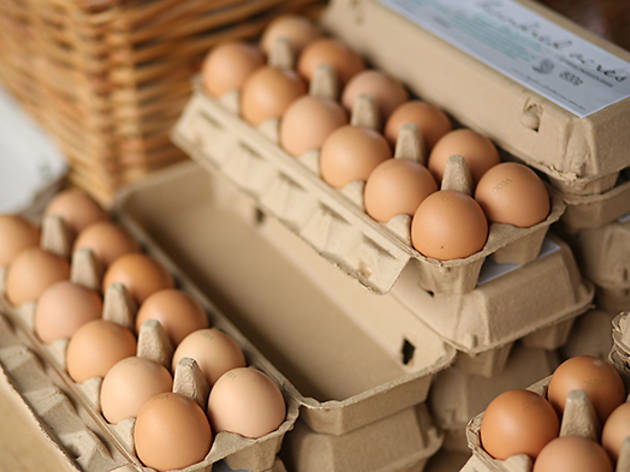 On the second and fourth Sunday of each month, the Eltham Farmers' Market spills out across the car park of the Eltham Town Mall. There is a full range of stalls, from just-picked veggies and fruit to condiments and sweet treats, and it's all local, fresh and delicious. On the second Sunday of the month, the market will be accompanied by community market stall, while the market on the fourth Sunday of the month will come with a food swap event where locals can swap home grown or made goods.
Attempt to approach the chickens pecking around the green pastures of Top Hundred Acres free-range farm and you'll have to contend with Bradley: a huge, white alpaca.
"Bradley guards our flock," says Kate Rothhacker, head of the egg and garlic farm on Melbourne's northern urban fringe. "He's the bodyguard, essentially; the chickens sit on Bradley and annoy him, but he's very good to them."
A passionate advocate of locally sourced, chemical-free food, Rothhacker knows that when her chickens are happy (and very safe) then their eggs will be delicious. "Our eggs are laid in the last couple of days, so it's like having chickens in your backyard."