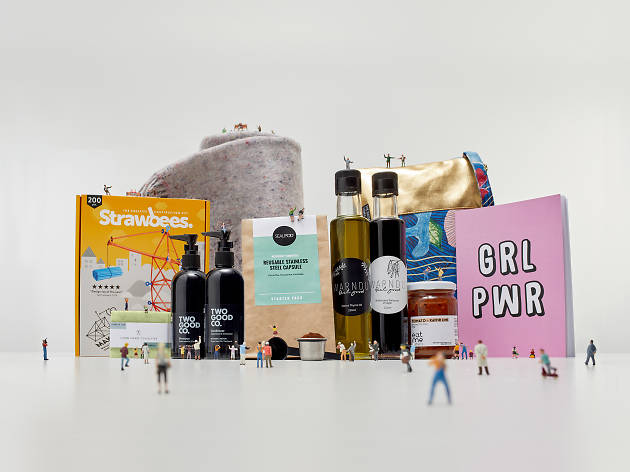 The story behind this holiday season's most impactful presents
We speak to the changemakers spreading goodwill in more ways than one
What's better than a gift? One that gives twice. Fortunately, a new breed of Australian startups are realising this – and they're launching social enterprises to achieve it. From native ingredients that regenerate indigenous culture, community and tradition to eco-stationery that helps fund education for women and girls in the developing world, there are more options than ever for spreading the holiday spirit.
Of course, turning the dream of doing good into a reality takes more than great intentions. Go behind the scenes and you'll discover that many social enterprises in Australia have had a little help from Dreamstarter – a program by ING that helps nurture new businesses that aim to drive change. "My role is to help find some of the best start-up businesses in Australia that have the potential to create a positive impact in our community," says Shannon Carruth, ING's sustainability manager. "ING recognises that startups need more than a one-off financial donation in order to succeed in the long term. We leverage our marketing reach to help introduce new customers to [Dreamstarter businesses] and use our business expertise and partnerships to help build their capacity to build a sustainable business."
ING also has the ability "to become a business customer ourselves", which can be invaluable for a burgeoning business. For Rob Caslick, founder of Two Good, that's exactly how the relationship with Dreamstarter began. "We're a buy-one, give-one social enterprise. For each product you purchase from us, we deliver the same product to a women's refuge or safe house." One of Two Good's most popular products is a weekly salad delivery. ING purchased some salads from Two Good, and from there, Rob discovered the Dreamstarter program. "I officially joined Dreamstarter at the start of this year," says Rob.
Signing on allowed him to "properly launch our Two Good Care campaign". Two Good Care is a range of organic beauty products that have the same buy-one, give-one model as the company's meal deliveries. "Domestic violence strips someone of their self worth. Our aim is to deliver beautiful quality food or luxurious products to demonstrate we believe you are worthy of this." Rob's hope is to eventually "deliver our products or food to every women's refuge in the country".
With food delivery in Sydney and Melbourne, and beauty product deliveries nationally, they're well on their way to achieving that goal – but it didn't always look that way. "Last Christmas, we were doing it very tough financially, we even contemplated closing the doors. ING offered us a lifeline – we pitched to ING staff, and for each vote we received a dollar donation. Luckily the ING staff loved our mission and we got a nice little cash bonus - we are now flourishing."
For Shannon, the ideal Dreamstarter is a business where "sustainable impact is at the core of their business – not just a marketing ploy." She believes "innovation and disruption in any sector can lead to more effective, sustainable solutions to some of the biggest challenges our society faces… We want to help these disruptors grow and scale so they create more impact in our community."
One area that's ripe for disruption is disposable coffee pods. "Australians consume a staggering three million coffee capsules every day, and recycling is simply not the answer," says Kayla Mossuto of Crema Joe, another ING Dreamstarter business. "The manufacturing of products and packaging takes energy... Disposable coffee capsules require special facilities to ensure they are properly recycled, and unfortunately, the number of capsules that are actually being recycled here in Australia is unknown. We believe that reusing is the ideal solution when it comes to capsule machines, so we try to educate the consumer on sustainable coffee habits. We retail via our website, and currently stock our eco-friendly pods in 27 stores.
"Supporting social enterprises and changemakers through Dreamstarter is such a powerful and positive initiative. We can personally say that the program has helped us get on our feet, not only with the initial crowdfunding campaign, but also the ongoing support and nurturing... We have been given professional development opportunities, so we feel better equipped as business owners."
Of course, the most important part of any Dreamstarter business is making products people genuinely love and that, in some way give back to the community. That's the key for Shannon: "We want to help make it easy for our customers and the general public to make a difference this holiday season by choosing to buy a gift that does good.
"I'll always be grateful to ING," Rob says. "Publicly endorsing a new social enterprise takes courage."
Looking for a little gift that makes a big difference? You can find these products and more at ING Dreamstarter's Gifts that Give online store.
Dreamstarter gifts to buy this Christmas