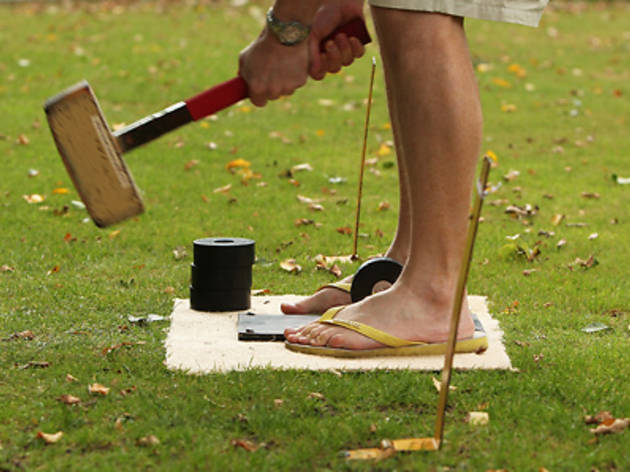 Forget Aussie Rules: if you ask Gerald Strachan there is only one "fair dinkum" Aussie sport to have come out of Melbourne and that's the little-known game of Trugo. As the captain of the Brunswick Trugo club, Gerald is one of many players at six or so clubs around Melbourne intent on keeping this part of Melbourne's sporting history alive.
Invented in the 1920s by railway workers in the suburb of Newport, Trugo involves hitting rubber rings made out of train buffers down a grassy pitch 90-foot long, the exact length of a train carriage. Using sledge hammers as mallets, players score points by hitting the rubber rings through goal posts and yell out "that was a true go!" if they get one in.
Trugo has only ever been played in Melbourne but Gerald has seen the game build up a curious overseas following. "I had a phone call the other day from somebody in Canada and they wanted to learn how to play. One year we played a side from Holland as part of a festival where they televised their game and we televised ours."
The game even piqued the interest of international celebrity chef Anthony Bourdain who, accompanied by Matt Preston and his film crew for the TV series No Reservations, came and had a hit with the Brunswick Trugo club as part of his culinary tour of Melbourne. "Oh, they had a terrific day out here," says Gerald.
"The easiest way of finding out what it's like is to come out and try it," says Gerald. "People think Trugo's an old person's game but it's not, there's a lot of young blokes who come and play of a weekend and we've got women playing. All the equipment's supplied and it's easy as."
Call Gerald on 03 9386 6708 or Jim on 03 9350 7370 if you're interested in giving it a go.
Venue name:
The Brunswick Trugo Club
Address:
Temple Park
Hodgson St
Brunswick
Melbourne
3056