A Doll's House, Part 2 review
1/7
Photograph: Jeff Busby
2/7
Photograph: Jeff Busby
3/7
Photograph: Jeff Busby
4/7
Photograph: Jeff Busby
5/7
Photograph: Jeff Busby
6/7
Photograph: Jeff Busby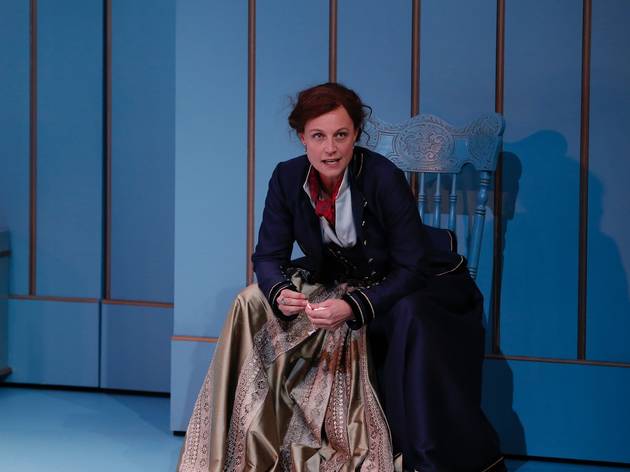 7/7
Photograph: Jeff Busby
Time Out says
Marta Dusseldorp stars in this hit Broadway play that serves as a sequel to Henrik Ibsen's classic
It's called A Doll's House, Part 2 and in many ways it delivers precisely what it promises on the packet: this is a serious attempt to imagine what happens when, 15 years after the fact, Nora Helmer (Marta Dusseldorp) – she who severed a deeply-held bond with her audience back in 1879 by walking out on her marriage and her children – comes back. Playwright Lucas Hnath has the audacity to stage that return, and in so doing manages to build a superbly supple series of dramatic and intellectual links between Henrik Ibsen and the current zeitgeist. If there were any doubts that fusty old dramas can still reverberate through the collective consciousness, then this play scuttles them.

Nora has, virtually from the moment she first appeared in that wintery Copenhagen night, come to represent a certain proto-feminist position that is both searingly convincing and deeply problematic. Hnath ingeniously mines the original play's ambivalences around what constitute proper female behaviour, stretching them into a spiderweb of current concerns. Nora abandons her children but she does so to survive, and this play accepts her decision at face value, and then spears her on the spike of consequence. Any woman who's ever felt damned if she did and damned if she didn't, is sure to relate.

Although this is equally true of Nora's oft-maligned husband Torvald (Greg Stone). Having carried the burden of raising a family without a mother, Torvald is understandably reluctant to let her back in, especially given the fact that she seems thoroughly incapable of remorse. One of the great achievements of the play is that it repositions the character of Torvald in a way that demonstrates his own vulnerability without undermining his wife's dissatisfaction. He feels almost as trapped as she.

Before Hnath allows the confrontation of Nora and Torvald, he establishes the relationship between Nora and her nanny, Anne Marie (Deidre Rubenstein). It's a knotty, gnarled reconciliation, one that acknowledges a history both warm and irrevocably compromised. When she does eventually face off with her husband, still wounded from his wife's absence and refusing to give her a divorce, the results are electric. But perhaps the saddest, the most profoundly unsettling confrontation is between Nora and her daughter, Emmy (Zoe Terakes), who shares with Nora a motherless childhood and a steely intellect. Watching these two women hack their way through the thorny wood of patriarchy makes for riveting theatre.

Director Sarah Goodes is by now a master of this kind of intimate psychological warfare, and she directs here with nuance and precision. The characters have a tendency to grip the walls as if unconsciously aware that the house is a trap, that to occupy the centre is to put oneself at enormous risk. Each performance has a distinct physicality, from Nora's lunging athleticism to Emmy's ramrodded poise. Not a second of the running time is wasted, and the effect is of a perfect machine drilling into the heart of the matter. Tracy Grant Lord's sparse set and stunning costumes are a masterpiece of restraint and evocation, and Chris Williams' sound design is subtly effective.

The actors are uniformly magnificent. Dusseldorp is a star, and she plays the character's oscillations between doubt and certainty with a kind of giddy perfection. Stone delivers one of the finest performances of his career as the tormented and noble loser in this game of love and war; initially composed, he rises to match Nora in grit and resentment, and we mourn the marriage that might have been. Rubenstein is fabulous as the kind and weary nanny, and Terakes is a revelation as the "old soul" daughter of an icon. She totally commands the stage, and is certainly an actor to watch.

The genius of A Doll's House, Part 2 is its temerity, the ways in which the playwright manages to coax out contemporary resonances from a 19th century classic without compromising its integrity. The play harmonises with the original in ways that invigorate both, and riffs on the themes of contracts and debt, of lying and freedom, in ways that make the gap of time between the two works seem very small indeed. Maybe a great female playwright could pen Part 3. That would really be progress.

Details
Users say