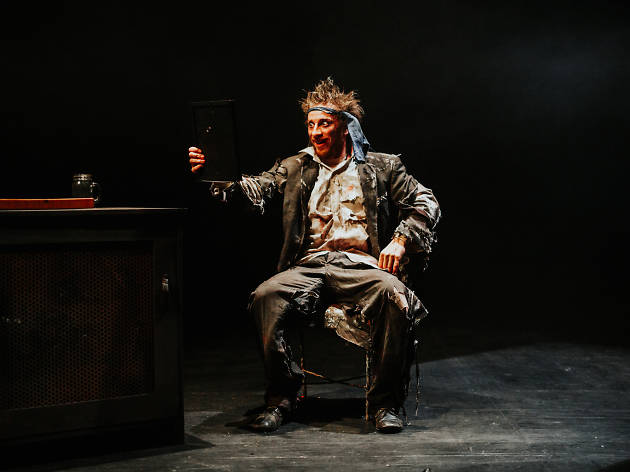 Time Out says
Performer Mitch Jones eats himself in this one-man show
Sometimes, St Kilda's Theatre Works feels like a laboratory, a place for experiment and trial; if the results are not entirely satisfactory, there is still a sense that something valuable is being tested, that something fine might come from the crucible of theatrical thought. Mitch Jones's Autocannibal is precisely this kind of work, developmental and unfinished, maybe, but also chock full of ideas. It's the kind of work that gives Melbourne its reputation for considered, influential independent theatre.
It opens on Jones hanging upside down, his leg bent to create an inverted triangle. It's a direct invocation of the Tarot's Major Arcana card The Hanged Man, a symbol of Promethean self-sacrifice and spiritual equilibrium. But this hanged man is as much a warning as an archetype, a damning allegory of global inaction and human greed. It seems fitting that our future is in the hands of a dangerous clown, dishevelled and desperate.
We are told in voiceover that the world is collapsing, and that bans on "human product" have been lifted; it's disturbing, if nowhere near the baroque disaster porn of Caryl Churchill's Escaped Alone, recently seen at Red Stitch. Jones cuts himself loose from that position as the Hanged Man with a saw, plummeting into the dark, but soon we see him shuffling around the space, running Sisyphus-like up a pole, drinking his own sweat. He's a creature of disgusting habits and base compulsions, a smeared and sooty parasite of the apocalypse.
He's also highly sexual. He is forever grabbing his crotch or thrusting it about; at one point, he fashions a plastic bag full of garbage into the general outlines of a female, and fucks it till the contents start to spill over the floor. It's a nasty image, and speaks to the lowest urges driving us long after our humanity has been leached. In fact, the show itself is daringly sexual, as if John Waters had gotten hold of the I Am Legend script and drawn his own perversities from it. We don't see much of that kind of sexualised behaviour on our stages, and it feels refreshingly frank and unsanitised.
Director Masha Terentieva might have something to do with that. She's a circus performer herself, originally from St Petersburg, and has a long association with the kind of European clowning we rarely see in Australia. In fact, some of the work's most assured moments are pure clowning, executed sublimely. One sequence involves single word commands spoken by a computerised voice, which Jones reacts to in increasingly hilarious ways. "Explain" becomes "argue", which morphs into "preach" and then "doubt". The precision and discipline of the physical comedy is impressive.
Autocannibal is full of cleverly articulated moments such as these, as well as some arresting imagery. At one point, Jones has his head stuck in a brown stocking, his arms elongated by stuffed stockings, and the light – along with his slow-mo movements and an expression of vague dismay – conjures something out of 1980s space horror. A moment with a blowfly tilts pure farce into something murkier and genuinely distasteful.
The piece moves into a kind of low-level gorefest, as Jones begins to amputate parts of himself – in an echo of that opening sawing – in a way that is funnier than it is disturbing. This is a little disappointing, especially when the work dissolves into the sort of gruesome gag that brings to mind Edward Gorey or Tim Burton's short story collection, The Melancholy Death of Oyster Boy. The final note is more cutesy than creepy, and tends to reduce the impact of the message. But make no mistake, this is a work of great potential, performed by a skilled and immensely likeable performer, under the direction of a clowning expert. It's an experiment worth witnessing.
Details
Best selling Time Out Offers