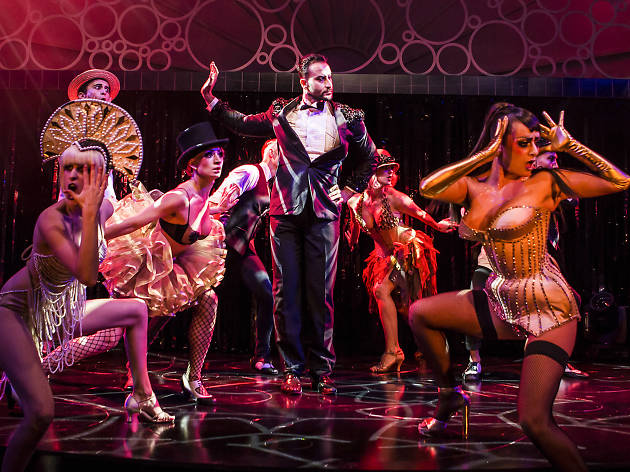 Strut n Fret's party-starting late-night alt-cabaret is heating up St Kilda's winter garden festival
Some die-hard fans might find Blanc de Blanc disappointing by comparison to previous Strut n Fret favourites Limbo and Cantina. But Blanc de Blanc has the key ingredients to make a late-night alt-cabaret show work: sex and comedy that's both fun and transgressive; characters that you want to spend time with; and a banging soundtrack. Bottom line: it's entertaining.
Alt-cabaret shows typically take a pastiche format: three minute acts strung together with music and wrangled by a charismatic host. Once you've seen a few of these shows, the acts cease to surprise you and the thing you come back for is the glue: the comedy, the rowdy atmosphere, the big personalities, the party-starting music.
As if clocking this, Blanc de Blanc has fewer acrobatic acts. Instead, it seems to be capitalising on the contemporary yen for banging dance sequences and Belle Epoque through to art deco aesthetics. In fact, if Baz Luhrmann made a nightclub, it would be this – albeit with more red velvet.
The cast are kitted out appropriately in tops and tails and nouveau Moulin Rouge accoutrements. The soundtrack is a mix of jazz standards (Gershwin, Cab Calloway), old school soul (Eartha Kitt, Etta James), French house (Duke Dumont) and club bangers (Martin Solveig & GTA). The dance numbers are designed by LA choreographer Kevin Maher (whose work is currently on stage as part of Madonna's Rebel Heart world tour).
The cast themselves are plenty pretty – but our favourites are the 'freaks' of the outfit: weedy gofer-type Spencer Novich and Sydney's 'queen of queer', Emma Maye Gibson (aka Betty Grumble), in full Amazonian form. They both have the best bits in the show, and bring some transgressive grit and sideshow surreality to an otherwise too-smooth operation. We're also a fan of French-Algerian maître d', Monsieur Romeo, who comes to Australia via Paris burlesque institution Crazy Horse.
Is Blanc de Blanc a fully conceived show in the league of Limbo? No it is not. But neither is it aiming to be: this is a late-night show for people to get rowdy – and drunk – to. We had a damn good time.
This is an edited version of Time Out Sydney's 4-star review of the January 2016 premiere of Blanc de Blanc.