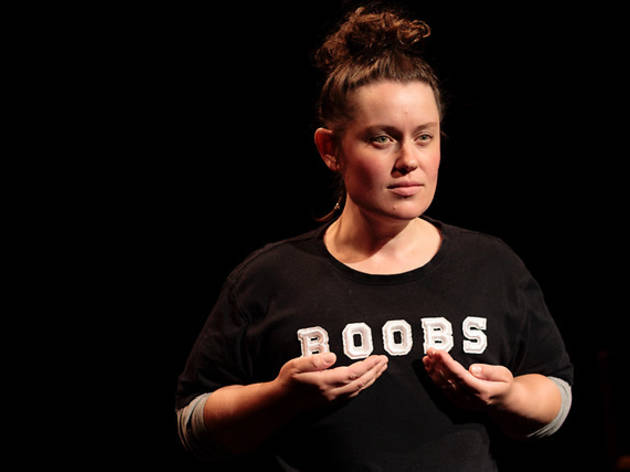 Time Out says
This award-winning cabaret is about all things mammary
Anyone with a passing knowledge of The Moth, that brilliant NYC invention that saw ordinary people take up the mic to tell true stories to a live audience, will feel right at home with Selina Jenkins' Boobs. It has the same disarming authenticity, the sudden turns and shocks, and the deep poignancy, of the best of those stories. Jenkins is such a winning and natural storyteller, it seems churlish to ask for more, but she delivers it anyway, with a voice that is as golden and rich as you could hope for. This is cabaret that shifts so subtlety from intimacy to advocacy and back again, it's often impossible to find the seams.
Jenkins opens by thanking us for coming to a show called Boobs. It seems such an unpromising subject for cabaret, after all; it's the sort of thing you expect at a first year law revue. But it becomes clear quite early that the angle the show is coming from makes it unique, and the story that Jenkins is telling is both highly idiosyncratic and quietly representative. Because Jenkins, an out and proud lesbian with a long-term partner, who has nothing but admiration for the boobs of others, doesn't like her own. In fact, she doesn't merely dislike them, she wants them surgically removed.
But to get your breasts surgically removed in this country, you have to undergo certain tests, jump through various bureaucratic hoops, and conform to certain expectations. Jenkins didn't want gender reassignment surgery, because she wasn't changing her gender. She identifies as a gay woman, but apparently this was a category of person for whom breast removal wasn't an option. She'd have to go to the US for the operation, but even before then, she'd have to have a psychological assessment, to determine whether or not she had "body dysmorphia".
Jenkins uses the simplest props imaginable, a guitar stand for her guitar, and a chair to represent the psychologist's consulting room, and the performer shuffles awkwardly between the two, in what amounts to a perfect metaphor for the ludicrous demands of the medical system. There are presumably sound reasons for the system to require these checks, but to the person who wants to change their body in perfectly legal ways, it must seem horribly intrusive. Jenkins shows us the patience and resolve required to persevere under these regulations, and the victory of securing the necessary forms to head to the US are depicted as a major accomplishment.
But this is only half the story. What follows is the tale of her trip to Florida, the enormity of the surgery itself, and then the small matter of a post-operative recovery that gets interrupted by "a little wind and rain", otherwise known as a category three hurricane, "the worst one they've had in 20 years". From this unlikely material, Jenkins weaves an anecdote so outrageous, so funny, it simply has to be true.
Throughout, the songs are beautifully crafted and superbly sung; Jenkins voice is capable of great delicacy and warmth, but also terrific guts and rock sensibility. They are funny too, although they never shy away from the seriousness of intent. That's where the advocacy comes in. Under the ribbing humour and cheeky rhymes (which are brilliantly conceived), there is a fierce cry for acceptance and dignity. An early song that outlines the ridiculous double standard around women's bodies in general transforms later into a condemnation of transphobia, of society's pathological need to control bodies it deems different. It's powerful stuff.
Details
Best selling Time Out Offers