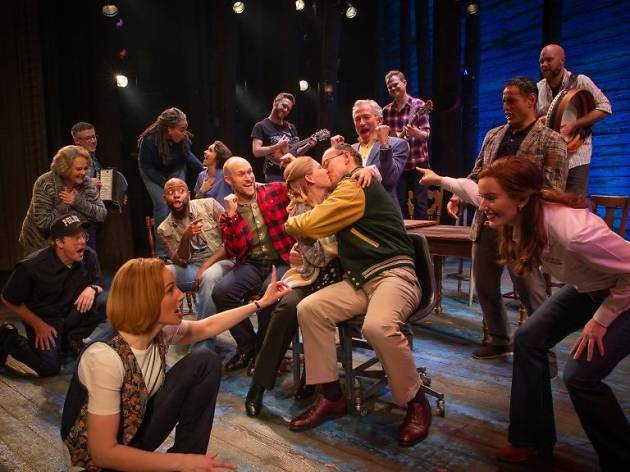 Come from Away proves why we should take a chance and connect with each other
The heartwarming musical playing in Melbourne shows the power of humanity and unexpected connections
Be honest – if a stranger in the street asked for a few minutes of your time, you'd probably just keep walking. But who knows what great things might come from a chance interaction?
Recently, two cast members from the musical Come from Away (currently playing in Melbourne) took to the busy streets of Sydney and Auckland to try and ask people for a moment of their time. As you'd expect, there were lots of rejections – but two lucky passers-by who did stop were rewarded with a trip to Melbourne and tickets to see the show. You can see what happened in the video below.
Just like the two strangers who decided to stop, Come from Away is, at heart, all about taking chances and connecting to your fellow human beings. The musical is based on the true story of the 7,000 air passengers who were redirected and grounded on the Canadian island of Newfoundland in the aftermath of the September 11 attacks. The story focuses on the small town of Gander and its residents, who opened their arms and homes to the stranded passengers in the days after the tragic events. It's a story of love over hate, of community over isolation.
While the events that happened in Gander were remarkable, the humanity shown by the town's residents was in no way unique. Like Gander, Melbourne is also a city strong in community spirit and welcoming of strangers – in fact many of the original residents from Gander who attended the Melbourne premiere noticed this similarity between the two cities.
After six months playing at Melbourne's Comedy Theatre, the heartwarming story of Come from Away is now entering its final weeks and must close on March 8 2020. Tickets are available now.
Best selling Time Out Offers