1/4
Photograph: Mark Gambino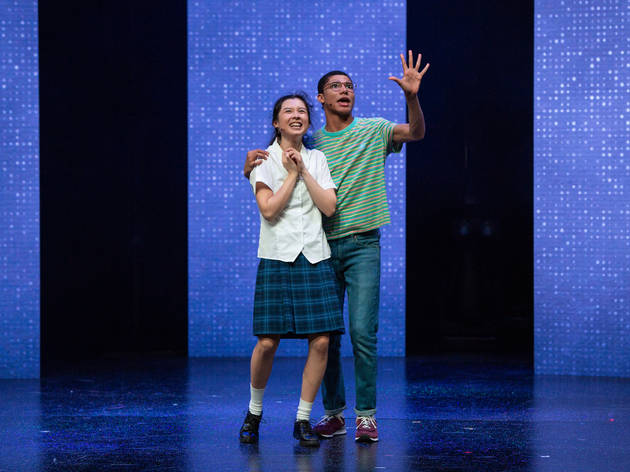 2/4
Photograph: Mark Gambino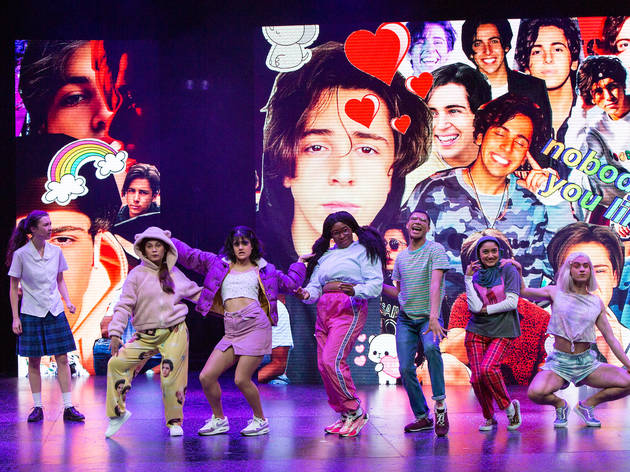 3/4
Photograph: Mark Gambino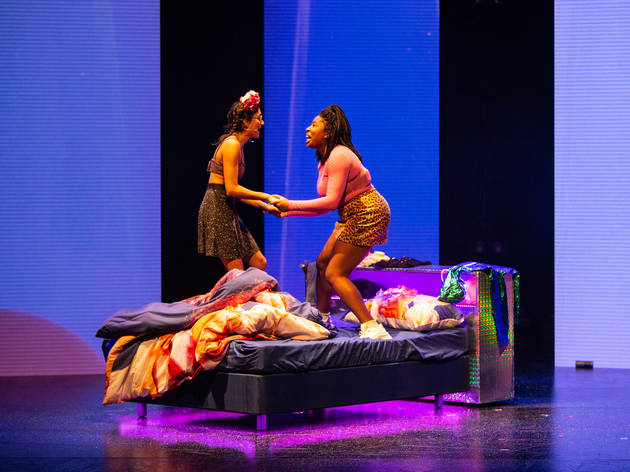 4/4
Photograph: Mark Gambino
Time Out says
Yve Blake's original musical celebrates the power and passion of teenage fandom
You'll probably get a lot more out of Fangirls if you yourself were a fangirl (or fanboy or fanperson) and have maybe the teensiest bit of knowledge about Harry Styles. Styles, the deep-voiced English singer from the X Factor-concocted boy band One Direction, is the Justin Timberlake of the 21st century. Teens fawn over him, write lavish fanfictions about him, imagine marrying him, touching him, stealing him. He's the source of many tears and probably billions of dollars in merchandising.
Our protagonist in Fangirls, Edna (played masterfully by Karis Oka), is obsessed with Harry – but not that Harry. Fangirls' Harry is also in a boy band (True Connection – geddit), he's from Cheshire, has amazing hair and, according to Edna, has sadness in his eyes. He clearly wants out of the band, but evil management is keeping him from being free. Edna, a 14-year-old Australian fan, understands his struggle, being a scholarship misfit at an elite high school alongside her two friends, the bumptious Jules (Chika Ikogwe) and the timid Bri (Shubshri Kandiah).
Someone who's had a bit of experience with being a star is Aydan Calafiore, who climbed a similar ladder to Styles by appearing on Australia's version of The Voice. Calafiore plays Harry here, an omnipresent figure who might not have much time on stage (though his face is plastered all over Edna's room, including her beanbag) but is the perfect pop star eidolon for Edna. He's got the hair flip and the heart-melting vocal runs nailed, though the English accent does jump around a bit.
Calafiore isn't the only talent on stage, however. Oka plays a convincing teenager and has a voice that commands the entire Playhouse audience with a little Taylor Swift flair during her first solo song 'Wait and See' (it ends with Oka flipping off the entire audience, which earns her one of her first big laughs of the night). Ikogwe is hilarious as Jules, Kandiah nails the enthusiastic admiration of many teens, and James Majoos shows off their powerhouse vocals as Edna's online friend and fanfiction co-writer Saltypringl.
While the first act sets up a classic hurdle for our heroine (Harry's touring Australia, but Edna can't afford the all-too-real $139.95 price point), the second act dives deeper into fandom, obsession and what it's like to be dismissed through Oka's tear-stained swan song 'Silly Little Girl'.
There hasn't been an Australian-made musical like this in years. The lyrics and music are by Yve Blake, who played Edna during Fangirls' first run in Sydney in 2019. You can tell Blake is furiously passionate about telling real teen stories – and she isn't afraid to tell people off for thinking they're just garrulous pop disciples. Blake's powerful mission (which she has also delivered in a joyful Ted talk) encourages us to embrace our fandom, not stash it away in a secret shame box.
The show does an excellent job at making us feel the same furore that our characters exhibit on stage, thanks in part to clever direction from Paige Rattray. During True Connection's concert scene, we as the audience are part of the act, lifting up our phones and swaying to an acoustic version of their hit song 'Nobody' (this is Blake's version of a nonsensical pop hit, filled with clumsy metaphors about loving your fingertips and your soul, and doubling down with a sweet but maybe not-so-innocent chorus of "nobody loves you like me"). The concert even ends with a sweaty Harry thanking "Mel-borne" and the audience (not just the audio track of the crowd) whooping and cheering for more.
The set brilliantly uses vlog-style videos on stage, a quick nod to the internet-era of fandom that's come about in the last few decades. The choreography of awkward, bumbling teens is spot on as well – knowingly bad twerking, aggressive headbanging and Britney-era shape cutting are all giggly reminders of the past. Even the glitter-splashed fashion choices of our stars feels like an all-too-real nod to growing up in the Supré-reigning era of early 2000s Australia.
Fangirls does a great job of defending fans, all done with hella catchy tunes and frequent laughs. You'll no doubt walk out humming one of the songs – and thankfully Blake has recently added a cast recording to Spotify so you can scream/sing along all the way home.
Fangirls is playing at Arts Centre Melbourne until May 9.
Details
Best selling Time Out Offers