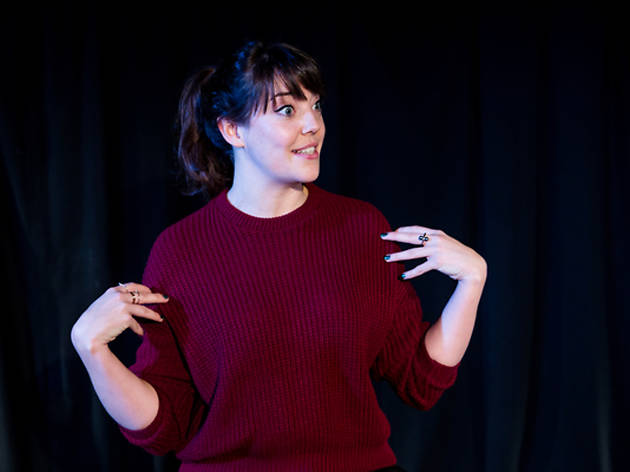 Phoebe Waller-Bridge's scabrous solo comedy – now a hit TV show – is coming to Melbourne
At some point in our lives, we've all met someone like Fleabag. Maybe she was the booze-soaked over-sharer at the party, spouting outrageously filthy anecdotes so wrong they were right. Maybe she's your mate's wildly changeable and narcissistic on-again-off-again girlfriend. Maybe she's your slightly broken friend, who despite her many, many flaws, you can't help but love. And maybe, when you bring yourself to face some hard truths, she's a bit like you.
The eponymous lead character of this pitch black one-woman comedy (we never learn her real name) is a hyper-sexual 20-something Londoner teetering on the brink of disaster. Her guinea pig-themed café will close unless she can get a bank loan (or cash from her over-achieving sister). She's mourning the "accidental suicide" of her best friend and café co-owner Boo. Her boyfriend has just dumped her for wanking to a video of Obama while he tried to sleep beside her. She's struggling to connect with her painfully middle class father after the death of her mother.
It's a lot for anyone to deal with. And yet, when we meet Fleabag (Maddie Rice), she'd have us believe that she's taking it all in her stride. We meet her in an interview with a bank manager that goes very wrong, very quickly – but then she quickly shakes it off. Fleabag is all wide eyes, cheeky smiles and wry quips. She speaks directly to the audience, her mind working faster than a guinea pig on a wheel as she seamlessly weaves anecdotes with stream-of-consciousness observations. "I'm not obsessed with sex," she says. "I just think about it all the time."
As Fleabag, British actor Maddie Rice (taking over the role from Phoebe Waller-Bridge, who wrote and starred in the original stage show and the BBC TV series) is brilliantly disarming. She knows when to breeze through nearly unutterable lines like "I worry for a second I'm going to make a sex offender out of the poor guy", and when to let shards of vulnerability pierce through the protective wall she's created.
And this is the true brilliance of Fleabag; like Fleabag herself, the humour of the script conceals the true extent of the darkness within – but only to a certain point. There are clues all the way through that Fleabag is on an express train to disaster, but Rice gives just enough of Fleabag's fragility away that the final denouement is genuinely surprising and painful. The impact risks being dampened by a very unnecessary and out-of-place moment of self-reflection in which Fleabag explains her self-destructive behaviour to the audience – but that's a small gripe in what is a masterful exercise in black humour. It's obvious why Fleabag was picked up by BBC TV (it's also currently on ABC Comedy) after first being performed at the Edinburgh Fringe in 2014. Waller-Bridge is a fierce comic talent, and deserves all the kudos she receives for creating a work that is intensely relatable, at-times painful and, against all odds, one of the funniest shows you'll see this year.