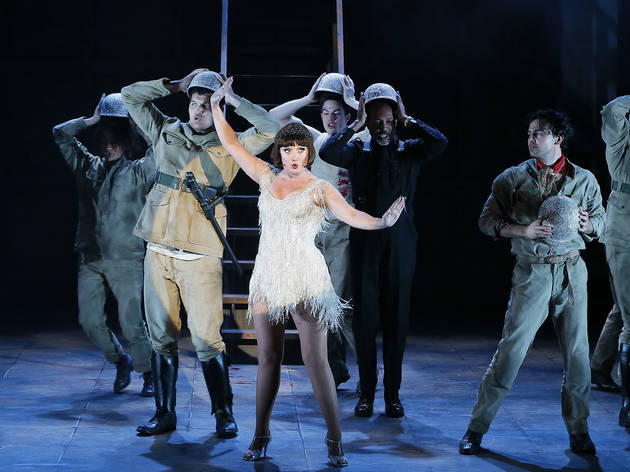 1/7
Photograph: Supplied/Jeff Busby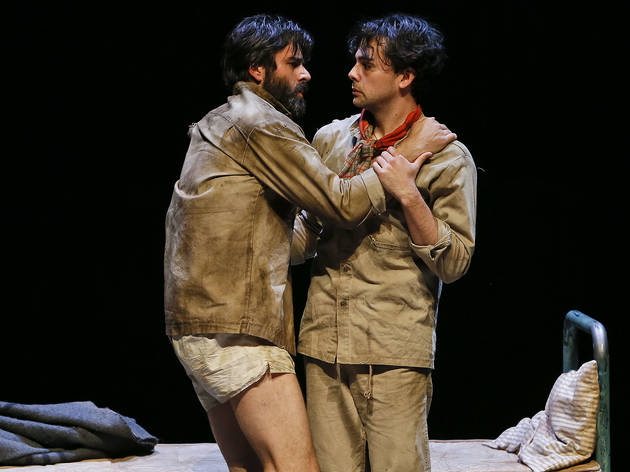 2/7
Photograph: Supplied/Jeff Busby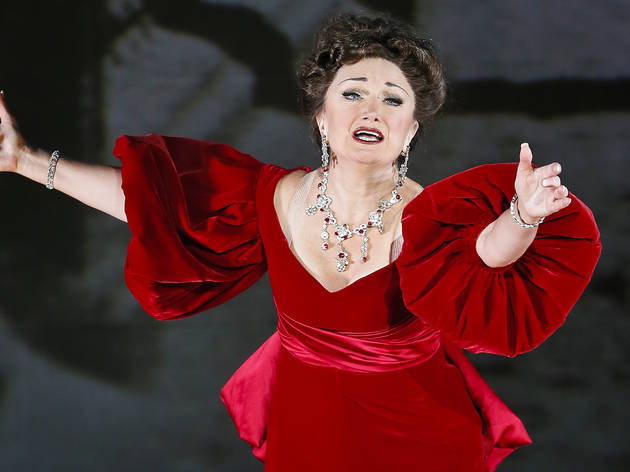 3/7
Photograph: Supplied/Jeff Busby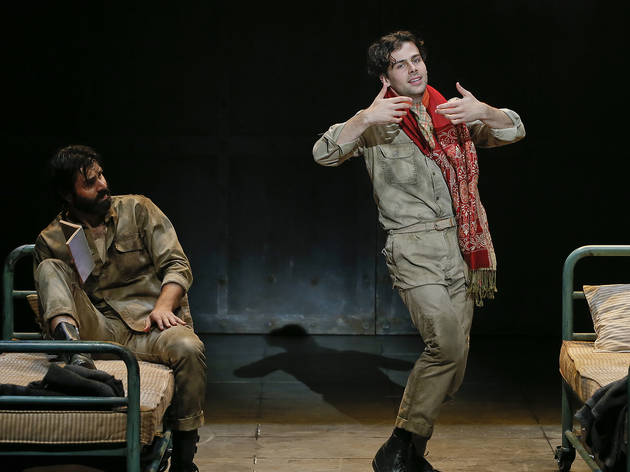 4/7
Photograph: Supplied/Jeff Busby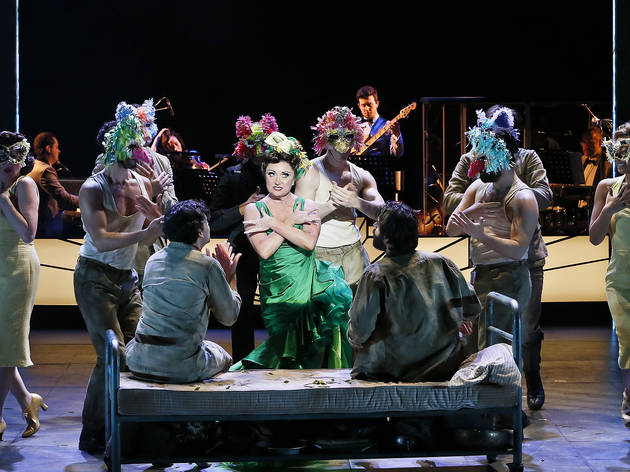 5/7
Photograph: Supplied/Jeff Busby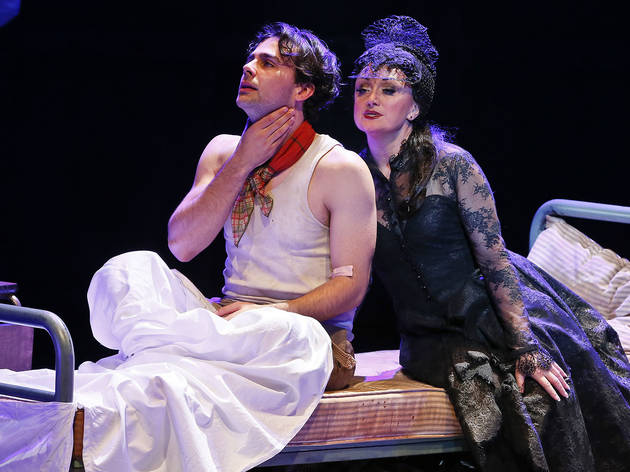 6/7
Photograph: Supplied/Jeff Busby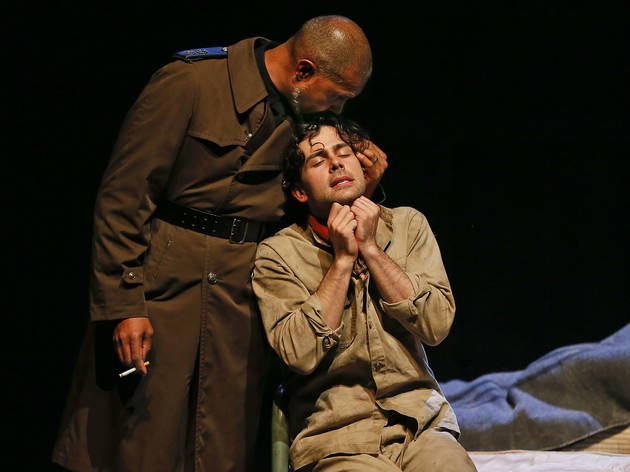 7/7
Photograph: Supplied/Jeff Busby
Time Out says
Caroline O'Connor stars in this dark and provocative musical for MTC
John Kander and Fred Ebb know a thing or two about prison musicals, having written Chicago in the mid-1970s. A sexed-up, pared-back revival in 1996 was a smash hit, with the razzle-dazzle of showbiz turning the Cook County Jail into a vaudeville stage. In the late 1980s, Kander and Ebb created another musical set inside a prison, but the wicked sense of fun that permeates Chicago is nowhere to be seen in the grim Argentinian prison we find ourselves in here.
Luis Molina (Ainsley Melham) is a gay window dresser, in his third year of an eight-year sentence for having sex with an underage boy. As the show opens he gets a new cellmate, Valentin Paz (Adam-Jon Fiorentino), a Marxist political prisoner who is being tortured to give up the names of his co-conspirators. Molina, a devoted cineast, blocks out the screams of his fellow prisoners and the grim horror of their situation by reliving his favourite films, starring the diva Aurora (Caroline O'Connor). Molina loves all of her roles bar one, the Spider Woman, who brings death with her kiss. Valentin has no time for fantasies and draws a line in their cell to keep Molina and his escapism out. As their relationship begins to develop, prison authorities ask Molina to spy on his cellmate, in exchange for his own freedom.
Molina is the heart and soul of the show (William Hurt won an Oscar for his performance in the 1985 movie based on the same Manuel Puig novel), and Melham's performance is masterful, radiating love, courage, terror, defiance and fear, sometimes within a single scene. His powerful voice makes otherwise forgettable songs compelling (there's no "pop, squish" here), and his dancing is sharp. Melham seems slightly more alive than everyone else in the dismal prison, with nervous tics and a quick laugh, vibrating with energy in every scene. Fiorentino's performance as Valentin is smaller, slower, the stoic revolutionary showing glimmers of emotion only occasionally. He struggled with some of the top notes on opening night, but he brought power and passion in his lower register. And O'Connor is every inch the vampy diva as Aurora, overwrought and larger than life, demanding all eyes whenever she is on stage. Alicia Clements' sets and costumes are all muted tones of olive and brown, with Aurora the only character popping with colour amid all the gloom. The set design uses projections of black-and-white films to add to the Spider Woman's menace, as well as bridging the gap between Molina's celluloid world and the reality of their prison. Andrew Hallsworth's choreography recalls classic musical films as well, with chorus lines and dancers in crisp unison or spinning skillfully around each other.
Melbourne Theatre Company's production, helmed by director Dean Bryant, is sharp and polished, but it can't quite compensate for the problems with the show itself. It vacillates wildly in tone between high camp and grim seriousness, with jackbooted guards donning sequinned helmets for high kicks and a prisoner ending a jaunty number and then slumping to the floor as a torture victim. Aurora is introduced before we get to know the protagonists, which is baffling. And the last three minutes are a redo of the ending, which ends up taking away the emotional gut punch of the first ending.
For all this, though, there are beats of tenderness and genuine emotion. There are laughs and tears here, both richly deserved, and there are times when the limits of both human kindness and human cruelty are realised. The second act is far more coherent than the first, and when it hits its stride the show is captivating and enthralling.
Kiss of the Spider Woman ran for 904 performances on Broadway. Chicago's revival has had more than 9,000. There might be a reason for that.
Details
Users say