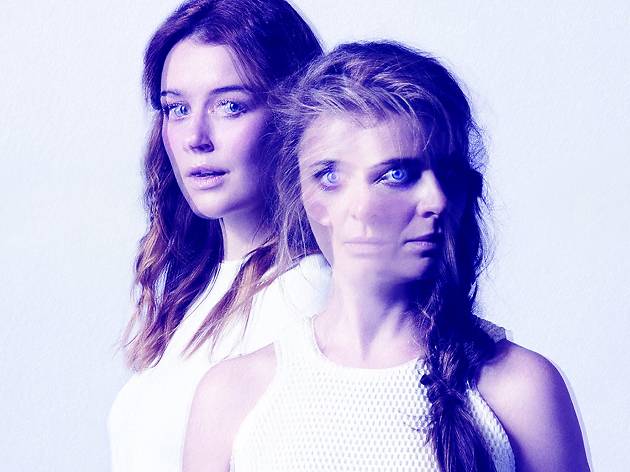 Malthouse Theatre 2016 season
Under new artistic director Matthew Lutton, Malthouse Theatre will light up with world premieres, internationally acclaimed pieces and promising reinventions
Sex, death, rites of passage and revolution are set to be four major touch-points for Malthouse Theatre's 2016 season: launched on the last night of winter by newly appointed artistic director Matthew Lutton.
Having spent the last three-and-a-half years at Malthouse Theatre, first as associate artist, then as acting artistic director after the departure of Marion Potts, Lutton is no stranger to the company. The Perth-born director (who started his own company, ThinIce, in Perth at age 17) has directed nine productions for the Malthouse; the most recent being Declan Greene's sweeping new work, I Am a Miracle. Many of his subsequent directorial credits are in opera, for companies including Opera Australia and Bavarian State Opera. At age 31, he is the youngest person leading a major Australian theatre company.
Last year, Potts divided the season into three unique chapters: Body // Language, Post // Love and Ritual // Extinction – a different approach to Lutton's. "I don't program to a thematic," he says. "It needs to be instinctual and responsive to the ideas that the artists are bringing. I was hunting for provocations, subversions, entertainment, collaboration. The season is one of sex, death, rites of passage and revolution. All of those involve a moment of awakening. So every show is doing that in its own unique way."
All of these ideas seem to be encapsulated by Malthouse Theatre's first show for the year,Meow Meow's Little Mermaid (Jan 28-Feb 14): part two of an outrageous cabaret trilogy in which the very un-Disney mermaid must sacrifice her voice and cut her tail in half to enter a new land.
Malthouse Theatre 2016 will continue a strong tradition of bold new adaptations (most recently, Antigone) with Picnic at Hanging Rock (Feb 26-Mar 30): one of the most anticipated shows of the year, directed by Lutton himself. This world-first stage production, written by Tom Wright for five female actors, will conjure the horror of the unknown evoked by novelist Joan Lindsay through language (Lutton is adamant that there will be no rock on stage). Another deeply influential Australian female author is the late poet Dorothy Porter, and her previously unpublished poems will be brought to life with music composed by Tim Finn in The Fiery Maze (Aug 18-Sep 4).
The season suffers no shortage of great poetics and epic themes: Lutton will also direct a re-imagined Edward II (Jul 29-Aug 21), originally written by Christopher Marlowe in the 14th century, but this time with no Elizabethan language in earshot. Audiences will no doubt flock to the Helpmann Award-winning Glass Menagerie (May 18-Jul 10), starring Pamela Rabe, coming straight from a sold-out season at Belvoir St Theatre in Sydney. Subversive Berlin theatre collective Gob Squad will devise a world-premiere adaptation of Tolstoy's sprawlingWar and Peace (Oct 18-30) which will see the action break out from the theatre into a series of security cameras set up around Melbourne. "Surprise is one of the most powerful tools that theatre has," says Lutton. "I wanted us to make sure that we're doing surprising things in our theatre, and one of those is inviting people and then shifting their expectations."
Nowhere is this more apparent than with Gonzo (Sep 21-Oct 1): a work that will deal with teenage boys and porn – performed by the teenage boys themselves. "They're the missing voice," says Lutton. "It's a very rigorous process for the six boys that will perform the work, and only [youth arts company] St Martin's Theatre can do this; they have the expertise of how to work with young people." Leave your expectations (and your little ones) at the door.
Australian premieres by international artists range from UK playwright Duncan Macmillan'sEvery Brilliant Thing (Mar 8-20) – a critically acclaimed exploration into depression, love and finding the things worth living for – to The Events (June 21-Jul 10), Scottish playwright David Grieg's response to the violent acts of a Norwegian white supremacist in 2011, which will feature a different Melbourne community choir on stage every night.
Important Australian voices – both emerging names and mid-career artists – are championed on the main stage with Nakkiah Lui's Blaque Showgirls (Nov 11-Dec 4) and Ranters Theatre'sCome Away With Me to the End of the World (Jul 5-24) as well as in a series of four artist curated events to bring in the seasons. Given that this will involve Malthouse Theatre offering the likes of independent feminist theatre-makers The Rabble free reign over the entire building to create In the Bleak Midwinter (Jun 16-18), it's best to expect something more than a bit edgy.
"I think the Malthouse is a beacon of alternative ideas," says Lutton. "It's absolutely needed in our artistic climate, in our political climate, where there's a real sense of alternate ideas being shut down and more radical voices being silenced. Art is a really important part in expanding that conversation and I think Malthouse is part of that as well. Malthouse needs to be a place that championing thinking, discussion and provocation."
What's on stage in Melbourne?
There's something lurking in the darkness beneath Melbourne and it's emerging into the light this spring. Monsters is a new work created in collaboration between Malthouse Theatre and Stephanie Lake, bridging the space between theatre and dance in a gothic performance that will leave you chilled. Stage and screen actress Pamela Rabe (Wentworth, The Testament of Mary) stars as a woman whose sister has disappeared beneath a sinkhole in Melbourne. As she delves deeper and deeper, she encounters monsters – both figurative and literal – with dancers Olivia McPherson, Jessie Oshodi and Jame Vu Anh Pham portraying the creatures that go bump in the dark. Monsters is a joint project between Malthouse artistic director Matthew Lutton, choreographer Stephanie Lake and Sydney-based writer Emme Hoy. The production is two years in the making, with the trio intending to create a story that feels like a dream (or possibly a nightmare). Speaking on the work, Lutton says: "We want to welcome audiences back to a live experience that causes the hair to lift on the back of your neck, and the joy of imagining what you see in the dark when the lights are turned off." With performances of Because the Night still taking place across Malthouse's main building, Monsters will be presented inside the theatre company's construction workshop, which is being converted especially for this production. Monsters runs from August 30 to September 12. Tickets are available to the public from 9am, August 3, with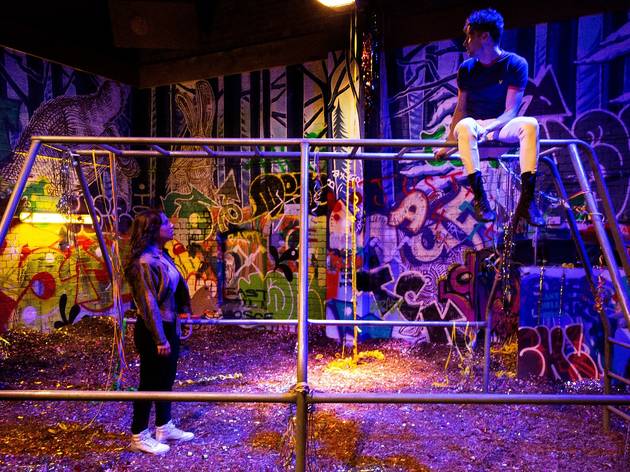 Update 28/07/21: Performances of Because the Night resume July 28 following Victoria's fifth lockdown. There's been a lot of hype about Because the Night, Malthouse Theatre's new production where the audience can freely explore an immersive set while the cast perform around them. "Immersive" really is the word here, and for once the oft overused term doesn't feel like a gimmick – nor does the intensely detailed open set undermine the integrity of the production. Because the Night is undeniably a work of theatre, but one that approaches the art with a bolt of inspiration that will attract new audiences to the discipline. It's apparent from the get go that Because the Night is unlike any production Australian audiences have seen before. The audience are split into three groups, each entering the performance from a different location. Ushers provide each person with a dark robe and Donnie Darko-style black rabbit mask to cover their face – apart from serving to differentiate audience from cast, the costume immediately puts visitors in the right headspace; goodbye Melbourne, hello Elsinore. If you've seen Melbourne's 2019 season of A Midnight Visit or even been lucky enough to attend Punch Drunk's Sleep No More in New York, you'll get the drill. The cast of six – which when we attended was Keegan Joyce (Hamlet), Nicole Nabout (Claudia), Syd Brisbane (Polonius), Ras-Samuel Welda'abzgi (Laertes), Jen Vuletic (Gertrude) and Artemis Ioannides (Ophelia) – are oblivious to the audie
More shows on Melbourne stages
Best selling Time Out Offers