1/4
Photograph: James Morgan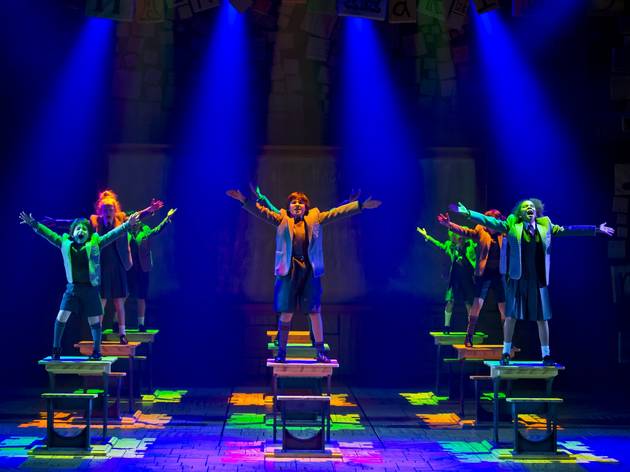 2/4
Photograph: James Morgan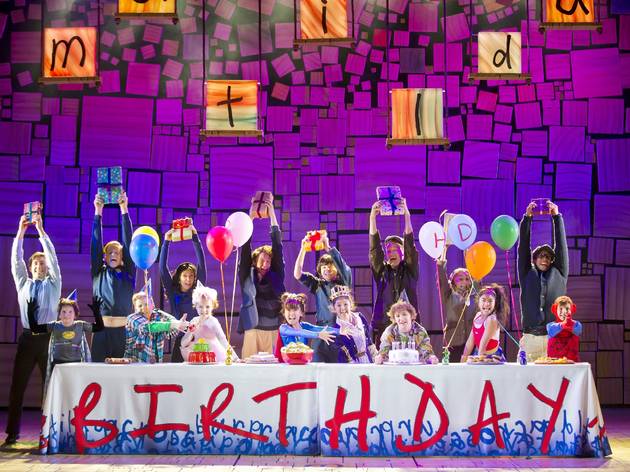 3/4
Photograph: James Morgan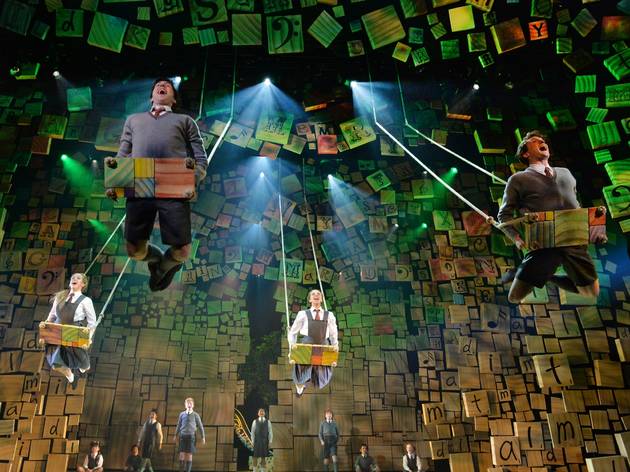 4/4
Photograph: James Morgan
Time Out says
Tim Minchin's smash hit musical is nothing short of a miracle
American novelist Jane Smiley said that "the fundamental condition of childhood is powerlessness," and in the pitched battle between adults and children the odds are always stacked against the smaller of the species. This primal inequality shapes our development, and goes a long way to explaining our pleasure in seeing the power dynamic overturned. Decent kids thwarting awful adults never fails to delight, largely because it almost never happens in real life.

Roald Dahl understood this better than most, littering his books with hideous grown-ups tormenting defenceless children. If Miss Trunchbull [James Millar] is his most intimidating grown-up, then Matilda Wormwood [Ingrid Torelli, Dusty Bursill, Tiana Mirra, Alannah Parfett] must be his most fearless, resourceful child.

The genius of Dennis Kelly and Tim Minchin's musical adaptation of Matilda is that the young actor at the centre of the drama is required to display as much poise, as much gumption, foresight and courage, as the character she is playing. From the first moments we meet her – a sharp contrast to the hideously indulged brats of the opening number 'Miracle' – we feel her isolation and her sadness, but also her latent power. If anyone is going to stand against the world's bullies, it is this remarkable little girl.

Matilda's primary source of power is her searing intelligence, which manifests in her love of books. At five years old, she's read all the classics: Dickens, Dostoyevsky and Dr Seuss. Given her appalling upbringing at the hands of her proudly philistine parents [Marika Aubrey and Daniel Frederiksen], her knowledge stands as a rebuttal of all things ordinary. Her teacher Miss Honey [Elise McCann] is quick to recognise these gifts, even if she herself is quailed by the ghastly headmistress, Trunchbull.

If Matilda is the embodiment of resistance, then Trunchbull is the quintessence of tyranny. Millar is breathtakingly good in the role, simultaneously ginormous and petty, a brick wall with a ballerina's grace. He lurches and bounces and charges around the stage, threatening to devour everything and everyone in his way. He's a monster, but a beautifully modulated one.

Aubrey and Frederiksen are also magnificent as the halfwit parents; venal and gaudy, they prance about like rats in peacocks' clothing. They may be ersatz villains, too stupid to pose any genuine threat, but they are riotously funny. McCann is quite wonderful in the deceptively simple role of Miss Honey, and Cle Morgan is pitch perfect as the librarian Mrs Phelps, the only other kindly adult in the show.
But truly, everything comes down to the kids. The charm that pours off them has a distinctly English flavour – there is none of the saccharine precociousness, the sassy jazz hands and stage-mom tweaked grins you see in American child performances. Whether they are being verbally abused, force fed cake or flung by their pigtails out into the auditorium, these kids retain an optimism and pluck that is entirely in keeping with Dahl's indelible creations.

The production itself, under the original direction of Matthew Warchus, is masterful. Rob Howell's design is relatively modest for a blockbuster but has plenty of brilliant stagecraft, not to mention some ingenious tricks up its sleeve. It is a perfect example of totally confident storytelling; nothing is superfluous or indulgent and, while it boasts a witty and mature score by Minchin, it also benefits from one of the most accomplished books ever written for a mainstream musical.

Matilda, like its eponymous little heroine, is a true miracle. In the poignant paradox of a song 'When I Grow Up', one child sings that "I will be strong enough to carry all the things you have to haul around with you when you're a grown-up". That Matilda is the only person on stage capable of carrying the burdens of her world is an almost unbearably moving testament to the resilience of children, and their unsung power to change their story. Kids everywhere should grab their adults and drag them to the theatre, pronto.
Read what happened when Time Out stepped into Miss Trunchbull (James Millar)'s office.
---
Matilda timeline
1998: Roald Dahl publishes Matilda, with illustrations by Quentin Blake
1996: Danny DeVito directs the film version, with Mara Wilson in the lead role
2010: The Royal Shakespeare Company commissions Tim Minchin to write the music and lyrics to a musical theatre version, which debuts at Stratford-upon-Avon, UK.
2011: Matilda the Musical opens in London's West End
2012: Matilda the Musical scoops a world-record seven awards at the 2012 Laurence Olivier Awards
2013: Opens in Broadway
2015: Opens in Sydney
2016: Opens in Melbourne
Details
Best selling Time Out Offers